This recipe for Butternut Squash Broccoli Quinoa Casserole is the perfect easy side dish for fall. A cheesy, delicious quinoa casserole packed with broccoli, butternut squash and spinach.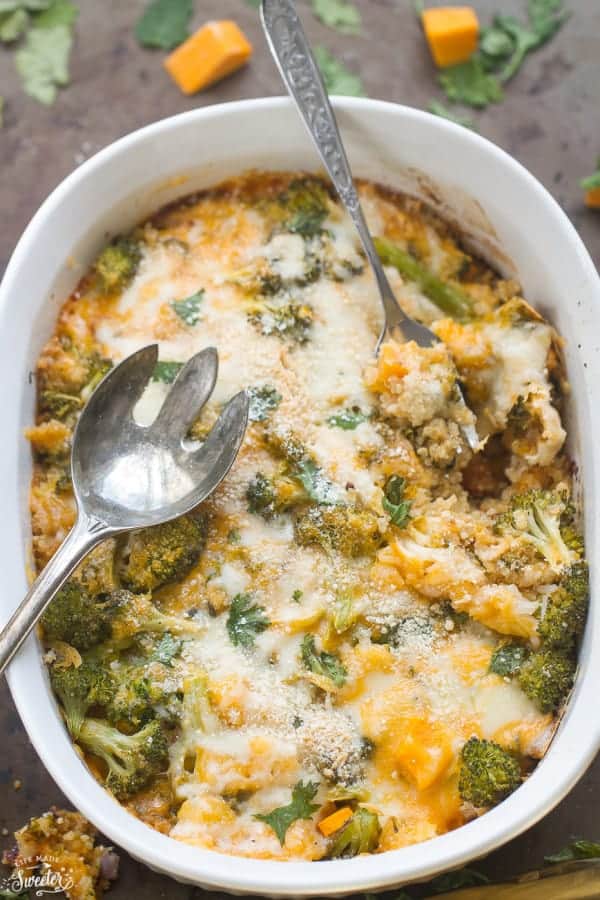 /
With two small kiddos and a husband that seem to be hangry all the time, I am always trying to incorporate more dishes that can be whipped up quickly.
You can't beat how easy casseroles are – they are the original one pot wonders and help take the stress out of our weeknights when five 'o clock rolls around.
Plus they're the perfect dish for sneaking in veggies for those picky eaters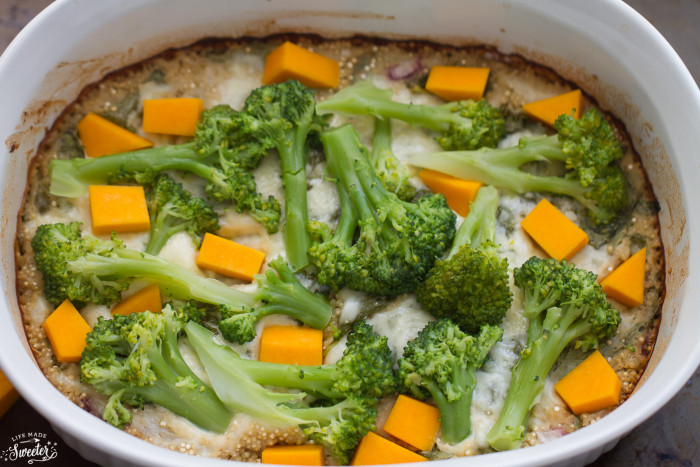 RECIPE FOR BUTTERNUT SQUASH BROCCOLI QUINOA CASSEROLE
This Butternut Squash Broccoli Quinoa Casserole is a favorite for busy fall weeknights.
It's comforting and filling so it's perfect for the cooler months ahead.
Plus it's lighter and healthier than most casseroles since we use quinoa instead of pasta. It's even packed it with a ton of veggies like spinach, broccoli and butternut squash so you won't need an extra side dish.
I had seen a few recipes using hummus to thicken up their pasta and noodles so I thought I would try it in this casserole. It worked out great! The hummus not only gives it an extra bump of flavor, it also helps thicken up the casserole for a creamy texture so you won't need that canned cream soup that most casseroles call for!
The best part is that if you have a smaller family you can freeze half of it for another night. My entire family raved about this delicious casserole and I hope that it will become a family favorite at your house as well!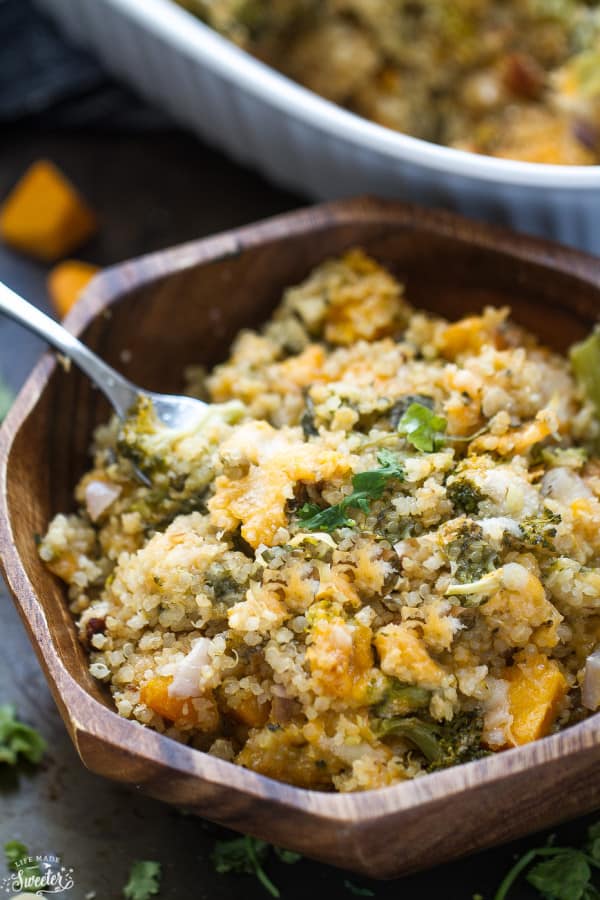 Yields 5-6
Butternut Squash Broccoli Quinoa Casserole
A delicious cheesy quinoa casserole packed with broccoli, butternut squash and spinach makes a the perfect easy dish for fall.
15 minPrep Time
40 minCook Time
55 minTotal Time
Ingredients
1 cup uncooked quinoa
2 cups low sodium Chicken Broth
1/2 cup plain garlic hummus (homemade or store-bought)
2 cups mozzarella cheese, shredded, divided
1/2 cup cheddar cheese, shredded
1/4 cup parmesan cheese, grated (plus more for topping if desired)
1 1/2 cups baby spinach
3/4 cup fresh broccoli florets
1/2 of a medium butternut squash, peeled and cubed
1/2 of a red onion, diced
1 green onion, chopped
Instructions
Preheat oven to 375 degrees F.
Spray a 9 x13 baking dish with cooking spray. Place the quinoa, red onion and green onion in a single layer at the bottom..
In a large mixing bowl, whisk together the Swanson® Chicken Broth and hummus.
Pour the chicken broth mixture over the quinoa. Layer with the spinach and 1 cup of mozzarella. Bake uncovered for 20 minutes.
Meanwhile, place the broccoli in boiling water for 1 minute until it turns bright green and then run under cold water. Set aside.
After 20 minutes, remove quinoa casserole out of the oven and mix in the broccoli and butternut squash. Sprinkle the cheddar cheese, 1/4 cup of parmesan cheese and the remaining 1 cup of mozarella cheese on top and place back in the oven for an additional 15-20 minutes or until the cheese has melted and the quinoa is cooked through.
Sprinkle with more parmesan cheese, if desired.
Remove from oven and serve while still warm.
7.8.1.2
213
https://bestrecipepicks.com/broccoli-quinoa-casserole/
More fall recipes:
Slow Cooker Butternut Squash Cornbread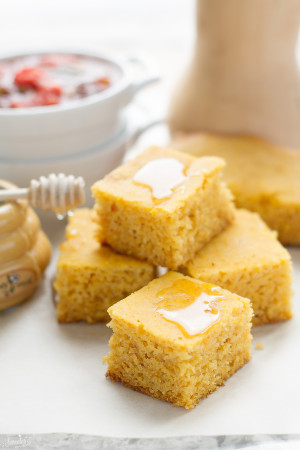 More fall favorites: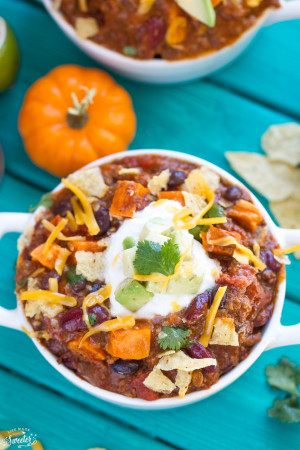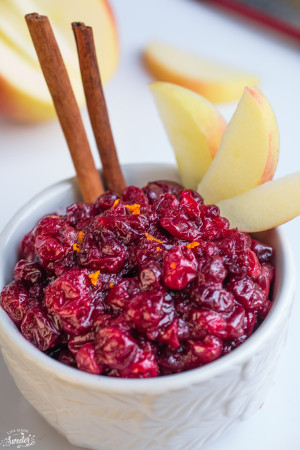 Slow Cooker Mashed Potatoes with Roasted Garlic
Maple Pecan Roasted Butternut Squash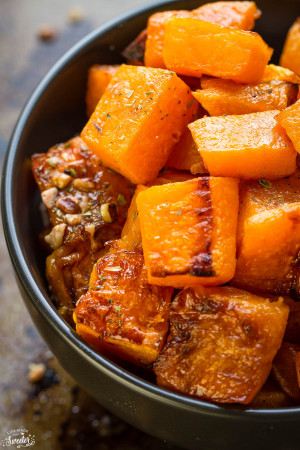 Slow Cooker Garlic Rosemary Tri-color Potatoes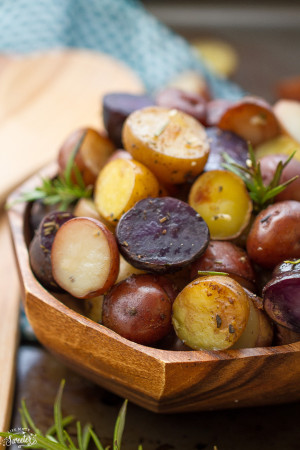 Miso Glazed Brussels Sprouts and Cranberries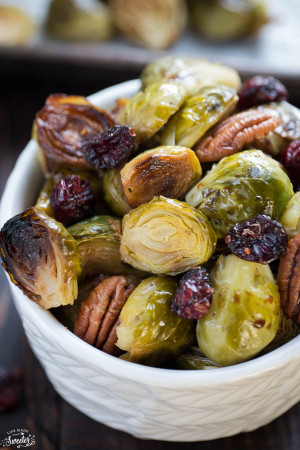 Slow Cooker Mashed Potatoes with Roasted Garlic
Slow Cooker Pumpkin Maple Cornbread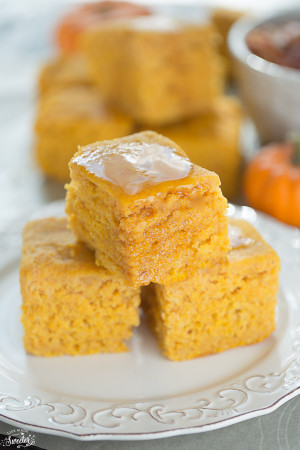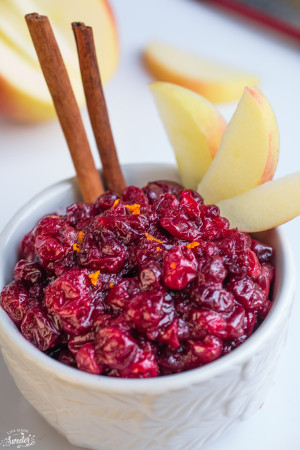 Slow Cooker Butternut Squash Cornbread Stuffing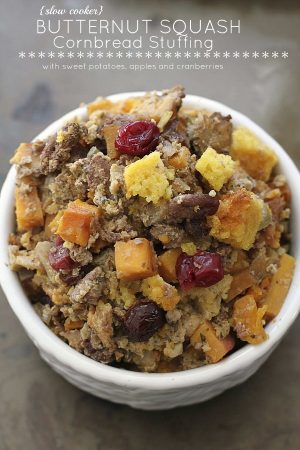 Maple Cinnamon Roasted Butternut Squash