Perfect Fried Rice – it's so easy to make this popular Chinese takeout dish at home. Best of all, this 15 minute recipe includes a few secret ingredients and tips to make it better than the local takeout restaurant. Plus recipe video.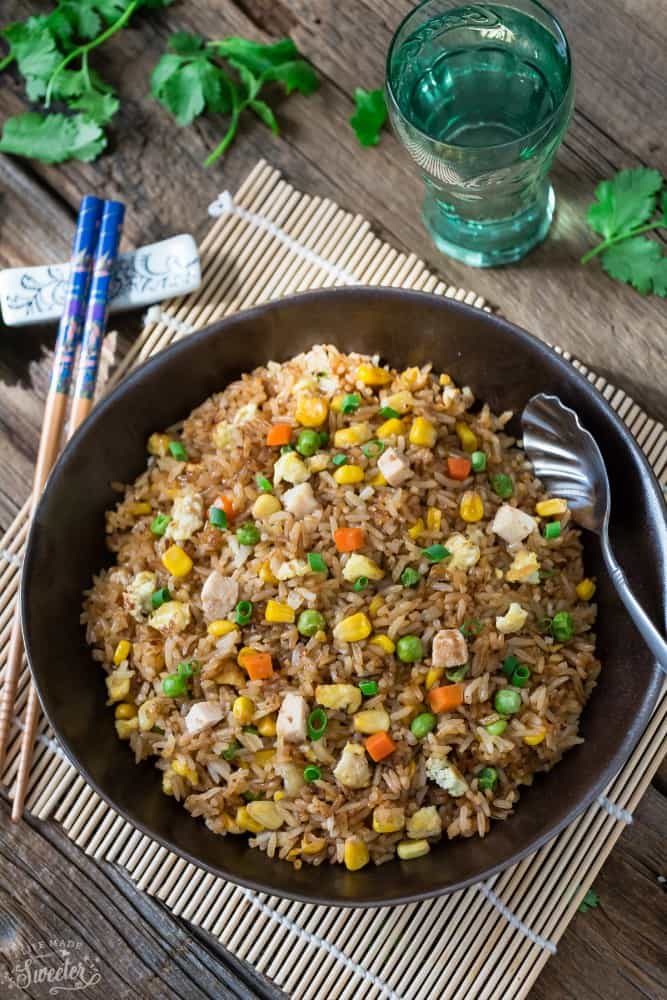 Pin for later AND follow my Recipes Board for more tasty Asian recipes!
Please note, this post contains some affiliate links.
Quick and easy meals are always a favorite around here.
One of the questions I get asked the most on here? How to make the perfect restaurant style fried rice at home.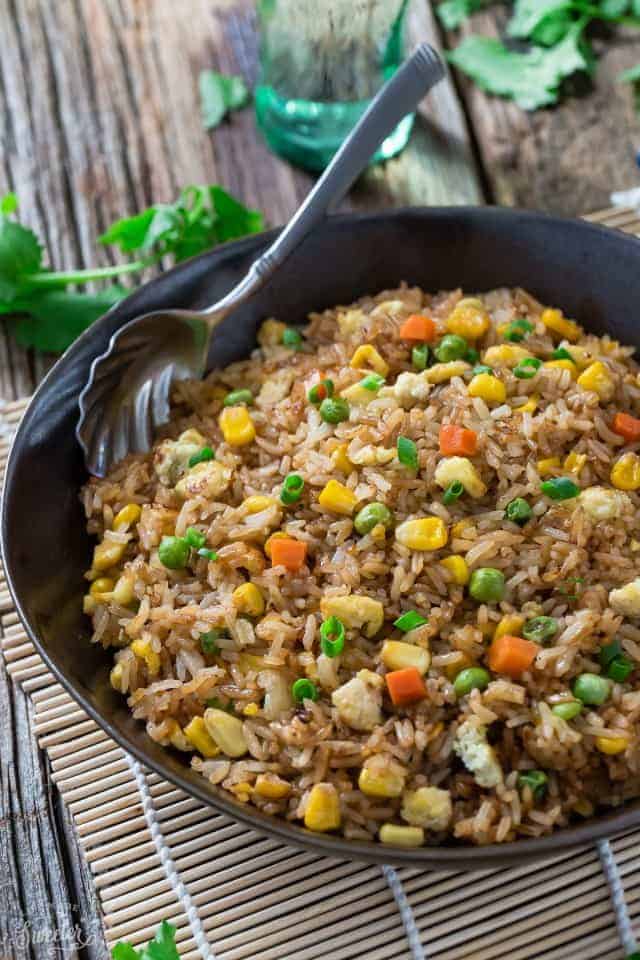 With SO many recipes online that claim to be the best or better-than-takeout fried rice, did you guys really need another fried rice recipe?
And what makes my PERFECT FRIED recipe so special? Well, I figured it was about time since:
Fried rice was the very FIRST real dish I learned how to make at just 11 years old
I still make it almost every week
And, I've got my own secret tips plus a short video on how to achieve that perfect bowl of fried rice.
Plus you guys already LOVE my authentic
Chow Mein
,
Lo Mein
and
Pad Thai
dishes.
And this Perfect Fried Rice is another easy ONE pan dish. Do you guys always have odds and ends lingering around by the end of the week? Fried rice is seriously the BEST for cleaning out the fridge!


The one I'm sharing today uses diced mixed vegetables (fresh or frozen (thawed first)) and a couple of eggs.
You can choose to add chicken or your favorite protein – shrimp, beef or tofu.
How to Make the Perfect Fried Rice
Use a large wok. It helps to retain and distribute even heat. This one,  this one and this one, are my favorite.
Three secret ingredients I use are:
Fish sauce (it adds SO much umami flavor and should not be skipped) (I've heard also read great things about this Vegan version)
Mirin (Japanese sweet wine) or you can try to use dry sherry in a pinch
Sesame oil (for that toasted nutty flavor)
And if you want a kick of heat you can add in some grated ginger, diced onions, Sriracha, chili garlic sauce or red pepper flakes.
I also like to add in some roasted cashews for a nice crunch if I have them on hand.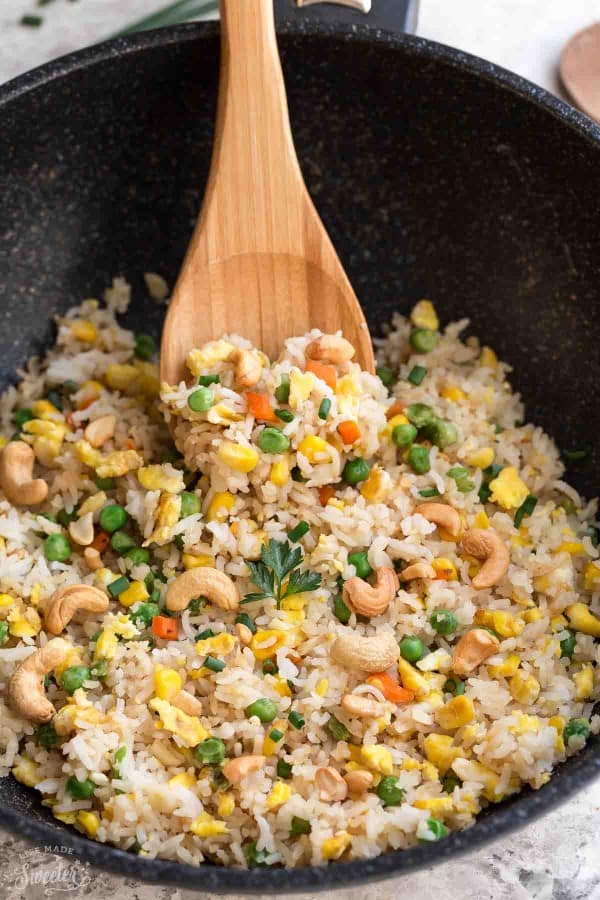 Here are some tips I've learned over the years:
Type of rice – Medium to long grain rice works best. I almost always use Jasmine rice which produces fluffy, sturdy grains that don't clump or fall apart when fried. Short grain rice like sweet/sushi rice or glutinous rice, tends to be softer and stick together.
Chilled cooked rice – preferably day-old leftover rice that had a chance to firm up in the fridge making it easier to separate and decreases the chances of your fried rice turning out mushy. If you don't have any leftover rice and don't want to wait until the next day, you can make your rice with 1/3 less of water than what it calls for or spread the freshly cooked rice onto a large baking sheet and place the entire tray in the freezer for 15-20 minutes, then toss the entire batch into a large zip-top back for a few hours
A blazing hot wok (a wok is ideal but a large nonstick pan or skillet) and an adequate amount of oil will ensure your ingredients don't stick to the surface.
Try not to overcrowd your pan with too much rice or add-ins or the cooking surface won't get hot enough and your ingredients will get soggy causing the rice to clump together. You can always cook in batches or each ingredient individually (raw vegetables or meat, egg) then remove from the pan onto separate plates and return all the ingredients to the pan at the end. Ideally, you should cook no more than 2-3 servings at a time.
Don't overdo the saucy seasonings like soy sauce or it will make your rice mushy. You can always season at the end with a little bit more salt, pepper or even red pepper chili flakes for a kick of heat.
BONUS TIP: USING A RICE COOKER to cook your rice grains helps ensure that you'll consistently get perfectly cooked rice every. single. time. We use and love this Tiger JAX-T10U-K. It's the perfect size for our family, super easy to use and the rice cooks up perfectly every time.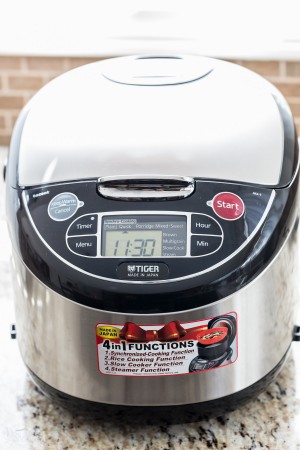 My husband and kids are big rice fanatics so having a rice cooker makes it super easy and convenient to make which we then use for a batch of fried rice at the end of the week.
Fried rice is also a sure way to get my kids to clear their bowl even when they tell me they're not really hungry.
It's also a tasty and simple dish to make during those busy weeknights once school is back in session.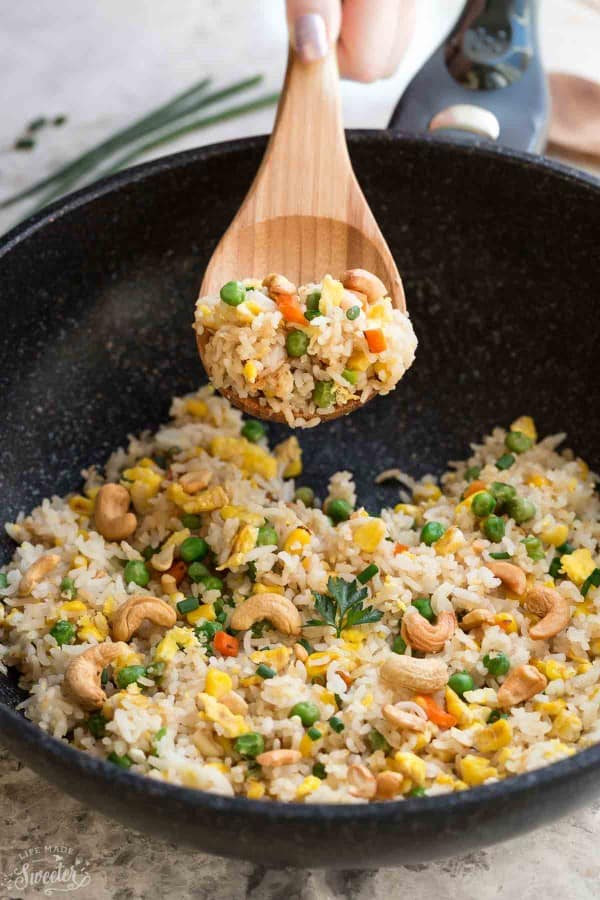 Yields 2-3
Perfect Chinese Fried Rice + Video
Perfect Fried Rice - an easy to customize 15 minute dish that's perfect for busy weeknights.
7 minPrep Time
8 minCook Time
15 minTotal Time
4.8 based on 10 review(s)
Ingredients
3 garlic cloves, finely minced
1 cup mixed vegetables (fresh or frozen (thawed first))
2 large eggs, lightly beaten
3 1/2 cups cooked, day-old rice, chilled and clumps separated
2 1/2 -3 tablespoons low sodium soy sauce
1 1/2 - 2 teaspoons fish sauce (or vegan fysh sauce)
1 teaspoon Mirin (Shaoxing wine or dry sherry can also be used in a pinch)
1/2 teaspoon sesame oil
Salt, black pepper, to taste
Cooked chicken, beef or pork, cut into bite-sized pieces(leave out for meatless version)
Optional
1/4 teaspoon freshly grated ginger
1/4 cup finely diced onions
Sriracha or crushed red pepper flakes
1 green onion, thinly sliced
Roasted cashews
Sesame seeds, for garnish
Instructions
Heat 1 tablespoon of cooking oil on high heat in a non-stick wok or pan until smoky hot. Toss in the mixed vegetables and sauté for about 10 seconds.Add garlic and stir-fry for another minute.
Push all the ingredients to one side of the pan and pour in the beaten eggs. Scramble into small pieces until cooked. (Add in cooked meat if using and saute for another minute).
Stir in the rice and break up any large chunks with a spatula while tossing until heated through, around 2 minutes.
Drizzle in soy sauce, fish sauce, mirin and sesame oil, tossing to combine everything evenly. Keep stirring the fried rice until slightly toasted, about 2 minutes. Add salt, black pepper, red chili flakes or even Sriracha to taste.
Transfer to bowls and serve hot and garnish with green onions and sesame seeds, if desired.
Notes
Feel free to swap in other vegetables to your liking but be sure they are chopped in bite-sized pieces so they cook evenly. Check the blog post for more tips.
Leave out the chicken and use whatever protein you have on hand
7.8.1.2
425
https://bestrecipepicks.com/perfect-fried-rice/
More takeout favorites:
Slow cooker / Crockpot Chicken Lo Mein Noodles – very popular with readers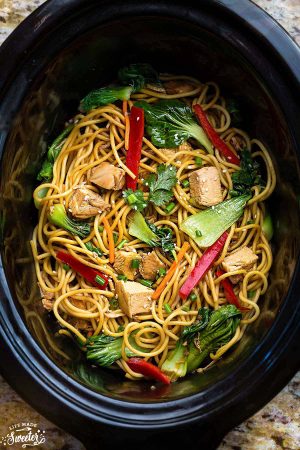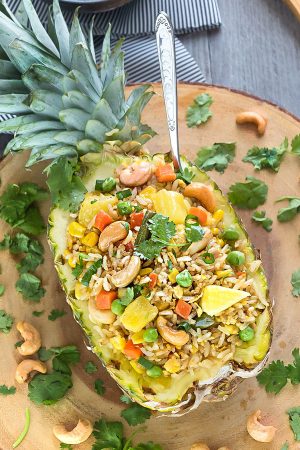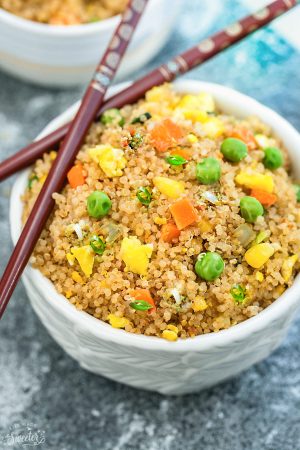 Easy Chicken Lo Mein – NO SLOW COOKER REQUIRED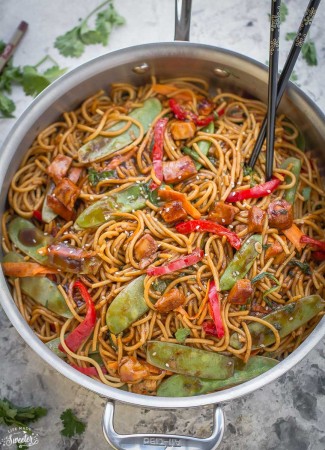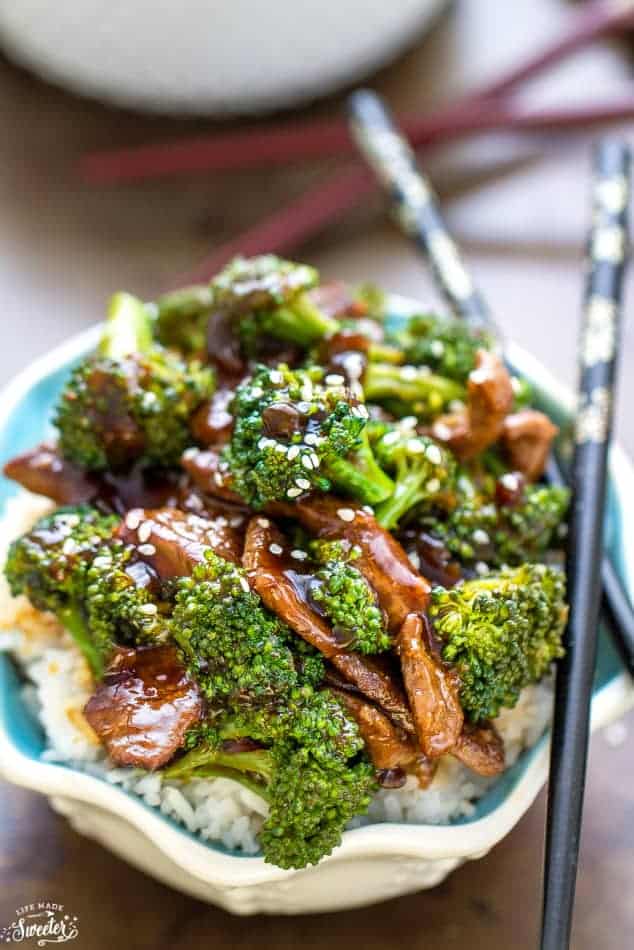 Stir Fried Shanghai Noodles with Ground Pork and Napa Cabbage