Beef Lo Mein Noodles with Broccoli makes the perfect easy weeknight meal. Best of all, this one pot recipe comes together in under 30 minutes and is much healthier and tastier than takeout! Plus weekly meal prep and recipe video!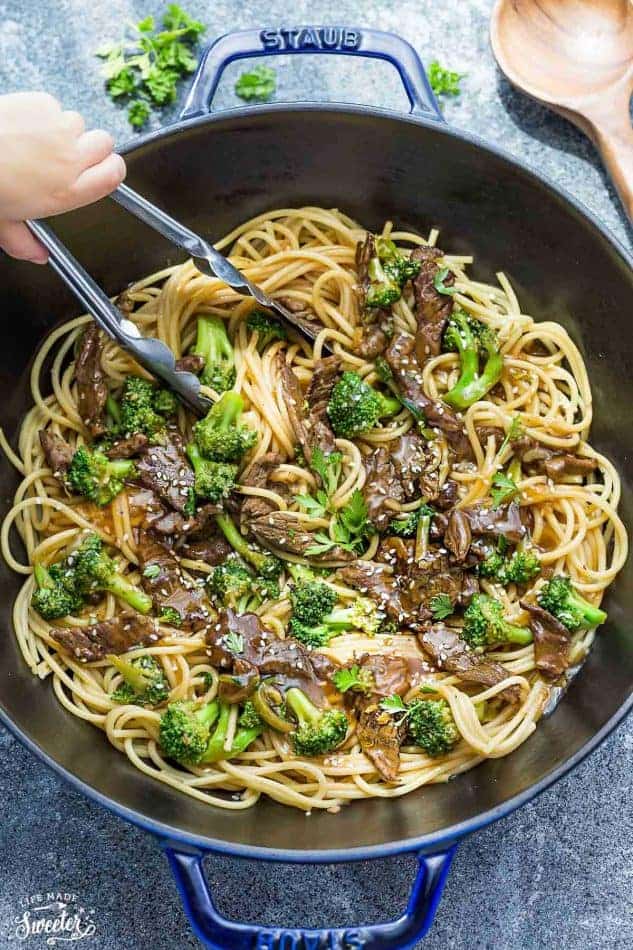 Pin for later or follow my recipes board for more dinner ideas.
Noodles are a popular favorite around here. Especially for the kiddos. They love slurping up a big bowl of chow mein, lo mein, ramen and even zoodles.
Since this Chicken Lo Mein, Slow Cooker Lo Mein and Veggie Lo Mein have been such a hit, I couldn't help sharing a new version made with beef and broccoli – another popular dish around here.
This Beef Lo Mein has all of those amazing restaurant takeout flavors and is ready in under 30 minutes.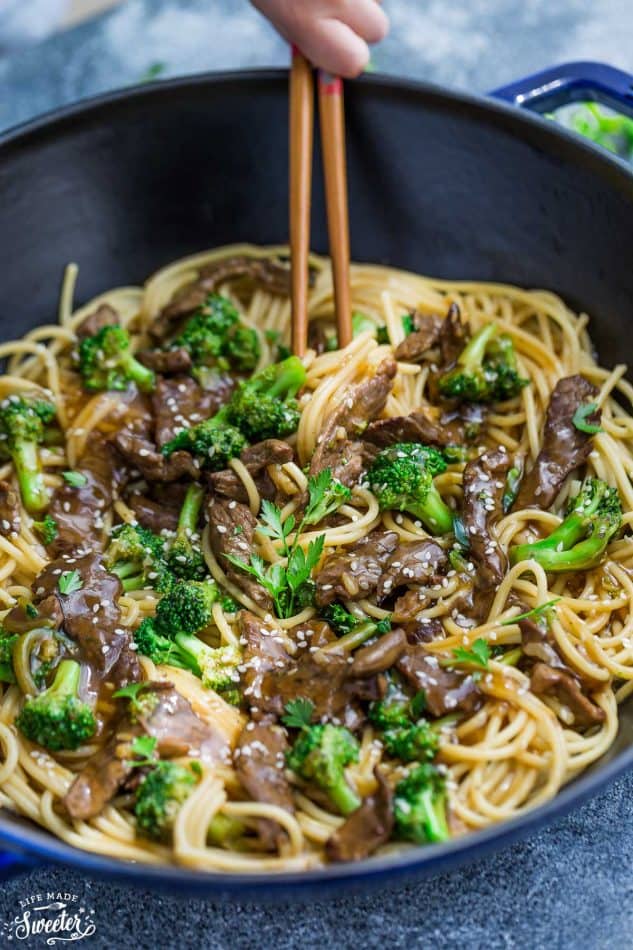 The best part is how easy it is to customize! You can swap out the beef for your favorite protein or leave it out entirely for a meatless dish.
I used broccoli this time to keep things simple (and because it was seriously all I had that day) but you can toss in any veggies you have lingering around into the pot!
Red bell peppers, carrots, bok choy and snap peas would be totally delicious!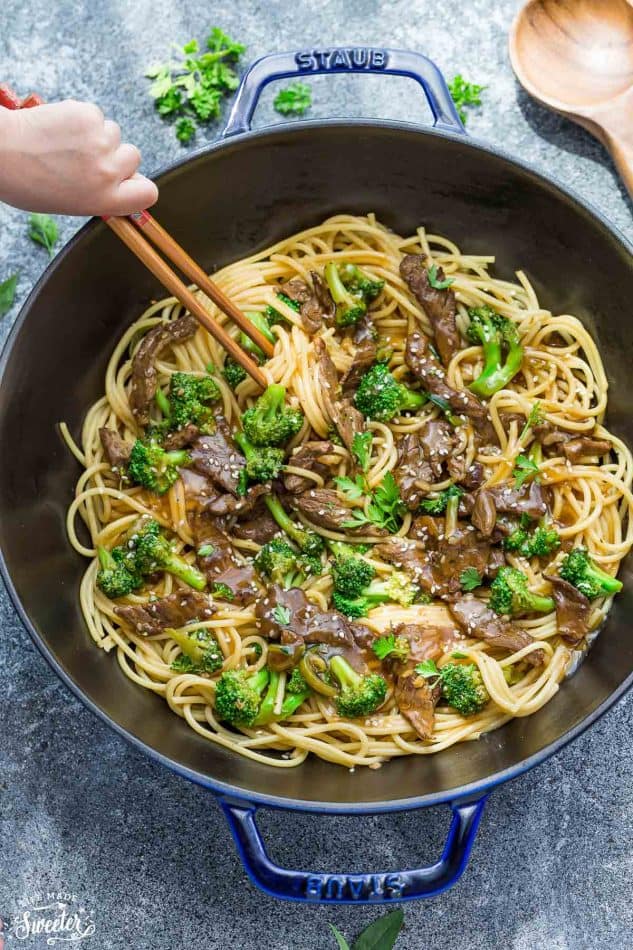 For the noodles, you can use fresh (about 2  1/2 cups) or dried lo mein noodles (6-7 ounces) – egg noodles, spaghetti, angel hair or even linguine will work fine as well.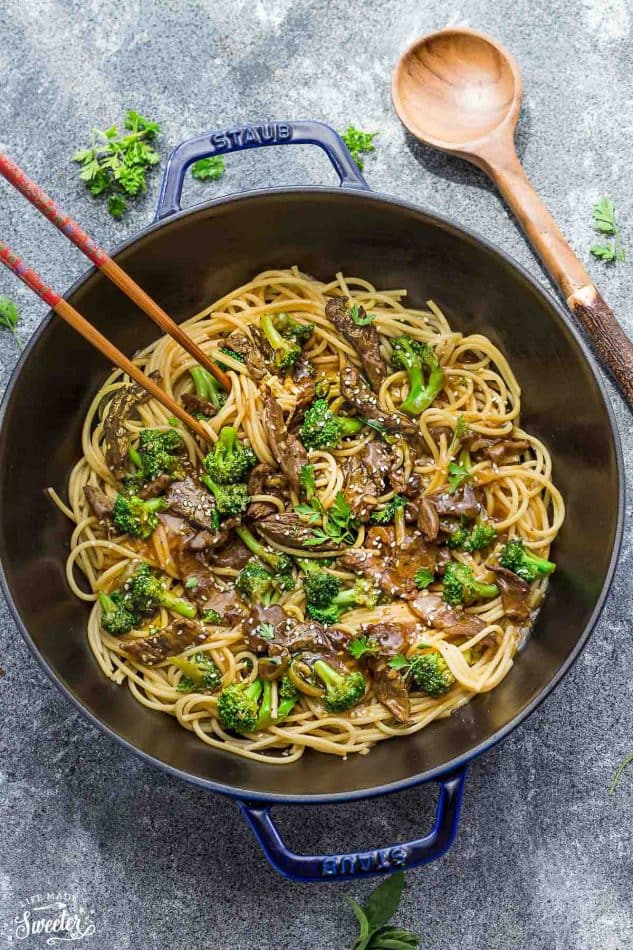 The savory flavorful sauce is what makes this dish extra special.
For extra saucy noodles, we love doubling the amount and saving it in a resealable jar in the fridge to use throughout the week.
SOME MAKE-AHEAD / WEEKLY MEAL PREP TIPS AND SWAP-INS FOR THIS BEEF LO MEIN
(affiliate links are included)
For the noodles – use 2 and a half cups of fresh lo mein or 6 ounces dried lo mein (egg noodles) like this one OR this one would be fine. Dried pasta (spaghetti or linguine) would all work here. Just be sure whatever you use, measures out to about 6 ounces when dried or 2 1/2 cups when cooked.
Swap the beef out for your favorite protein – chicken, pork and fried tofu work great in here.
Use your favorite vegetables – I've made this with bok choy, snap peas and red bell peppers with great results
Add sriracha sauce or some crushed red pepper flakes to spice things up.
Use a large saute pan or wok for even cooking
Delicious for leftovers or make a batch on Sunday meal prep and pack for your weekly school or work lunch bowls
For easier weekly meal prep – wash and chop the broccoli (or whatever veggies you are adding) and store in an airtight container the night before.
Enjoy as is or pack with your favorite side – Jasmine rice, brown rice, cauliflower rice or spiralized vegetables – zoodles – this is the lunch container I use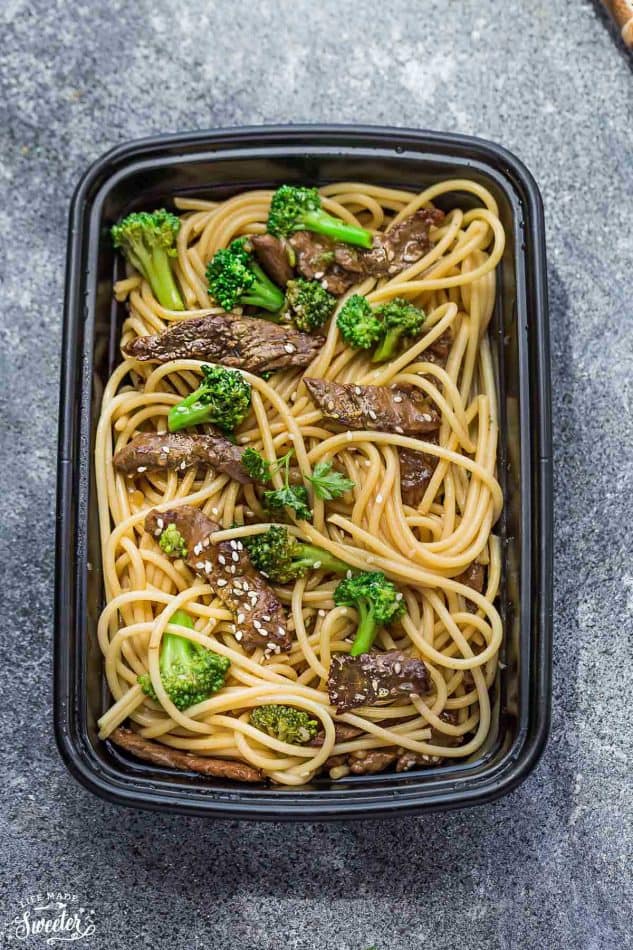 Ingredients
6-7 ounces dried lo mein noodles (or 2 1/2 cups fresh lo mein) (*can also use egg noodles, dry spaghetti, angel hair or linguine noodles)
8 ounces (about 1/2 lb) flank steak or sirloin, trimmed of fat, very thinly sliced against the grain
Salt and black pepper, to taste
1 teaspoon cornstarch
4-5 tablespoons cooking oil, divided
3 cups broccoli florets
1 teaspoon fresh minced (or grated) ginger
2 garlic cloves, minced
For the sauce
1/3 cup low sodium soy sauce (can also use gluten free tamari or coconut aminos for paleo)
3 tablespoons oyster flavored sauce (if allergic - leave out and use more soy sauce or hoisin sauce can be used but the flavor won't be quite the same since it's sweeter)
1 tablespoon of rice wine, Mirin or dry sherry
2 teaspoons honey or brown sugar
2 teaspoons of sesame oil
2 tablespoons corn starch
2/3 cup water (plus more as needed to thin out sauce)
1 teaspoon fish sauce (optional but if you already have it in your pantry, give it a try - it adds that extra rich umami flavor)
1 - 2 teaspoons of Thai chili garlic paste, red pepper chili flakes or Sriracha sauce - optional or to taste
For meal prep
Lunch containers
Instructions
If using dry noodles, prepare noodles according to package directions, drain and set aside. While the noodles are cooking, whisk together all the ingredients for the sauce.
Heat 1-2 tablespoons of cooking oil in a large skillet or wok over high heat, for about 2 minutes. The pan needs to be hot enough that you start seeing a little bit of smoke rising.
Quickly add the beef to the smoking pan and spread the pieces out to a single layer allowing them to sear and brown. Season with salt, black pepper and cornstarch.
Cook until the meat is no longer pink (about 30 seconds making sure not to over cook). Quickly transfer beef to a serving plate and set aide.
Add the same pan back to the stove and turn the heat to medium high heat. Add the remaining oil and let it heat up then toss in the broccoli and saute for 3-4 minutes, or until tender crisp. Add ginger and garlic, stirring for another 30 seconds until fragrant then add the seared beef back to the pan. Pour in sauce and stir until the sauce boils and thickens - about 30 seconds. Add more water if needed to thin out sauce. Quickly stir in the fresh or cooked noodles and toss everything together to coat well. Season with additional salt and pepper as needed, sprinkle sesame seeds, green onions or parsley over top and serve hot.
For meal prep: Divide noodles into four containers and store in refrigerator for up to four days.
7.8.1.2
545
https://bestrecipepicks.com/beef-lo-mein/
More takeout favorites: