Cherry Cheesecake French Toast Roll Ups  make a fun and creative breakfast treat perfect for special mornings. Best of all, the filling is so easy to customize with your favorite flavor.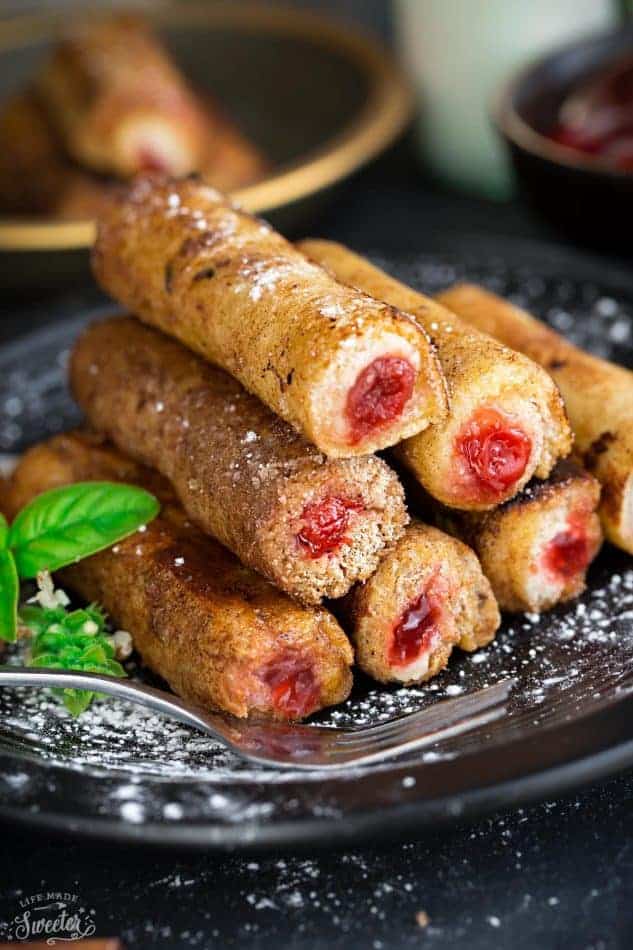 Breakfast will forever be my favorite meal. …especially when it comes to weekends. Saturday mornings are the best since we're not rushing around trying to get everyone ready and out the door to go anywhere.
I love that I get to kick it up a notch and have a little fun experimenting instead of our usual boring oatmeal.
Pancakes, crepes, french toast – you just can't go wrong.
And since today is National French Toast Day, I thought I would put a fun cherry cheesecake spin on the popular french toast roll-ups I've seen everywhere on Pinterest.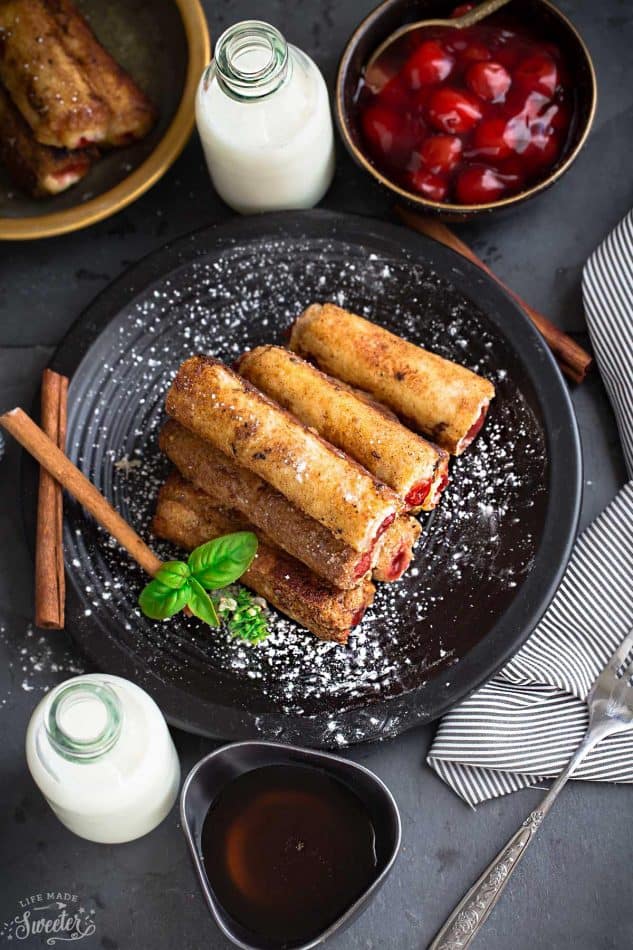 They came out better than I expected and are just a ton of fun to make – especially with the kiddos. They're perfect dunkers for lil hands and after trying these Cherry Cheesecake French Toast Roll-ups, they may not even want to have french toast any other way!
French Toast Roll-Ups would also be perfect for brunch, holiday mornings or any special weekend breakfast.
You make them with slices of sturdy bread with the crusts cut off and flattened out with a rolling pin.  I tried using white and whole wheat and although the taste was pretty comparables, the white ones held up much better.



Spread a little bit of cream cheese and cherry pie filling, roll them up tightly and dip each in an egg and milk mixture. Cook until  they're golden brown and give them a roll in a cinnamon sugar mixture for extra flavor and texture.
Plus, you can easily make them with an endless option of fillings. Strawberry, nutella, or even chocolate would be amazing.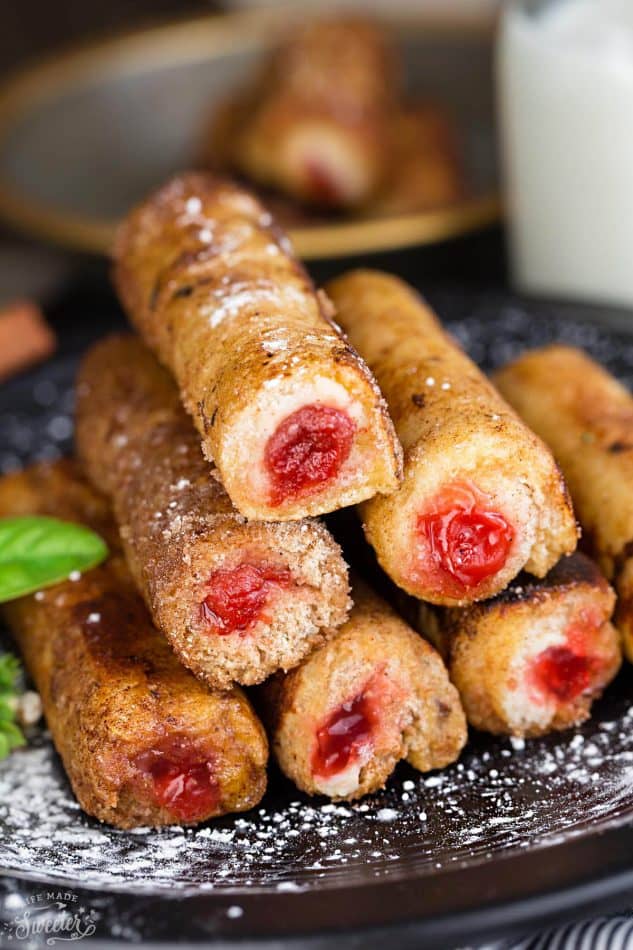 A little dip in some maple syrup makes them extra sweet and totally irresistible.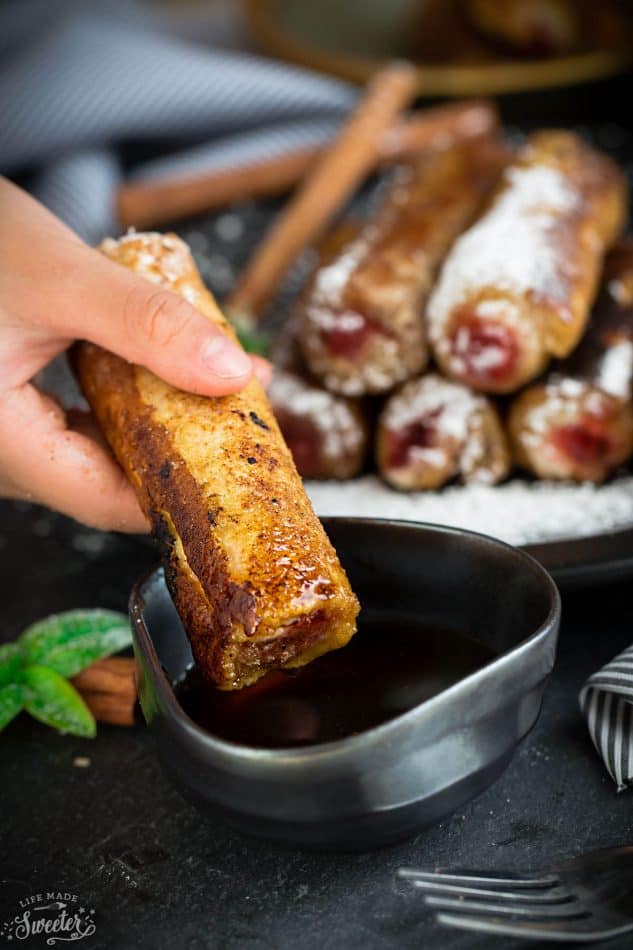 Yields 12 roll ups
Cherry Cheesecake French Toast Roll Ups
18 minPrep Time
10 minCook Time
28 minTotal Time
Ingredients
Cream Cheese Filling
4 ounces cream cheese, softened
2 tablespoons sugar
French Toast Roll-Ups
2 large eggs
3 tablespoons milk
12 slices soft white bread
1/3 cup cherry pie filling
3 tablespoons butter, for pan
1/3 cup granulated sugar
2 teaspoons ground cinnamon
maple syrup, for serving (optional)
powdered sugar, for serving (optional)
Instructions
In a medium bowl, combine the ingredients for the cream cheese filling and mix until smooth. Set aside.
In a shallow bowl, whisk together the eggs and milk. Set aside.
In another small bowl, stir together 1/3 cup granulated sugar with 2 teaspoons cinnamon. Set aside.
Remove crust from each slice of bread and flatten using a rolling pin or a glass.
At the end of each bread, spread cream cheese along in a strip then add about 1 1/2 teaspoons (do not overfill) of cherry pie filling and tightly roll up each slice.
Heat a non-stick pan over medium heat and melt butter to coat pan.
Dip each roll in the egg mixture and place in pan with the seam down.
Cook until golden brown turning to brown all sides.
You can cook about 3-4 rolls at a time. After the rolls are done, clean the pan slightly with a paper towel and repeat until all the rolls are cooked. Roll each into the sugar cinnamon mixture. Serve warm and dip in maple syrup and a dusting of powdered sugar, if desired.
Notes
7.8.1.2
458
https://bestrecipepicks.com/cherry-cheesecake-french-toast-roll-ups/
Don't forget to check out the other recipes below from my fellow food holiday bloggers celebrating National French Toast Day!