Chicken Caesar Pasta Salad is the perfect easy side dish for summer potlucks, barbecues and cookouts. Best of all, it has all the delicious flavors you love in a classic Caesar salad with a lightened up dressing. Plus recipe video.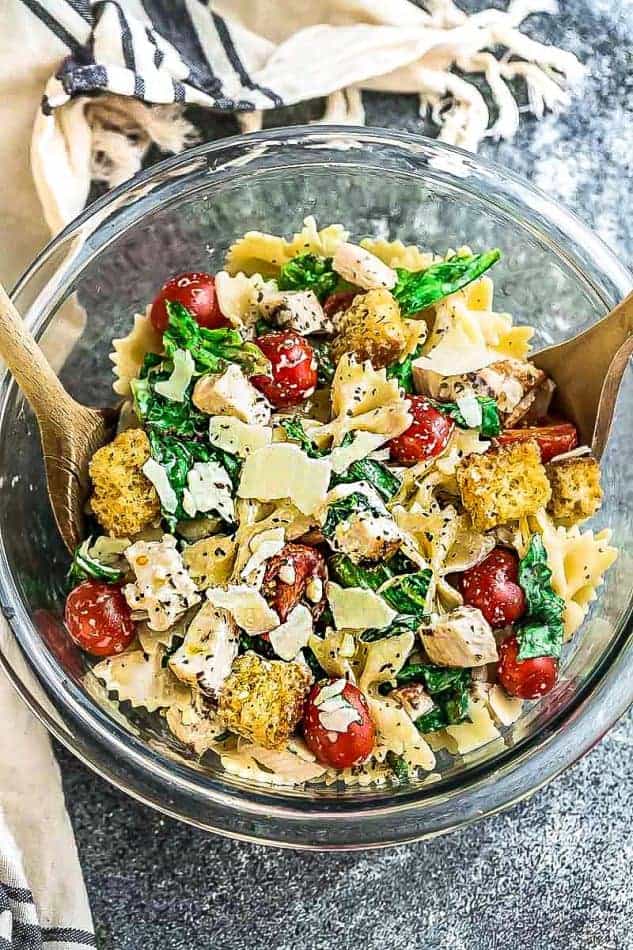 Photos updated May 2017
With summer just around the corner, pasta salads have been happening a lot around here lately. A few of our favorites so far include: Caprese, Chicken Caesar, Greek Tortellini and this Broccoli Pasta Salad. They are super versatile and perfect for packing along to potlucks, picnics and barbecues.
This Chicken Caesar Pasta Salad is one of my husband's favorite. He is a big Caesar salad fan and the addition of pasta and chicken helps to make this a complete meal.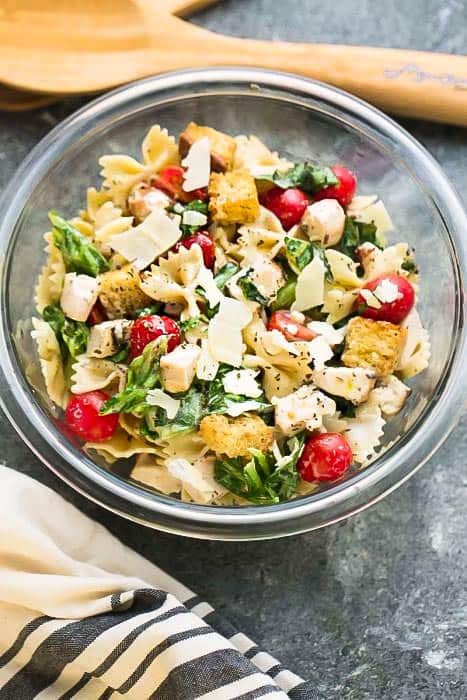 One thing that's great about any salad is that you can easily customize them with whatever you have on hand.
I used bow-tie pasta here but feel free to swap with penne or any other pasta you like. Whole wheat or gluten free would both work great here. To keep this entirely gluten free, you can leave out the croutons or make your own croutons using gluten free bread.
You can use your favorite Caesar dressing here but if you have a few extra minutes, the homemade dressing will be totally worth the effort.
It's lightened up with Greek yogurt in place of mayo and it works perfectly here without compromising on the flavor. Just be sure not to leave out any of the other dressing ingredients out because they really help to build up the flavor.
And it works great whether you use grilled or leftover chicken. If you want to keep this meatless,  sprinkle in your favorite chopped nuts, seeds or even roasted chickpeas instead.
Either way you serve it, this Chicken Caesar Pasta Salad is a summertime classic and makes an easy, picnic-ready favorite.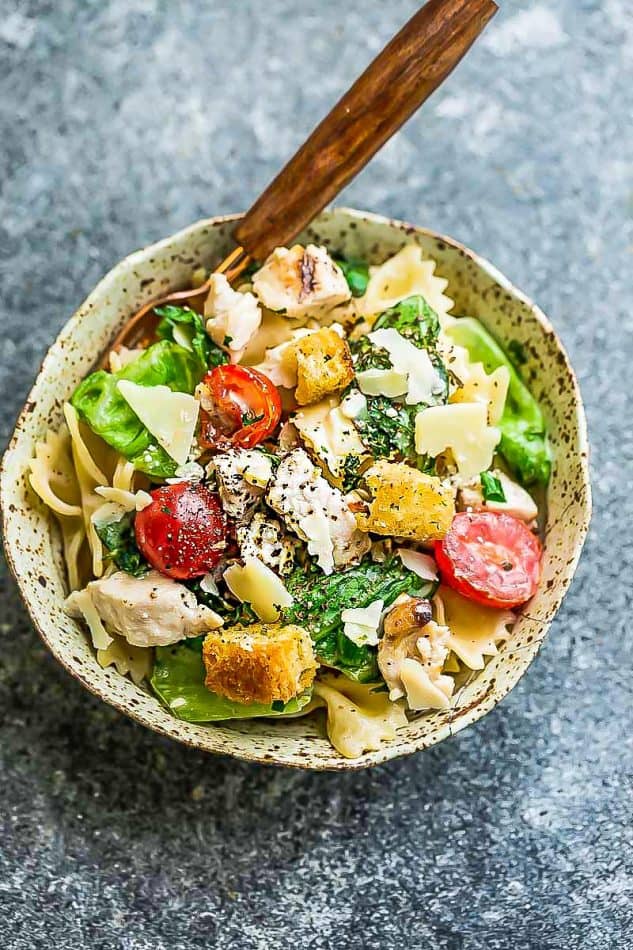 Make ahead tips for this Chicken Caesar Pasta Salad and Sunday Meal Prep
cook the pasta ahead of time and store in a large zip-top bag in the fridge
wash and chop the lettuce and tomatoes in advance and store in an airtight container or large zip-top bag in the fridge
make the dressing in advance and store in an resealable jar
for Sunday Meal prep, divide the pasta salad into lunchboxes (this is my favorite lunch container). Or make all four pasta salads and bring a different one to work every day.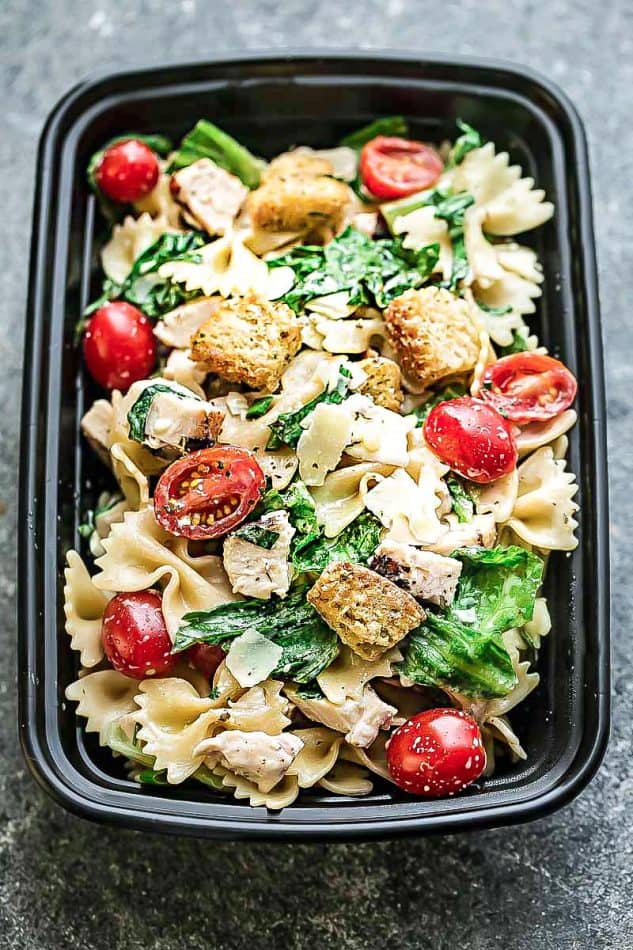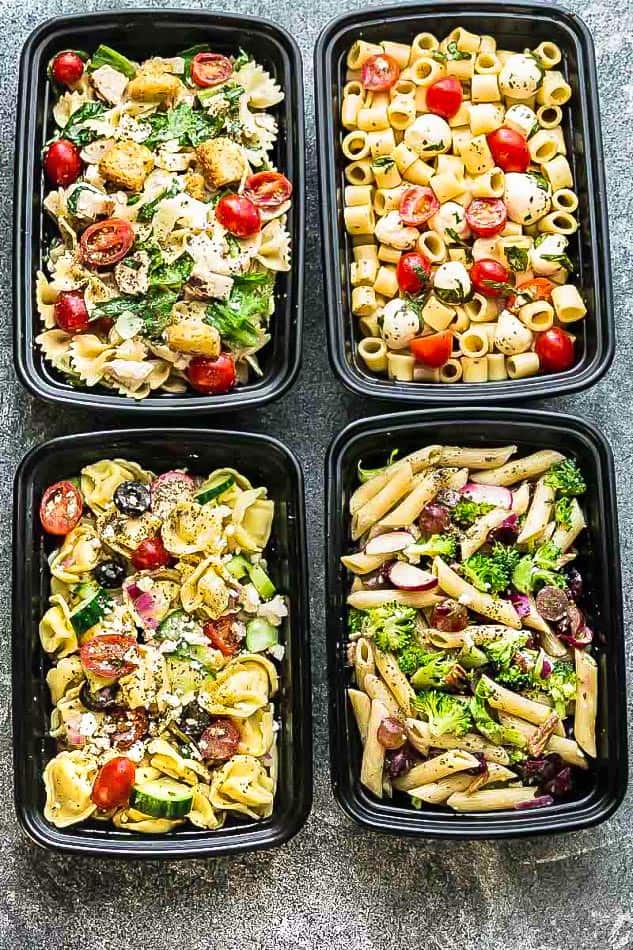 Yields 4-6
Chicken Caesar Pasta Salad + Meal Prep + VIDEO
A lightened up and easy gluten free bow-tie pasta salad with all the delicious flavors of a Caesar Salad. Perfect for a summer picnic, potluck or barbecue!
15 minPrep Time
10 minCook Time
25 minTotal Time
5 based on 1 review(s)
Ingredients
Dressing(Or use 1 cup of your favorite Caesar Salad Dressing)
1 cup plain Greek yogurt (a thicker Greek yogurt brand works best - I use Skyr non-fat)
1/3 cup freshly grated Parmesan cheese
3 tablespoon freshly squeezed lemon juice
2 tablespoon extra-virgin olive oil
2 teaspoons Dijon mustard
2 teaspoons Worcestershire sauce
2 cloves garlic
2 teaspoons anchovy paste or 2 anchovy fillets (highly recommended)
salt and black pepper, to taste
For the salad:
3 cups of pasta, cooked according to package directions and cooled (I used farfalle)
4 cups romaine lettuce, chopped
2 cups cherry or grape tomatoes, cut into halves
1 green onion, thinly sliced
1 tablespoons fresh basil leaves, thinly sliced
1/4 cup grated Parmesan cheese plus more for topping
salt and pepper, to taste
1-2 cups cooked chicken breasts, diced (grilled, roasted or rotisserie would work great)
1 cup croutons
Instructions
To make the dressing: In a small food processor or a high speed blender, add all the dressing ingredients and puree until creamy and smooth. Or alternatively, you may add all ingredients to a jar with a tight-fitting lid and shake vigorously until mixture is well-blended. Season with additional salt and pepper if needed, and add 1-2 teaspoons milk or water if needed to thin out the dressing to your desired consistency.

To assemble the salad: In a large bowl, mix the pasta with enough dressing to coat evenly. Cover and chill in the fridge for 10 minutes. Toss in the rest of the ingredients, except for the croutons. Pour the remainder of the dressing on top of the salad and gently toss to combine. Season with additional salt and pepper, as needed.
Sprinkle with grated Parmesan and croutons. Serve immediately or cover and chill in the fridge for up to 3 hours.
Notes
You can prep the dressing and coat the pasta up to 2 days ahead before assembling with the rest of the salad ingredients. Just keep in an airtight covered container.
7.8.1.2
170
https://bestrecipepicks.com/chicken-caesar-pasta-salad/
Looking for more salads?
The Best Pasta Salads for Summer Parties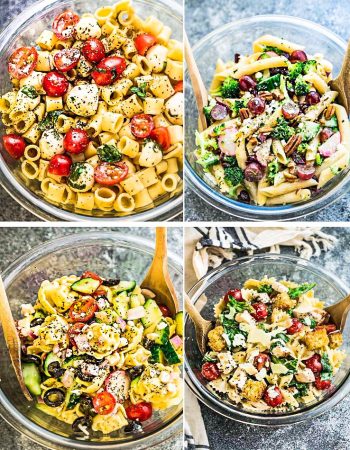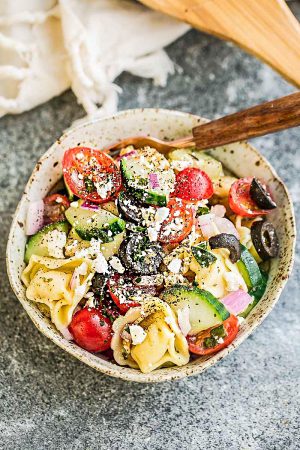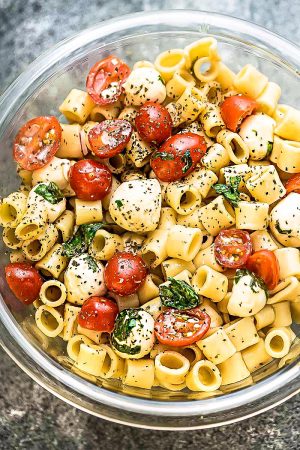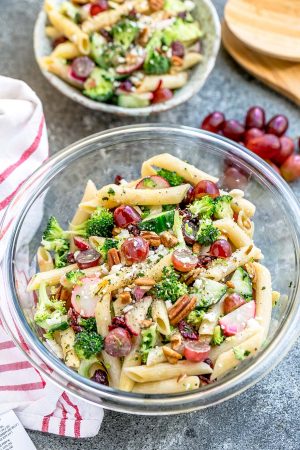 Grilled Pineapple Teriyaki Chicken Caesar Salad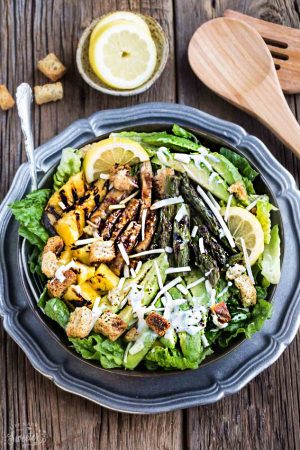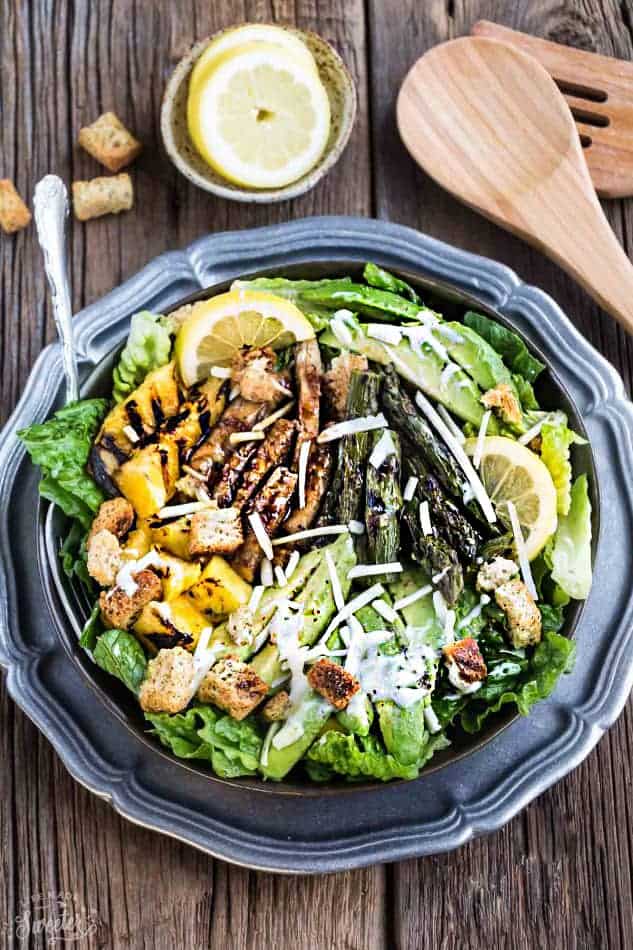 Asian Sesame Steak Fajita Salad