Chicken Pad Thai Noodles is the perfect easy weeknight meal. Best of all, this homemade recipe is full of authentic flavors and so much better than restaurant takeout! Great for Sunday meal prep or take the leftovers in school lunchboxes and work lunch bowls. Plus video!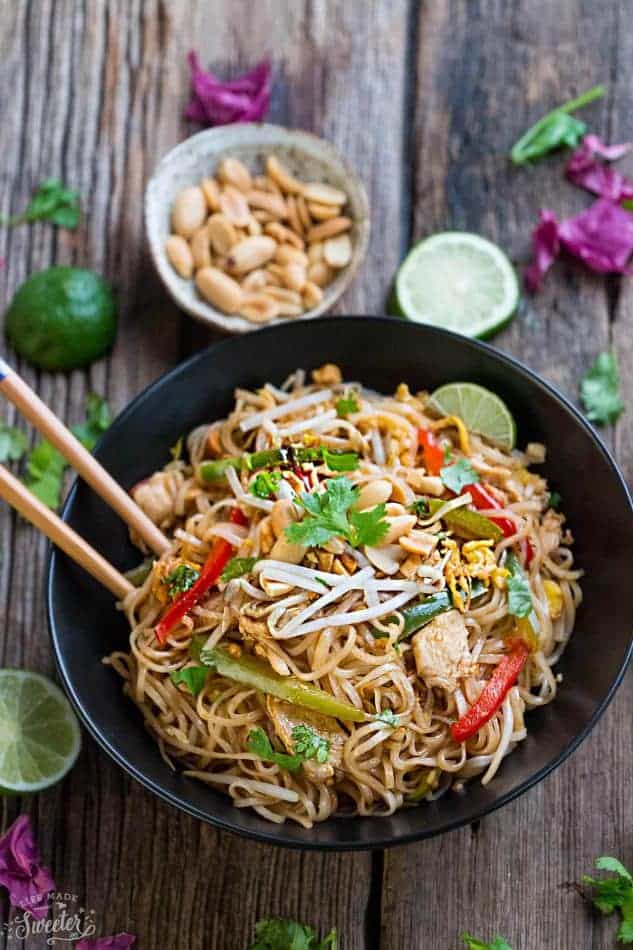 Pin for later AND follow my Recipes Board on Pinterest for more easy dinner recipes!
To stay up to date with my latest posts as soon as I post them, you can follow me on Feedly.
Pad Thai is my favorite thing ever to order whenever we go for takeout. In fact, if I had to choose just one food that I wouldn't mind eating forever, it would be noodles OR anything Thai-inspired. My dad has some family in Bangkok and we had a chance to visit on our tour around Asia when I was about ten years old. Then when I was 20, I had a chance to go back again with just my mom.
I fell completely head over heels on both visits — especially for the food. Their signature flavors made up of sweet, sour, spicy and savory just make my heart sing.
I spent a big chunk of my visits in the kitchen just following my aunts along and helping them out with meals whenever they let me. Of course, Pad Thai was on my list of things I had to master.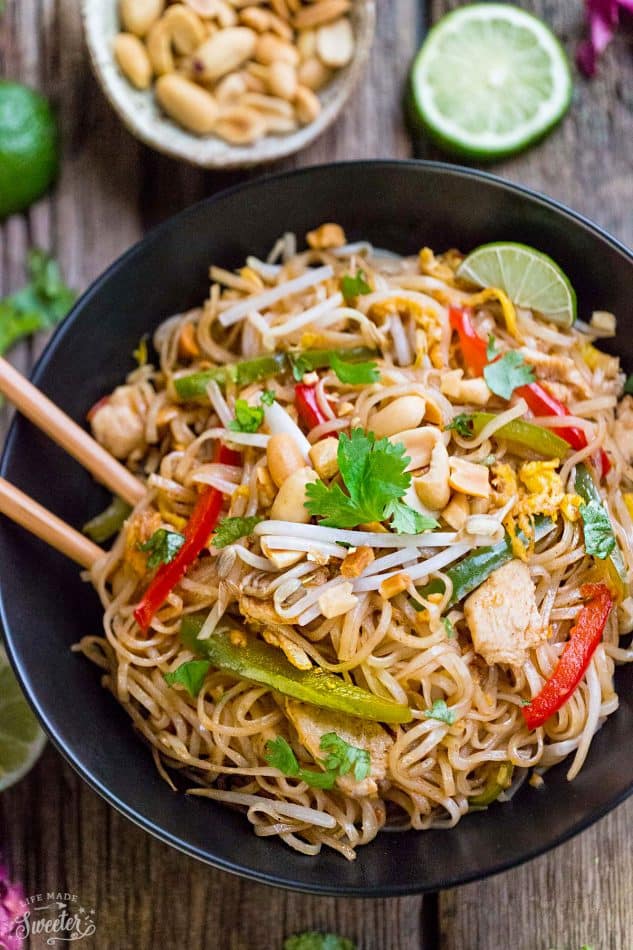 Pad Thai has to be the most popular dish that everyone thinks of when it comes to Thai food. We also love this Sweet Potato Noodle version and this Pad Thai Zoodles which makes a great lower carb  grain free option.
But in Thailand, Pad Thai is just a common street dish you can find just about everywhere.
My Easy Chicken Pad Thai is packed with all of those unmistakable complex flavors everybody loves when they have Thai food in an authentic Thai restaurant. This Chicken Pad Thai is almost the same as the version I have in my cookbook, except I've simplified the ingredients a little bit and included allergy-friendly substitutions as well.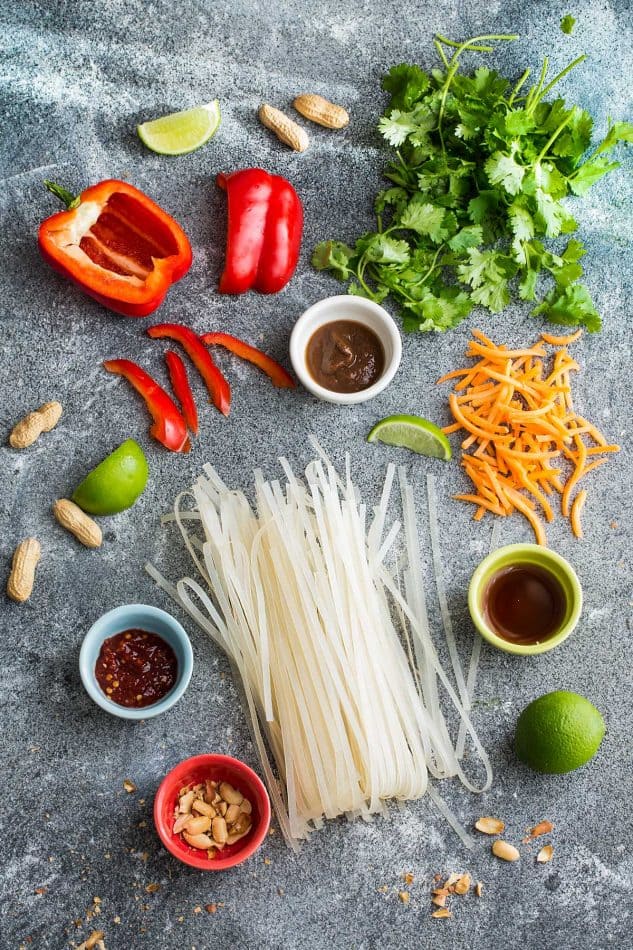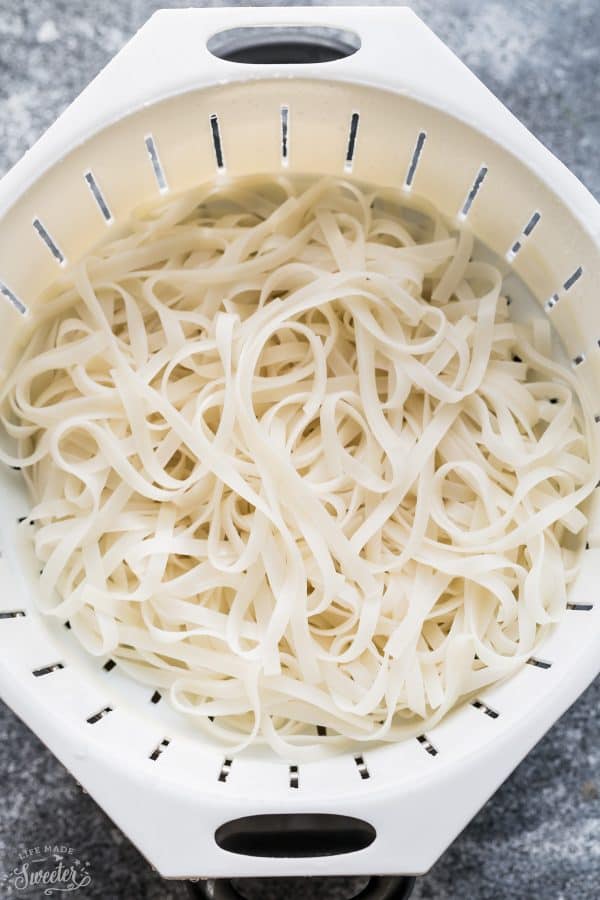 You can also easily customize this recipe by swapping out whatever vegetables you have on hand. Don't like chicken? Feel free to leave it out for a meatless version or make it with your favorite protein instead.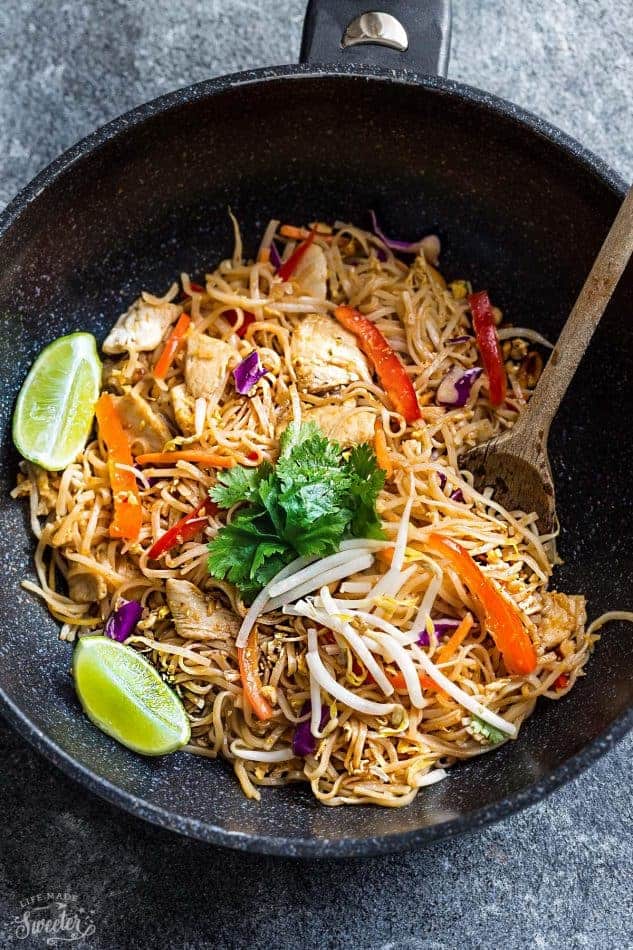 Either way you choose, this dish can be on your dinner table in as little as 25 minutes – or less if you have everything prepped ahead of time!
Much quicker and better than takeout! Plus, it reheats beautifully so it makes delicious leftovers for lunch the next day.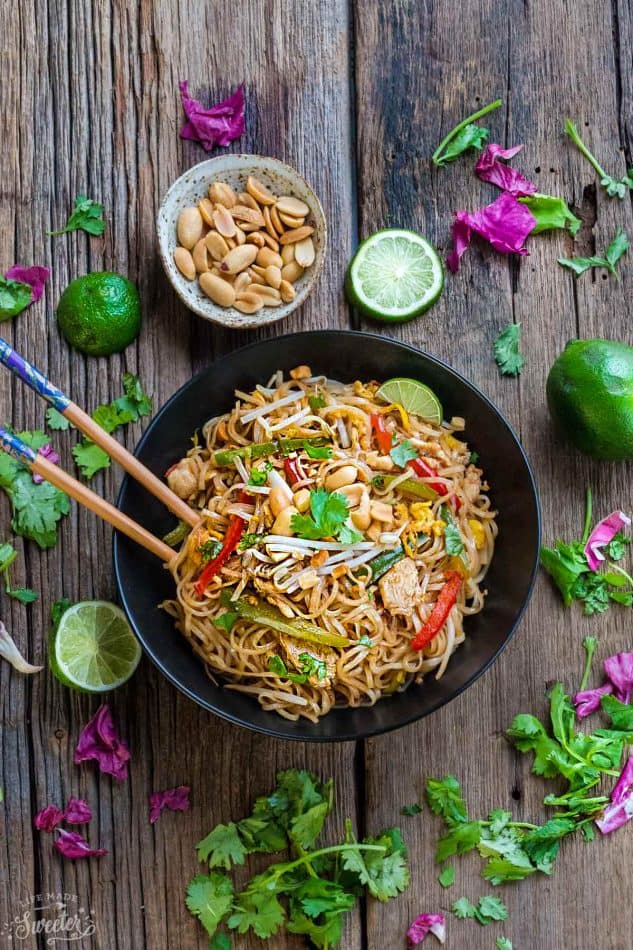 Make ahead tips and substitutions for this Chicken Pad Thai
wash and chop your vegetables the day before and store in a zip-top bag or sealable container in the fridge
slice chicken and store in an air-tight container in the fridge the day before
add shrimp or make this with beef, pork or fried tofu for a vegetarian version instead
use the skillet to cook the noodles before-hand and this can be a one pot meal
instead of rice noodles – use spiralized veggies like zoodles or sweet potato noodles
if you don't have access to tamarind concentrate (more watery – NOT tamarind paste which is thicker) – use 3 tablespoons lime juice or rice vinegar instead. I use the one below which I get at my local Asian supermarket.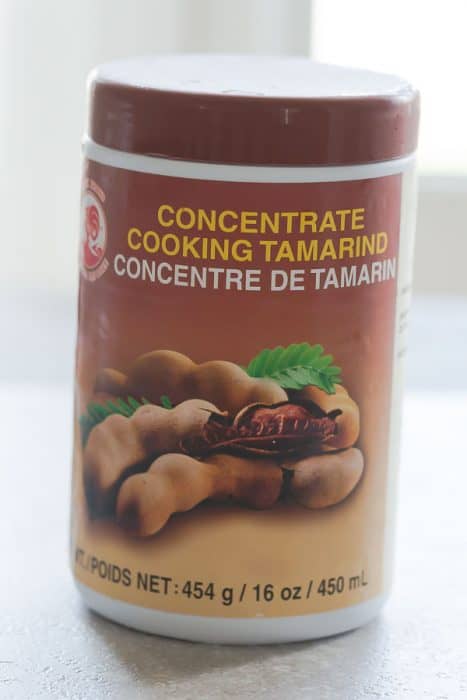 use gluten free tamari or coconut aminos for a gluten free version
fish sauce is HIGHLY recommended for that unmistakeable Thai flavor. For a VEGAN & GLUTEN version, check out FYSH SAUCE as a great substitute. But if you still t must skip it, use additional soy sauce instead
if you like a saucier Pad Thai – double the sauce and add desired amount to noodles. Save the leftovers for a stir-fry or even a salad.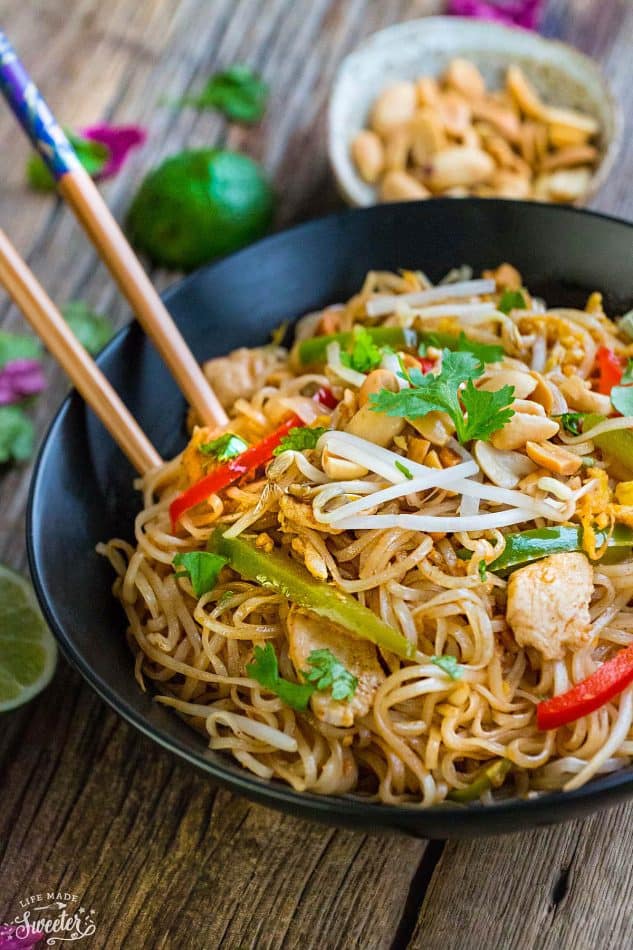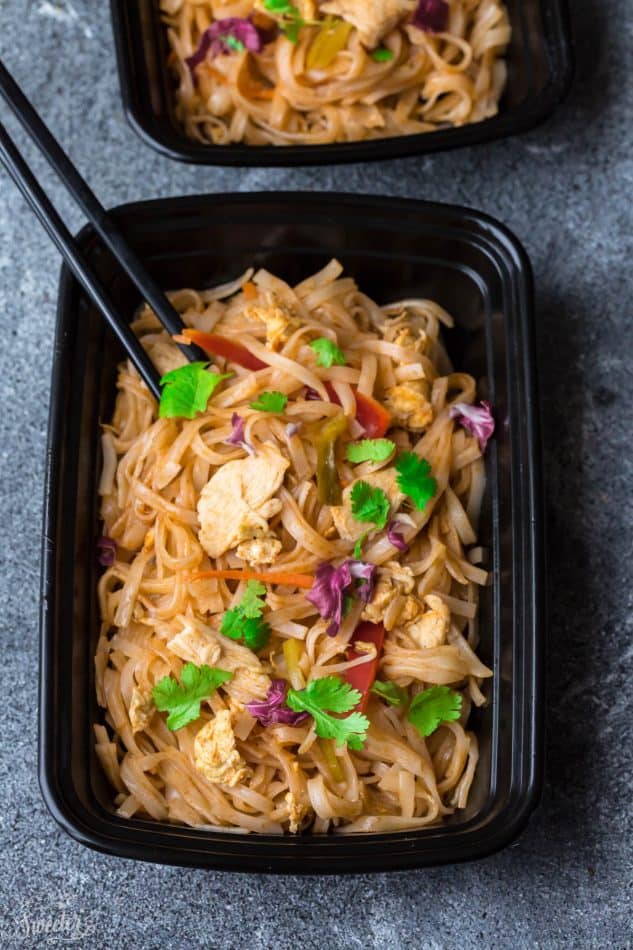 WEEKLY MEAL PREP-TIPS FOR YOUR SCHOOL OR WORK LUNCH BOWLS.
Delicious for leftovers or make a batch on Sunday meal prep and pack for your weekly school or work lunch bowls
For easier weekly meal prep – prepare all the vegetables ahead of time and store in an airtight container the night before.
Pack with your favorite side – Jasmine rice, brown rice, cauliflower rice or spiralized vegetables – zoodles – I use this lunch container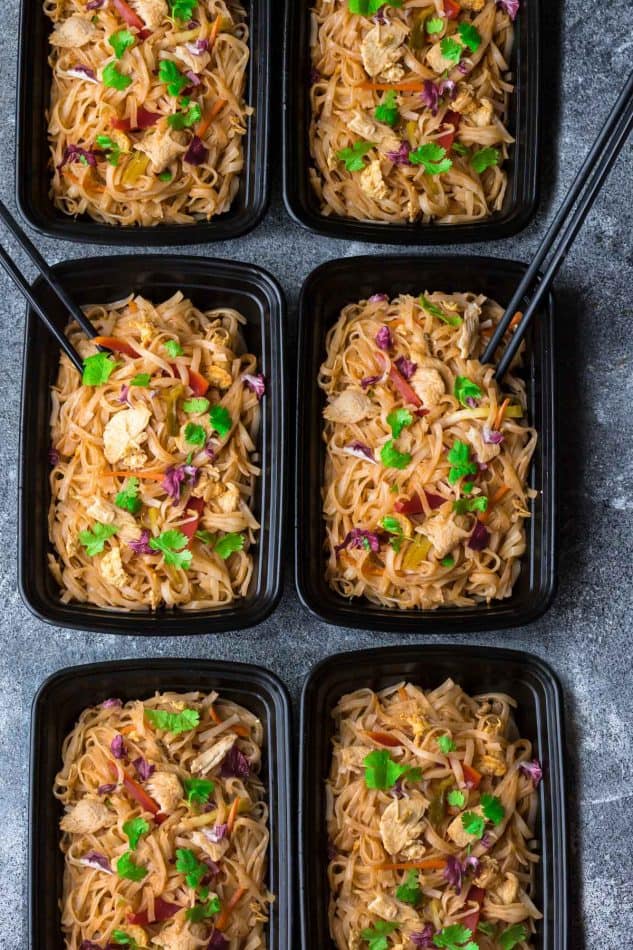 More lunch bowls:
Slow Cooker Orange Lunch Bowls
Yields 3-4 servings
Chicken Pad Thai Noodles
Chicken Pad Thai Noodles makes an easy weeknight meal. This homemade recipe is full of authentic sweet, sour, spicy and savory flavors that you love from your favorite takeout restaurant.
12 minPrep Time
13 minCook Time
25 minTotal Time
4.7 based on 20 review(s)
Ingredients
Sauce
1/3 cup tamarind concentrate (more watery - NOT tamarind paste which is thicker)(HIGHLY recommended but if you can't find it, sub with 1/4-1/3 cup fresh lime juice)
2 teaspoons - 1 tablespoon Thai red chili sauce (Sambal Oelek) or Sriracha to taste)(I like mine spicy so I usually add about 3/4 tablespoons)
5 tablespoons fish sauce (highly recommended)**
3 tablespoons oyster sauce (recommended - use gluten free if necessary) or low sodium soy sauce (use gluten free tamari or coconut aminos for paleo friendly version)
6 tablespoons coconut sugar (or brown sugar)
1 tablespoon corn starch (or use arrowroot powder or tapioca starch for a paleo version)
2 teaspoons concentrated tomato paste (optional for additional color and to mimic the North American version)
Pad Thai
8 ounces dried uncooked rice noodles
2 tablespoons cooking oil (avocado oil for a healthier version)
1 chicken breast, sliced thinly
2 garlic cloves, minced
1 teaspoon freshly grated ginger
1 shallot, diced
1/3 cup grated carrots
1 red or green bell pepper, thinly sliced (I used a combo of both for color, but you totally don't have to)
1 large egg, lightly beaten
1 lime wedge
Salt, black pepper and more fish sauce to taste
1 1/2 tablespoons tomato paste (optional if you want it to taste like the North American style as the authentic Thai version does not use this)
Garnish & toppings
Chopped fresh cilantro, bean sprouts, chopped roasted peanuts, green onions and additional lime wedges
Meal prep
Lunch boxes
Instructions
Prepare the rice noodles according to package instructions. (I usually just soak mine for 6-7 minutes in boiling water). They should be soft but not mushy - see my photo above for how it should look at this point. Drain and immediately rinse under cool water and set aside in colander.
While the noodles are cooking, whisk together the sauce ingredients in a medium bowl. If you prefer a sweeter pad thai - add additional sugar. For a spicier version, add additional chili paste.
Heat the oil in a large wok or non-stick skillet over high heat. Add the chicken and cook until browned and mostly cooked through (about 3-4 minutes). Stir in the ginger, garlic and shallots and cook for 30 seconds, until fragrant. Add the carrots and bell pepper and cook for 1-2 minutes, until tender crisp. Push all the ingredients over to one side of the pan. Pour the beaten egg and scramble directly in the skillet.
Add noodles and pour the sauce over top. Toss with tongs to evenly coat noodles while allowing the sauce to simmer, thicken up and the noodles to absorb the sauce. Remove from heat (do not overcook the noodles or they will get soggy).
Squeeze in juice from lime wedge and adjust seasoning by adding some salt, black pepper, fish sauce, (tomato paste - if using) and chili paste.
Serve hot on a large platter with garnishes by sprinkling on cilantro, bean sprouts, peanuts and green onions and additional lime wedges on the side.
For meal prep, divide the noodles evenly into lunch boxes and store in refrigerator until ready to reheat.
Notes
If you like more sauce, double the amount of sauce and add desired amount and save the rest in an airtight container for next time or use it up in a stir-fry or salad.
**Fish sauce is available in the Asian food section of most grocery stores or you can purchase it online. They also make a VEGAN version as well as a gluten free version. I HIGHLY recommend using any one of these, as it adds important saltiness and irreplaceable Thai flavor to the dish. If you must make a substitution, use additional low-sodium soy sauce. Store leftovers in an airtight container in the refrigerator for 3-4 days. Reheat gently in the microwave with a splash of water or chicken broth to keep the noodles from drying out
7.8.1.2
480
https://bestrecipepicks.com/chicken-pad-thai/
More takeout favorites:
Pad Thai Sweet Potato "Noodles"
Slow Cooker Thai Peanut Chicken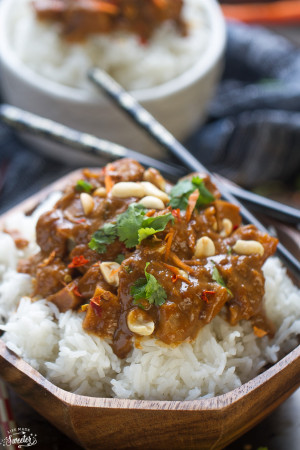 Rainbow Asian Skillet Peanut Noodles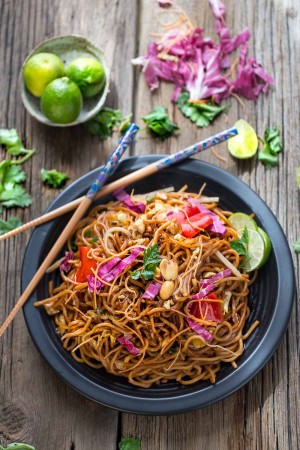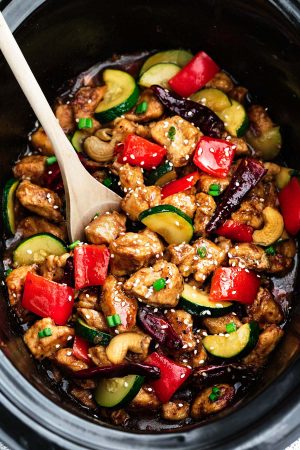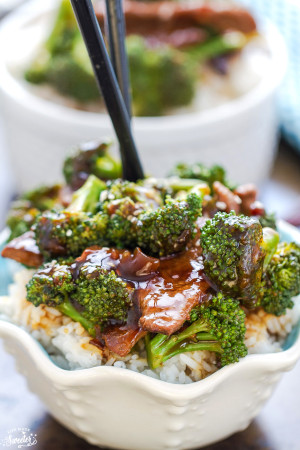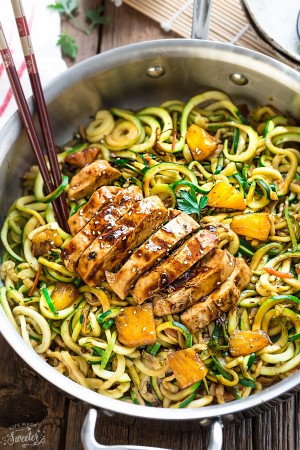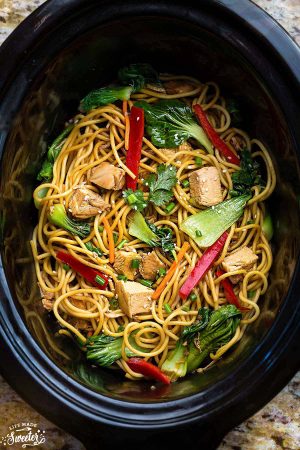 It's 30 Minute Thursday, don't forget to stop by and check out more 30 minute meals from my blogger friends: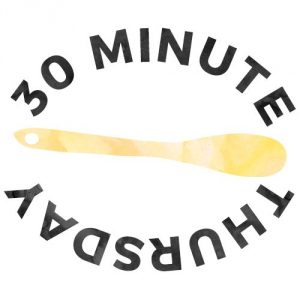 One Pot 30-Minute Pasta e Fagioli from Flavor the Moments
Baked Chicken Parmesan Meatballs with Creamy Polenta from Floating Kitchen
Tuna Casserole from My Kitchen Craze
One Pot Black Bean Fajita Pasta (Make Ahead) from Sweet Peas & Saffron
Italian Chicken Tortellini Skillet from The Recipe Rebel
Lightened Up Baked Chicken Parmesan from Kristine's Kitchen
Healthy Taco Chickpea Lettuce Wraps from She Likes Food
30 Minute Chicken Stew from Bake.Eat.Repeat