Chicken Souvlaki Quinoa – A delicious Mediterranean inspired chicken dish with mouth watering flavors. Served with grilled vegetables, quinoa and brown rice.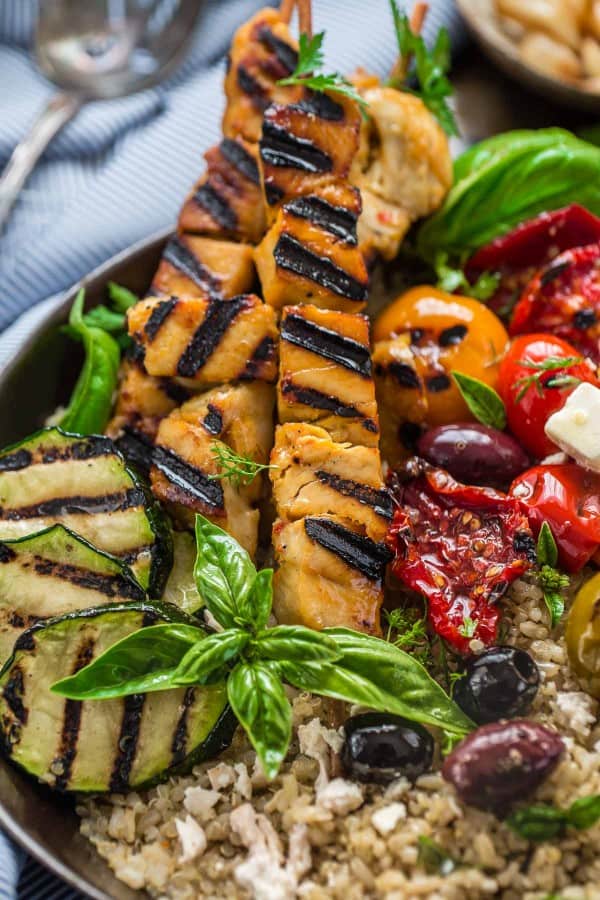 Yields 4 servings
Chicken Souvlaki Quinoa
Grilled Greek Chicken Quinoa Brown Rice Bowls - a Mediterranean inspired weeknight chicken dish full of bright flavors served with grilled vegetables, olives, feta on a bed of quinoa and brown rice.
Ingredients
For the Chicken
1 1/2 lbs boneless skinless chicken breasts, cut into 1 1/4-inch cubes
1/3 cup olive oil divided, plus more for grill
1/2 cup fresh lemon juice (about 2 large lemons)
2 tablespoons red wine vinegar
2 cloves garlic, minced
1 teaspoon fresh chopped oregano (or 1/2 teaspoon dried)
1/2 teaspoon fresh thyme (or 1/4 teaspoon dried)
1/2 teaspoon fresh dill (or 1/4 teaspoon dried)
1/2 teaspoon ground coriander
salt and black pepper, to taste
For the bowls
2 cups cooked
3 large sweet bell peppers (I used red, orange and green) diced into large chunks
3 medium zucchini, sliced into 1/4" rounds
1/2 cup cherry tomatoes, halved
1/2 cup sun-dried tomatoes
1/2 cup jarred Artichoke Hearts, Quartered
1/3 cup Assorted Greek Olives
1/3 cup feta cheese, crumbled (optional - leave out for dairy free option)
For the Tsatziki Sauce (optional - leave out for dairy free version)
1 cup non-fat plain Greek yogurt
1/2 English cucumber with peel, grated
1 clove garlic, presssed
2 tablespoons fresh lemon juice
1 tablespoon extra-virgin olive oil
1 teaspoons grated lemon zest
2 tablespoons chopped fresh dill
salt and pepper to taste
Tasty Extras
Tzatziki
Hummus
Flatbread
Fresh basil, parsley and/or dill
Lemon wedges
Instructions
Whisk together marinade in a large bowl then add the cubed chicken and toss to coat.
Cover and refrigerate the chicken for 45 minutes to 2 hours.
Cook the quinoa according to package directions and as desired.


**Heat the grill to medium high heat.
Thread the chicken onto metal or presoaked wooden skewers (about 30 minutes in water)
Brush the grates with olive oil then place the skewers over top. Grill the chicken for 3-4 minutes per side, gently flipping and cook for another 3-4 minutes, until chicken is cooked through and has light char marks.
While the chicken is grilling, toss the zucchini, bell peppers, tomatoes and artichoke hearts onto the grill and cook for about 3-4 minutes on each side, or until tender.
Fluff the quinoa brown rice and divide among bowls. Add grilled vegetables, olives and chicken skewers.
Sprinkle with feta cheese and serve with extras as desired.
To make the Tzatziki sauce: combine all the ingredients by hand or a blender (if you want it smooth). Cover and refrigerate until ready to use.
Notes
**If you don't have a grill, you can also use a grill pan to cook everything on the stove.
Chicken marinade and tzatziki sauce adapted from Martha Stewart
7.8.1.2
413
https://bestrecipepicks.com/chicken-souvlaki-quinoa/