Cinnamon Roll Snickers Streusel Muffins are the perfect easy treat. It's, full of delicious cinnamon chips with a streusel topping, a sweet cinnamon glaze and an extra sprinkling of cinnamon sugar.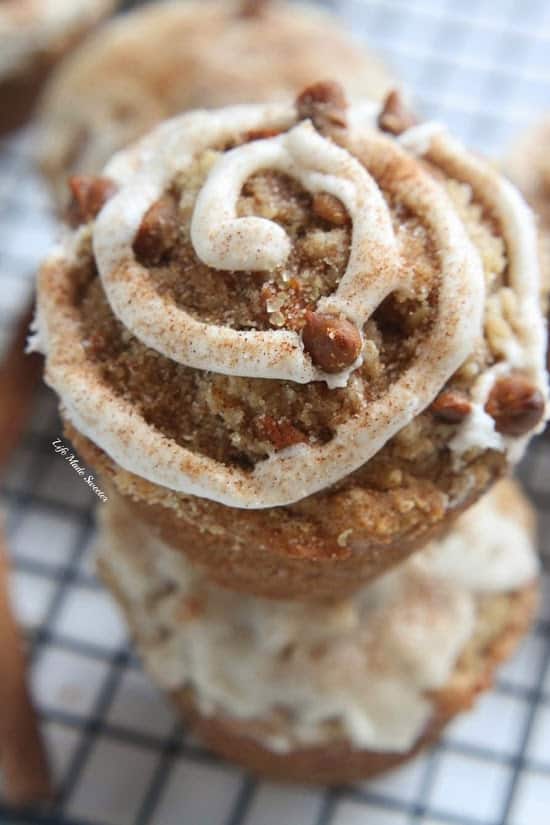 Yields 11
Cinnamon Roll Snickes Streusel Muffins
A cinnamon chip muffin topped with a crumble topping, a sweet cinnamon glaze and an extra sprinkling of cinnamon sugar.
18 minCook Time
18 minTotal Time
Ingredients
2 3/4 cups of all purpose flour (spoon and level method - be careful not to overmeasure)
3 teaspoons baking powder
1 teaspoon baking soda
1 tablespoon of ground cinnamon
1/4 teaspoon salt
1/2 cup granulated sugar
1/2 cup dark brown sugar
2 large eggs, room temperature
2/3 cup sour cream (I used Gay Lea Gold Premium Sour Cream )
1/2 cup of buttermilk, room temperature
1/2 cup vegetable oil
2 teaspoons vanilla extract
3/4 cup of cinnamon chips

Streusel topping
1/4 cup all-purpose flour
1/4 cup brown sugar
1/4 teaspoon ground cinnamon
2 tablespoons cold unsalted butter

Cinnamon Sugar
1/4 cup granulated sugar
1 tablespoon of cinnamon

Cinnamon Glaze
1 1/2 cups powdered sugar
1 tablespoon of unsalted butter, softened
1-2 tablespoons whole milk
1/2 teaspoon vanilla
Pinch of cinnamon

Additional Toppings (Optional)
Cinnamon Sugar
Cinnamon Chips
Instructions
Preheat oven to 415F degrees. Spray muffin tin with nonstick cooking spray. Set aside.
Make the streusel by combining the flour, sugar and cinnamon together in a small bowl. Cut in the butter with two forks or your fingers. Set aside in the fridge to stay cool.
Make the muffin batter: In a large bowl, whisk together the flour, baking powder, baking soda, cinnamon and salt. Set aside.
In a medium bowl, whisk together the eggs, granulated sugar, and brown sugar until combined. Whisk in buttermilk, sour cream, oil and vanilla extract.
Gently fold wet ingredients into dry ingredients with a rubber spatula or wooden spoon until just combined. *Avoid over-mixing, as that will produce tough, dense muffins. Gently mix until all the flour is off the bottom of the bowl and no big pockets of flour remain. The batter will be extremely thick and somewhat lumpy. Very gently fold in the cinnamon chips reserving some for topping if desired.
Spoon batter into prepared muffin tins, filling all the way to the top. Top with streusel topping and sprinkle with cinnamon sugar.
Bake at 415F degrees for 5 minutes. Keeping the muffins in the oven, reduce oven temperature to 375F and continue to bake for 12-14 minutes depending on your oven - until tops are lightly golden and a toothpick inserted in the center comes out clean. Allow to cool in the pan for 10 minutes.
Meanwhile prepare the glaze. Whisk together the powdered sugar, 1 tablespoon of milk, softened butter, vanilla, and cinnamon. Keep stirring and the glaze will come together. If it is still too dry, very slowly add in the remaining tablespoon of milk briskly stirring in between additions until desired consistency is reached. Make a thinner glaze to pour it over the muffins and a thicker glaze to swirl it over the muffins.
Swirl the glaze over the mostly cooled muffins or spoon thicker glaze into a ziplock bag with a small end cut off and pipe glaze into swirls over muffins. Sprinkle with more cinnamon sugar and cinnamon chips if desired.
Notes
*Be sure to measure flour correctly using the spoon and level method
*Try to avoid overmixing as this will produce a tough muffin.
*Using room temperature eggs, milk and sour cream ensures that your batter will mix together easier and more even.
*Muffins taste best fresh the same day. Store muffins at room temperature in an airtight container for up to 5 days. Muffins freeze well, up to 3 months.
7.8.1.2
125
https://bestrecipepicks.com/cinnamon-roll-snickers-streusel-muffins/