This delicious gingerbread cinnamon rolls makes an extra special and festive treat for the holidays!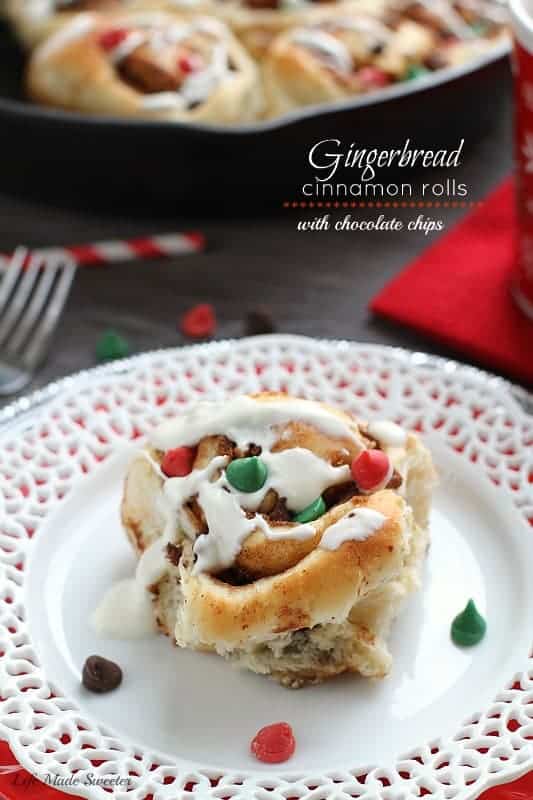 Yields 12-14
Cinnamon Rolls
Delicious and easy gingerbread spiced cinnamon rolls with a gingersnap cookie and chocolate chip filling drizzled with cream cheese frosting. Makes an extra special and festive breakfast for the holidays
30 minCook Time
30 minTotal Time
Ingredients
3 1/4 cups flour
2 1/4 teaspoons instant yeast
1/4 cup white sugar
1/4 teaspoon salt
1/2 Tablespoon ground cinnamon
1/2 teaspoon ground ginger
1/2 teaspoon ground cloves
1/2 teaspoon nutmeg
1 large egg, room temperature
1/4 cup water
3/4 cup milk
5 Tablespoons of unsalted butter

Filling Ingredients:
3/4 cup brown sugar, packed
2 1/2 Tablespoons ground cinnamon
1 1/2 teaspoon ground ginger
1 1/2 teaspoon ground cloves
1 teaspoon nutmeg
1/2 Tablespoon molasses
5 Tablespoons butter, softened
1 cup of semi-sweet chocolate chips (I also tossed in a handful of the holiday chocolate chips for a festive look)
10 ginger snap cookies, crushed

Cream Cheese Frosting:
4 ounce cream cheese, softened
3 Tablespoons butter, softened
3/4 cup powdered sugar
3 Tablespoons of milk or heavy cream
1 teaspoon vanilla
Instructions
Spray a 9" round pan or cast iron skillet with cooking spray. Set aside.

Make the dough:
Add the milk and butter to a small saucepan over medium low heat . Stir until the butter has melted and remove from heat. Let stand until luke warm temperature.
In the bowl of your stand mixer, whisk together 2 cups flour, yeast, sugar, salt, cinnamon, ginger, cloves and nutmeg. Place in stand mixer using the dough hook attachment.
Add the egg and water and mix until just starting to combine. Slowly add in the milk mixture and the rest of the flour (1 and 1/4 cups) until the dough starts to form and become smooth. Loosely cover the bowl with a damp towel and allow the dough to rest in a warm draft free place for 30 to 60 minutes allowing the dough to rise.

Make the filling
In a small bowl, whisk together butter, molasses, brown sugar, cinnamon, ginger, cloves, nutmeg until it forms a paste.
After the dough is risen, roll it out on a lightly floured surface or a silicone baking mat into a rectangle about 14" by 9" and about 1/4 - 1/2 inch thick.
Spread the gingerbread filling as evenly as possible over the rectangle getting as close to the edges as possible. Sprinkle chocolate chips evenly over filling.
Starting on the long side, roll dough up snugly and gently to opposite end. Pinch the end seam to seal and cut dough into approximately equal portions or about 1.5 - 2 inches wide. (I use a piece of non-flavored floss to cut the pieces evenly).
Cover the rolls loosely with foil and allow to rise in a warm, draft-free place for another 20-40 minutes. (***You can also cover with plastic wrap and stick in the refrigerator overnight until ready to bake.)
When ready to bake, preheat oven to 350 degrees.and bake for 25-30 minutes, or until they are golden brown. *If the rolls have been in the refrigerator, remove and leave out on room temperature about an hour before you plan to bake them to warm up.

To make the glaze:
Beat together the cream cheese, butter, and powdered sugar until smooth. Add the milk or cream and vanilla and mix until combined. Pour over warm cinnamon rolls.
Notes
Rolls are best enjoyed on the same day.

*Dough can be made the night before and place in the refrigerator overnight covered with plastic wrap. Just remove from the fridge and leave out on room temperature about an hour before you plan to bake them to warm up.
7.8.1.2
104
https://bestrecipepicks.com/cinnamon-rolls/