Enjoy this light, fluffy and delicious frosted vanilla cake with sprinkles. Makes for a perfect birthday or any celebration!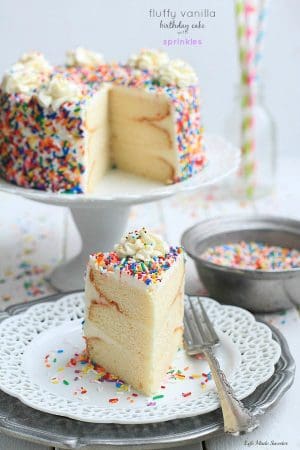 Yields 6
Fluffy Vanilla Birthday Cake with Sprinkles
A light, moist and delicious frosted vanilla cake with sprinkles - my favorite and perfect for a birthday or any celebration!
30 minPrep Time
30 minCook Time
1 hrTotal Time
4.7 based on 3 review(s)
Ingredients
Vanilla Cake
3 cups cake flour, sifted (345 g)
2 cups granulated sugar (400 g)
4 teaspoons baking powder (17 g)
1/2 teaspoon salt (2.5 g)
5 large egg whites, at room temperature (150 g)
1 whole egg, at room temperature
1 cup whole milk or full fat buttermilk at room temperature (237 ml)
2-1/4 teaspoons pure vanilla extract (12 ml)
3/4 cup unsalted butter, cold and cut into 24 even pieces (170 g)


Vanilla Buttercream Frosting
1 1/2 cups (3 sticks) of unsalted butter, softened to room temperature
3 - 3 1/2 cups sifted confectioners' sugar
1 teaspoon of pure vanilla extract
Seeds scraped from one vanilla bean (or add 1 more teaspoon of pure vanilla extract)
3-4 tablespoons of heavy cream
pinch of salt


Decorations
Sprinkles (I used about 1 cup of rainbow jimmies)
Instructions
For the Vanilla Cake:
Heat oven to 350 degrees. Lightly grease three 6-inch cake pans with non-stick baking spray (I use Baker's Joy ) and line the bottom with parchment paper.
In a medium bowl or measuring cup, combine and whisk together the egg whites, whole egg, 1/4 cup of milk, and the vanilla extract. Set aside.
In the bowl of an electric mixer fitted with the paddle attachment, combine the dry ingredients together on low speed for 1 minute.
Add the cold butter one piece at a time, about every 10 seconds. (I like to keep some in refrigerator while I'm adding pieces to ensure that the butter stays cold) until all the pieces are added.
Continue to mix on low until the mixture is a fine crumbly texture. Add 3/4 cup milk, and mix on low speed for 5 minutes. Make sure to scrape the sides and bottom of the bowl down.
Begin to add the egg mixture in 3 separate batches making sure to scrape the sides and bottom before and after each batch, mixing until light, fluffy, homogenous and well incorporated. Fold once or twice to ensure the batter at bottom of bowl is incorporated.
Divide the batter evenly into the prepared pans.
Bake until a cake tester comes out with a few crumbs when inserted into the center, about 25-30 minutes. Be very careful to not over-bake. Check cake at 20 minutes, but not before, and then set the timer for 2 minute intervals. Let cool on racks for 10 minutes before loosening the sides with a small metal spatula, and invert onto greased wire racks. Gently turn cakes back up, so the tops are up and cool completely.
Wrap tightly and store at room temperature for up to 2 days, refrigerator for up to 5 days, or frozen for up to 2 months. Best eaten the same day as baked.


For the Vanilla Bean Frosting:
In the bowl of a stand mixer fitted with the paddle attachment, whip the butter until light and creamy for about 7-8 minutes on medium speed.
Add the vanilla extract, vanilla bean seeds and salt and mix until combined. Slowly add in the confectioners' sugar one cup at a time and mix on low speed for about a minute and then on medium speed for 3 minutes. Add the heavy cream one tablespoon at a time until desired consistency reached. Whip on medium speed for another 2-3 minutes. The frosting will be very light, creamy, and fluffy and is best used right away.


To Assemble the Cake:
Place bottom cake layer on a cake plate. Serrate or cut off the top of the cake with a sharp knife if needed for an even layer. Spread 1/4 - 1/3 cup of frosting on top with a small offset spatula. Gently place 2nd cake layer face down on top. Place another 1/4 - 1/3 cup of frosting on top. Gently add the 3rd cake layer. Add a generous scoop of frosting and spread evenly with a small offset spatula working your way down the sides until you have a thin layer of frosting over the entire cake. Chill until set, about 30 minutes.
Remove from refrigerator and apply a final "coat" of frosting. Decorate with sprinkles if desired.
Notes
Barely adapted from The Cake Bible

*Be careful not to overbake since every oven is different. Know your oven.

*This recipe is written for a 6" three layer cake - please make sure to increase the baking time to around 28-30 minutes and amount of frosting per layer if you are making this into an 8" two layer cake.
7.8.1.2
144
https://bestrecipepicks.com/fluffy-vanilla-birthday-cake-sprinkles/