Gingerbread Granola Clusters make the perfect festive snack with all the classic gingerbread flavors.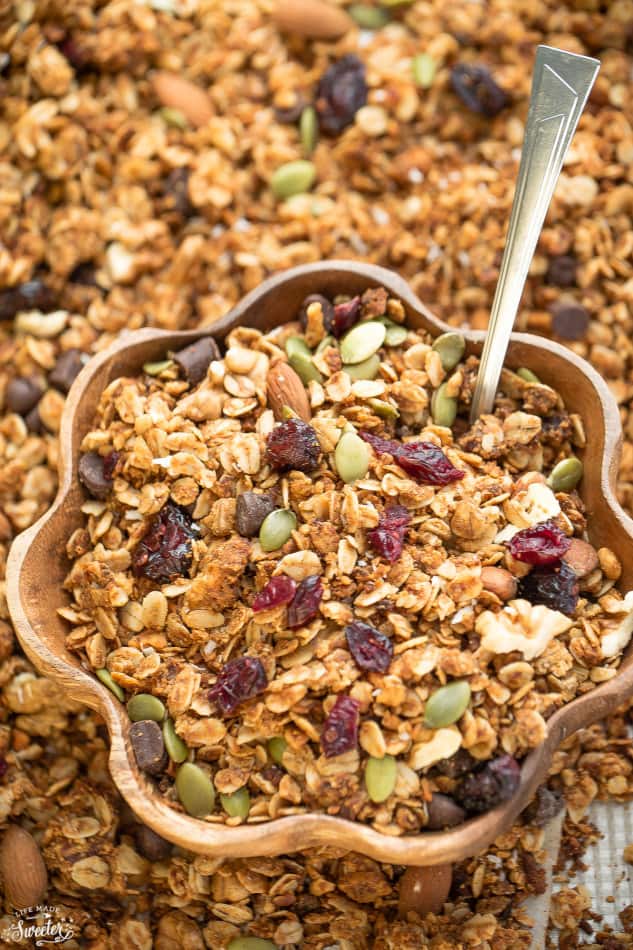 I love making a big batch of homemade granola and usually change up the different flavor variations for us to snack on through the week.
It's so much healthier than anything from the store plus it's so easy to make!
This gingerbread granola is a great way to start off the day with a warm and Christmas-y feel. It has all of the classic gingerbread flavors with a nutty crunch in every bite.
To get the giant clusters takes a little bit more patience.
DO NOT break up or stir the granola while it's baking.
Let it do it's thing in the oven for 40 minutes and rotate the pan halfway, then remove from the oven and allow it to cool completely in the pan for at least 30 minutes.
Once it's cool down, then you can break up the pieces as large or small as you like.
I can never resist picking out the clusters first whenever I'm around a bowl of granola.
You can easily make a bigger batch of this granola and it's highly adaptable. Feel free to customize the spices and add-ins to your liking. Here are a few ideas:
pistachios
pecans
slivered almonds
toasted coconut flakes
cranberries
raisins
white/ dark/ semi-sweet chocolate chips
Divide them out and package them up to hand out to share with your friends and family. These would make great gifts for any granola lover. That's if you can resist not snacking on them before they're all gone.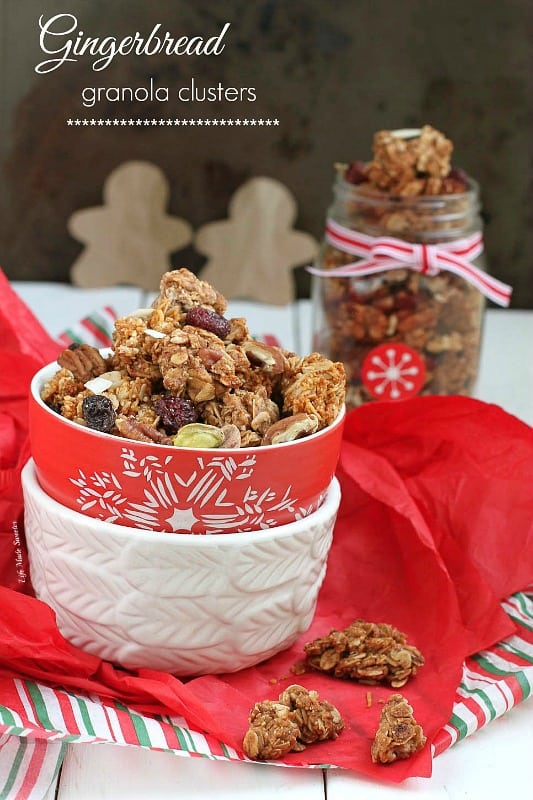 Gingerbread Granola Clusters
Start your morning off with all the flavors of classic gingerbread in a spiced and flavorful granola with big crunchy clusters.
40 minCook Time
40 minTotal Time
Ingredients
2 1/2 cups old fashioned oats (use certified gluten free oats if necessary)
1/4 cup oat flour (You can grind up your own oat flour in your blender or food processor) [**can also use all purpose flour if gluten is not a concern]
1/2 cup of almond meal (You can grind up your own with some raw almonds in the food processor)
1/2 teaspoon of baking powder
1 tablespoon cinnamon
2 1/2 teaspoons ground ginger
1 teaspoon of ground cloves
1/2 teaspoon ground nutmeg
1/4 teaspoon salt
1/2 cup coconut oil
2 tablespoons molasses
3 1/2 tablespoons of maple syrup
1/2 teaspoon of pure vanilla extract

Optional add-ins[/u]
1/4 cup pecans
1/4 cup pistachios
1/4 cup of raw slivered almonds
1/4 cup dried cranberries
1/4 cup of raisins
1/4 cup white/dark/semi-sweet chocolate chips of your choice (use gluten free chips if desired)
Instructions
Preheat the oven to 300 F. Line a large baking sheet with parchment paper or a silicon baking mat. Set aside.
In a very large bowl, mix together the oats,oat flour, almond meal, baking powder, cinnamon, ginger, cloves, nutmeg and salt. Set aside.
In a small saucepan on medium heat, warm the molasses, maple syrup and coconut oil until has melted - whisk until well combined and remove from heat. Whisk in the vanilla extract.
Pour the molasses mixture into the dry ingredients and toss to combine. Spread evenly onto baking pan and press down the granola with the back of a wooden spoon or spatula to flatten it out to stick together. That will help create the clumps to make crunchy clusters.
Bake for 40 minutes, Do NOT STIR and rotate pan half way through. Gently move around any pieces that may be cooking unevenly at the edge (we don't want to break apart the clusters) with a wooden spoon or spatula.
Once baked, remove from oven and allow granola to sit and cool completely for another 30 minutes. Break apart any very large pieces to the your preferred size. Once completely cool, mix in pistachios, pecans, almonds, dried cranberries or add-ins of your choice. Store in an airtight container at room temperature.
7.8.1.2
116
https://bestrecipepicks.com/gingerbread-granola-clusters/
More breakfast recipes:

Raspberry Double Chocolate Granola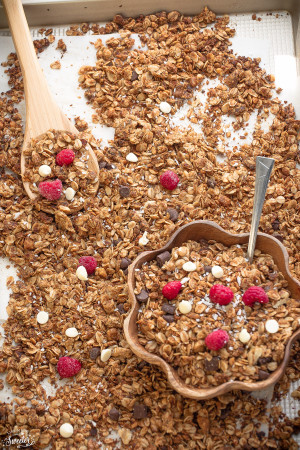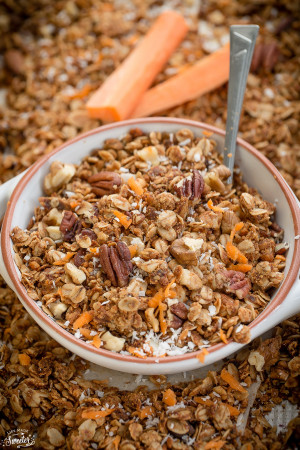 Gingerbread Cinnamon Rolls with Chocolate Chips