This Grilled Vegetable Quinoa Salad is loaded with grilled bell peppers, zucchini, asparagus, snap peas, broccoli and corn. Make this healthy and delicious light meal.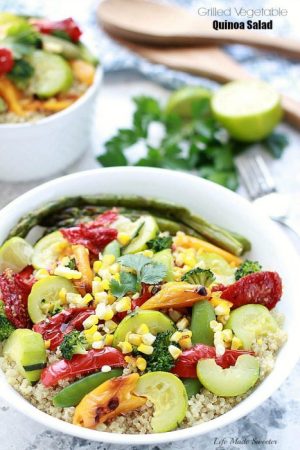 Yields 4
Grilled Vegetable Quinoa Salad
A quinoa salad loaded with grilled bell peppers, zucchini, asparagus, snap peas, broccoli. sun-dried tomatoes and corn makes a healthy and delicious light summer meal.
20 minCook Time
20 minTotal Time
Ingredients
3 cups cooked quinoa
2 sweet red peppers, seeded and quartered
2 sweet yellow or orange peppers, seeded and quartered
2 zucchini, peeled and cut into rounds
2 ears of fresh corn, corn silk removed, husks on
8-10 asparagus spears, trimmed
1/2 - 1 cup of broccoli florets
1 cup of sugar snap peas, ends trimmed
1/2 cup sun-dried tomatoes
1/2 cup fresh parsley, chopped
Citrus Vinaigrette
1/2 tablespoon fresh mint, chopped
1/2 tablespoon fresh basil, chopped
1 1/2 tablespoons extra virgin olive oil or to taste
Juice from 2 limes (can also substitute for 1 lemon instead)
1-2 teaspoons honey
1/4 teaspoon of cumin
Sea salt and ground pepper, to taste
Instructions
Cook the quinoa according to package instructions, then drain really well and set aside.
Meanwhile, whisk all the ingredients for the vinaigrette in a small bowl.
Preheat a grill or grill pan to medium-high heat.
Grill the ears of corn separately on a rear rack, away from direct flame. Rotate every five minutes or so. After 10-20 minutes, when the corn is tender, remove and set aside to cool. Strip off the husks and carefully slice the kernels off the cob. Set aside.
Meanwhile, toss or brush the red peppers, yellow peppers, zucchini, asparagus. broccoli and sugar snap peas with extra virgin olive oil and season with salt and black pepper to taste. Grill peppers, zucchini and asparagus for 6-8 minutes per side, until lightly charred but still al dente. Wrap broccoli and snap peas in foil and place on the grill for 8 minutes.
Remove from the grill and allow to cool slightly. Chop all of the vegetables to desired size.
Combine the grilled vegetables, corn, sun-dried tomaotes and cooked quinoa in a serving bowl.
Toss with the vinaigrette and then fold in the parsley and basil.
Adjust seasoning to taste with more salt and pepper if needed. Serve warm or room temperature.
Notes
To serve, you can either slice the grilled veggies and add them to the quinoa as a salad, or serve the salad the grilled veggies on the side.
7.8.1.2
167
https://bestrecipepicks.com/grilled-vegetable-quinoa-salad/