Lemon french macaron shells filled with a coconut buttercream frosting make a delectable sweet treat.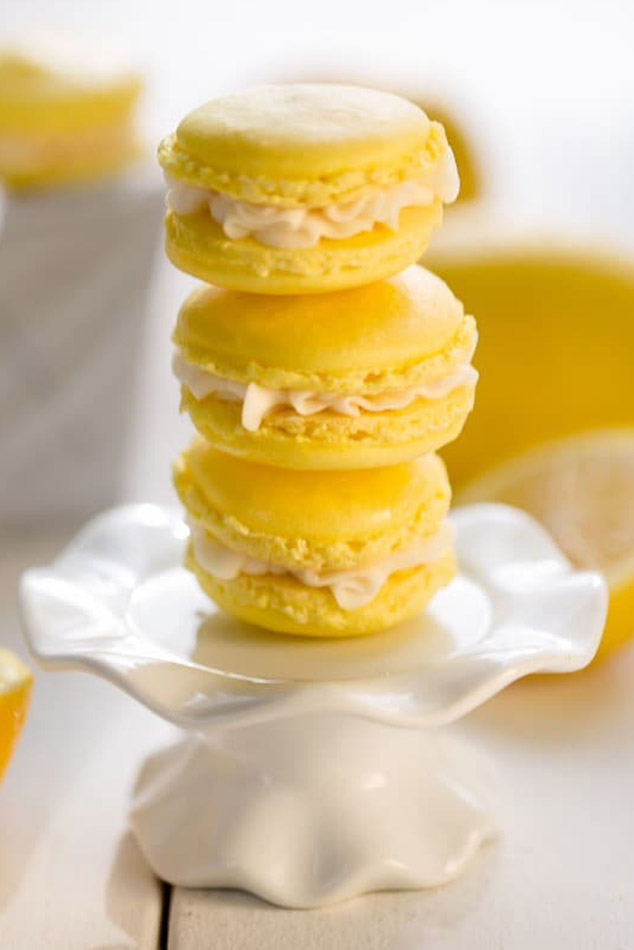 Yields 22
Lemon Macarons
Lemon french macaron shells filled with coconut buttercream make a delectable and sunny sweet treat.
14 minCook Time
14 minTotal Time
4.5 based on 6 review(s)
Ingredients
107 grams egg whites (3 large egg whites), aged for at least 48 hours
117 grams almond flour
176 grams powdered sugar
64 g superfine sugar
1/4 teaspoon cream of tartar
Zest from 1 lemon, very finely grated (using a Microplane is best)
1 teaspoon pure lemon extract
Few drops yellow food coloring (optional)
Coconut Vegan Buttercream Frosting
1/2 cup solid unrefined coconut oil (or use unsalted softened butter if not vegan)
4-5 cups powdered sugar
pinch salt
1/2 teaspoon pure lemon extract
1/4 teaspoon vanilla
1-2 teaspoons coconut cream, to thin out (or heavy cream if not vegan)
Instructions
Line two large baking sheets with parchment paper or a silicone mat.
Measure the almond meal, powdered sugar, and place into the bowl of a food processor. Process the mixture finely, then sift through a fine mesh sieve discarding any large bits. Set aside.
With a stand mixer or hand mixer with the whisk attachment, whisk egg whites at medium speed with cream of tartar until the egg whites begin to foam. Slowly sprinkle in superfine sugar. Slowly increase speed to medium-high and beat until a firm meringue forms with stiff glossy peaks. Add lemon zest, lemon extract and food coloring gel if using and whisk until incorporated.
Use a rubber spatula, gently fold the almond meal mixture into the egg whites. Only fold the batter in one direction by sliding the spatula into the center of the batter, then lifting it up and letting the batter fall back onto itself. The batter is ready to pipe when it has a smooth, shiny surface and flows like lava in one large ribbon off the spatula. Be careful not to overmx. To check consistency, drop a spoonful of batter and it should have a peak that quickly relaxes back into the batter. It generally takes about 20-25 strokes to work the batter, but this number isn't as important as how the batter looks. Start checking at around 18 strokes
Transfer mixture to a pastry bag with a plain round tip. (I used the No. 12 Wilton tip)
Pipe rounds onto prepared baking sheets, leaving space between the macarons to allow batter to spread.
Once all macarons have been piped, pick up baking sheet with both hands and tap it firmly on counter several times. This will remove any air bubbles.
Let macarons sit for 30 minutes to 1 hour, depending on humidity levels. The macarons are ready to bake when tops are no longer sticky to touch.
Preheat oven to 300 F. When macarons are dry to the touch, bake *both trays at same time (*if your oven has room, otherwise bake one at a time) for 12-14 minutes, rotating trays after 10 minutes. Let macarons cool completely on parchment paper before removing and filling.

To make the frosting:
In the bowl of a stand mixer fitted with the paddle attachment, beat the coconut oil until it has become smooth and lump-free.
Slowly add 2 cups of powdered sugar on low speed. Add more powdered sugar to desired consistency. Once the sugar has been absorbed, add the salt, lemon and vanilla extract. Add in remaining sugar, one cup at a time, until the buttercream has reached your desired spreading consistency. If it becomes too thick, add 1-2 teaspoons of coconut cream or heavy cream. Turn mixer to high speed and beat for an additional 2 minutes until smooth and fluff

To assemble:
Transfer the buttercream into a pastry bag and fill the macarons.
Store the filled macarons in airtight container in the fridge for up to 5 days.
Notes
7.8.1.2
249
https://bestrecipepicks.com/lemon-macarons/