Macaroni and Cheese (Stovetop) is sure to be a favorite for the family. It's  packed with 3 delicious cheeses and ready under 30 minutes!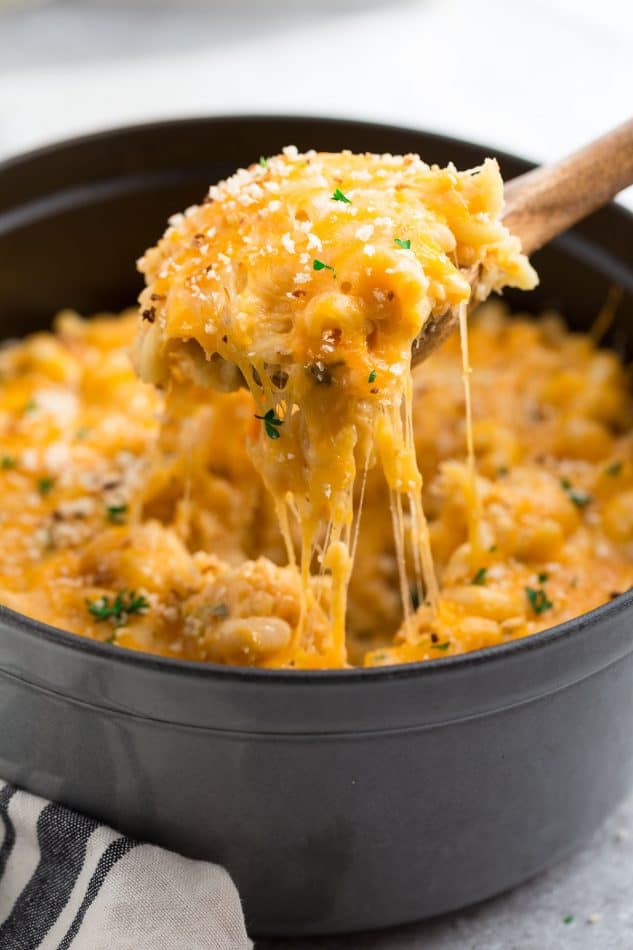 Yields 4-6 servings
Stovetop Creamy Macaroni and Cheese
Easy, homemade Macaroni & Cheese made all in one pot in under 30 minutes on the stove.
5 minPrep Time
15 minCook Time
20 minTotal Time
Ingredients
7 tablespoons butter
7 tablespoons flour
2 cups milk (whole works best)
2 cups water
1 teaspoon sea salt (plus more to taste)
1/2 teaspoon black pepper (plus to taste)
1 1/2 teaspoons garlic powder
1 teaspoon dry mustard powder
1/4 teaspoon cayenne pepper (optional)
2 1/4 cups dry elbow macaroni, uncooked
1 2/3 cups sharp cheddar, freshly grated (not pre-packaged)
2/3 cups mozzarella cheese, freshly grated (not pre-packaged)(can also use Swiss, Montery Jack, gouda, Parmesan, Asiago, or Pecorino instead)
1 2/3 cups sharp cheddar, freshly grated (not pre-packaged)
6 ounces cream cheese, cut into cubes (can also use Swiss, Monterey Jack, gouda, Parmesan, Asiago, or Pecorino instead)
2 slices of Provolone cheese (for that extra gooeyness - feel free to leave out)
Fresh chopped parsley, for garnish (optional)
Toasted Panko crumbs, for garnish and crunch (optional)
Optional add-ins
Bacon bits
Smoked Paprika (so good)
Cayenne Pepper or Red Pepper Flakes for a kick of heat
Worcestershire sauce for that extra punch of flavour (just a teeny-tiny tiny splash)
Instructions
In a large heavy pot or dutch oven, melt butter over medium heat. Whisk in flour and continue to whisk and cook for 1 minute to create a roux. Whisk about 2/3 cup of milk and continue whisking - it will thicken up pretty quickly.
Continue to whisk in remaining milk until smooth. Then add water, salt, black pepper and seasonings.
Pour in uncooked macaroni and continue stirring occasionally as it heats up and starts to boil. Lower heat and allow to cook for 11-13 minutes, stirring regularly. Once the sauce thickens and the macaroni is just cooked and tender, turn off heat and stir the cheeses in quickly. (The sauce thickens and reduces considerably after adding cheese). Remove from heat and adjust seasonings by adding more salt, black pepper and other seasonings to taste.
Stir in toasted panko crumbs or any optional add-ins and serve immediately with fresh parsley. (Or feel free to toss under the broiler or in the oven for a few minutes for an extra crunchy crust).
Notes
**Feel free to use any combination of cheese you like or just use all ONE cheese if that's what you prefer. I would suggest extra sharp cheddar or something with more flavor and bite if only using ONE cheese. *This recipe is pretty forgiving as long as you continue to stir the pasta as it cooks and allow the sauce to thicken and get creamy. * The sauce thickens ALOT after you stir the cheese in and remove from heat. Continue stirring until mixed in and creamy.
TROUBLESHOOTING: * If you take the pot off too late and the sauce becomes too thick, just add a splash of milk or water. * If you take it off too early, just return the pot back on the stove.
7.8.1.2
24
https://bestrecipepicks.com/macaroni-and-cheese/