This delicious maple crepe cake is layered with maple buttercream frosting, and covered with a maple white chocolate ganache glaze.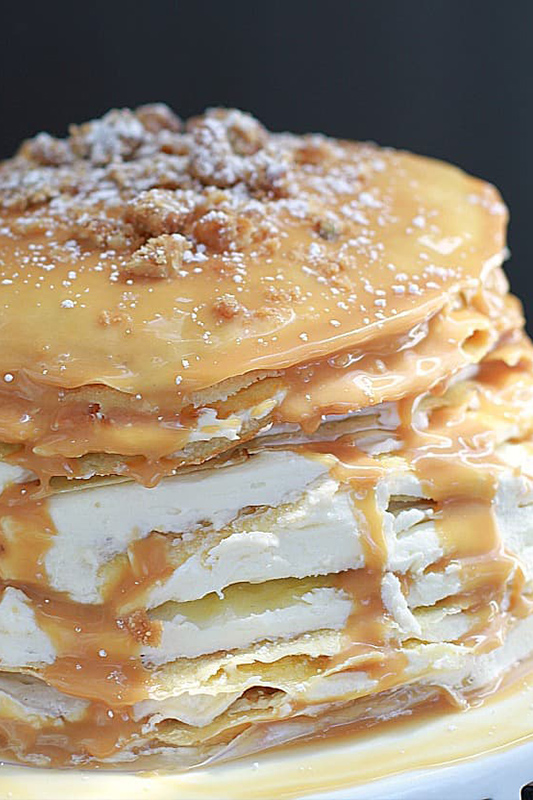 Yields 26
Maple Pecan Praline Crepe Cake
This indulgent maple syrup crepe cake is layered with maple buttercream frosting, maple pecan pralines, and covered with maple white chocolate ganache. It makes a show stopping dessert that is sure to impress any maple syrup lover.
1 hrPrep Time
1 hrCook Time
2 hrTotal Time
Ingredients
Maple Crepes
2 cups all purpose flour
4 large eggs
1 1/2 cups milk
1 cup water
4 tablespoons melted butter
2 tablespoons Lavender Chai Pure Infused Maple Syrup
Butter, for coating the pan
Maple Buttercream Frosting

2 ounces cream cheese, softened
2/3 cup of unsalted butter, softened to room temperature
1/3 cup Lavender Chai Pure Infused Maple Syrup
2 1/2 - 3 cups powdered sugar
1 tablespoon of heavy cream, cold


Maple Pecan Pralines
1/4 cup heavy cream
1 cup Lavender Chai Pure Infused Maple Syrup
1 tablespoon butter
3/4 cup of pecans, chopped
1/8 teaspoon sea salt
Maple White Chocolate Ganache
4 ounces of white chocolate, chopped
1/4 cup of heavy cream
1/3 cup of Lavender Chai Pure Infused Maple Syrup
2 tablespoons butter
1/4 cup brown sugar
Topping
Maple Pecan Pralines
Powdered sugar
Instructions
Prepare the crepes: Place all crepe ingredients in a blender. Blend on high speed until completely smooth. Pour the batter into a large bowl with a cover to chill in refrigerator for at least an hour or overnight.


While the crepe batter chills, prepare the pralines: Line a sheet pan with parchment paper, set aside.
Combine the cream, butter and maple syrup in a small saucepan. Stir until well mixed. Cook over medium heat, gently swishing the pan around every few minutes, but do not stir. Heat until mixture gets very thick, about 7-10 minutes. Remove saucepan from the heat and let the mixture stand for about a minute or two. Stir in pecans.
Drop small spoonfuls of mixture onto parchment. Sprinkle with sea salt. Allow to cool until harden for a few hours or overnight. Chop or break into small pieces.


Cook the crepes: Heat a lightly-greased small non-stick skillet over medium heat. Working in batches pour a scant 1/4 cup of batter into the pan and tilt with a circular motion so that the batter coats the pan evenly. Cook the crepe until the edges begin to turn light golden brown and lift away from the sides of the pan, about 1 - 2 minutes for the very first crepe (the rest of the crepes cook faster about 30 seconds to 1 minute).
Flip the crepe and cook for an additional 30 seconds to 1 minute. Place the cooked crepe onto a plate and repeat until all the batter is gone, stacking the crepes on the plate. Place the cooked crepes into the refrigerator to cool for at least 1 hour. You can make the crepes a day before assembling the cake.


Make the maple frosting: Beat the softened butter and cream cheese together in a large bowl until light and fluffy. Add in the maple syrup and beat until well combined.
Turn mixer to low and gradually add in the powdered sugar until well combined. Slowly add 1 tablespoon or less of heavy cream as needed to reach desired consistency. Add in more powdered sugar as needed. Beat the frosting on high speed until it is light and fluffy, about 5 minutes. Place into the refrigerator until ready to use.


Make the Maple Ganache: Place finely chopped chocolate in small heatproof bowl.
In a small sauce pan over low heat, heat cream just to a simmer.
Remove from heat and immediately pour the cream over the chopped chocolate and allow to stand for about 10 seconds. Stir the ganache until smooth. If all the white chocolate has not melted then place the bowl in the microwave and heat for 30 seconds. Using the same saucepan, melt butter over medium low heat. Combine syrup, and brown sugar. Bring to a boil over medium heat and allow to thicken for 1-2 minutes. Pour into white chocolate mixture and whisk until smooth. Allow the ganache to cool until it reaches the desired consistency.


To assemble: Place one crepe down on a plate. Drop 1 1/2 - 2 tablespoons of the maple frosting on top. Use an off-set spatula to spread the frosting out over the whole crepe in a thin layer. Gently place another crepe on top. Drop another 2 tablespoons of the frosting and this time, sprinkle with 1-2 teaspoons of the chopped maple pecan pralines and place another crepe on top, gently pressing to adhere the crepes together. Repeat these steps until you get to the last crepe.


Top with ganache: Pour the maple ganache over the top of the cake and sprinkle with more of the maple pecan pralines. Refrigerate for an hour or overnight to allow cake to set.
Ganache can also be poured on the cold cake, before serving. Sprinkle with powdered sugar prior to serving if desired.
Notes
7.8.1.2
171
https://bestrecipepicks.com/maple-pecan-praline-crepe-cake/