Overnight Blueberry Cream Cheese French Toast Bake makes the perfect easy and delicious make ahead breakfast or brunch. Best of all, easy to assemble the night before and bursting with blueberries and cream cheese.
Pin for later AND follow my Recipes Board for more EASY breakfasts!
If I could only choose to have one meal everyday, it would be breakfast hands down.  I love all breakfast foods but don't always have the time to whip up a special breakfast every morning.
That's why make-ahead casseroles are the perfect solution, especially with Mother's Day just right around the corner.
It makes the perfect dish if you have guests coming over for brunch.
If you're looking for a few more ideas — this Healthy Fruit Pizza, Strawberry Cream Cheese French Toast Bake, Mixed Berry French Toast, Banana Pecan French Toast Bake and Caramel Apple Streusel French Toast Bake are among our favorites.
This
Overnight Blueberry and Cream Cheese French Toast Bake
is easy and simple to put together the night before.
All you have to do is gather up the ingredients, park the dish in the fridge and when you wake up the next morning, pop it into the oven and bake away!
It's made with juicy blueberries layered between a soft and creamy filling along with an extra special brown sugar streusel topping.
It comes out right every time and when you top it off with the best homemade blueberry syrup and a dollop of fresh whipped cream, it's the stuff dreams are made of.  At least my dreams 🙂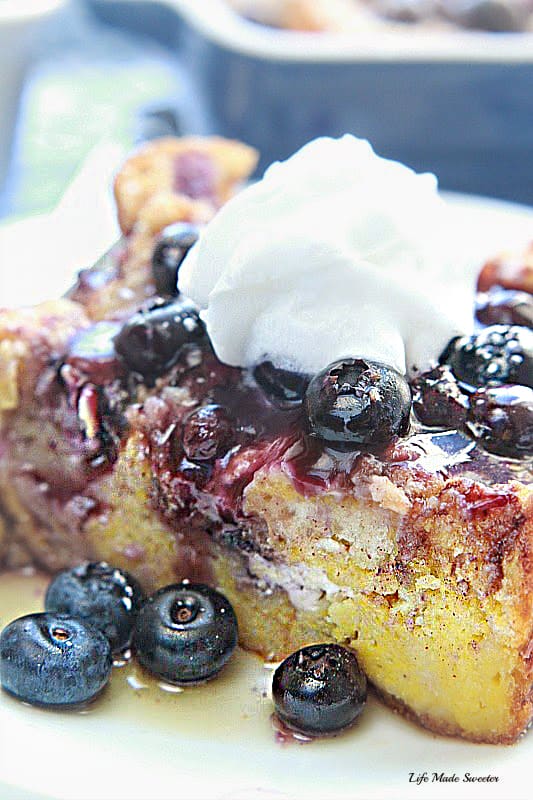 This would be a hit with everyone in the family plus it's even easy enough that dads and kiddos can help put together the night before.  Any mom would love to wake up to find this decadent breakfast treat waiting for them on Sunday morning ♥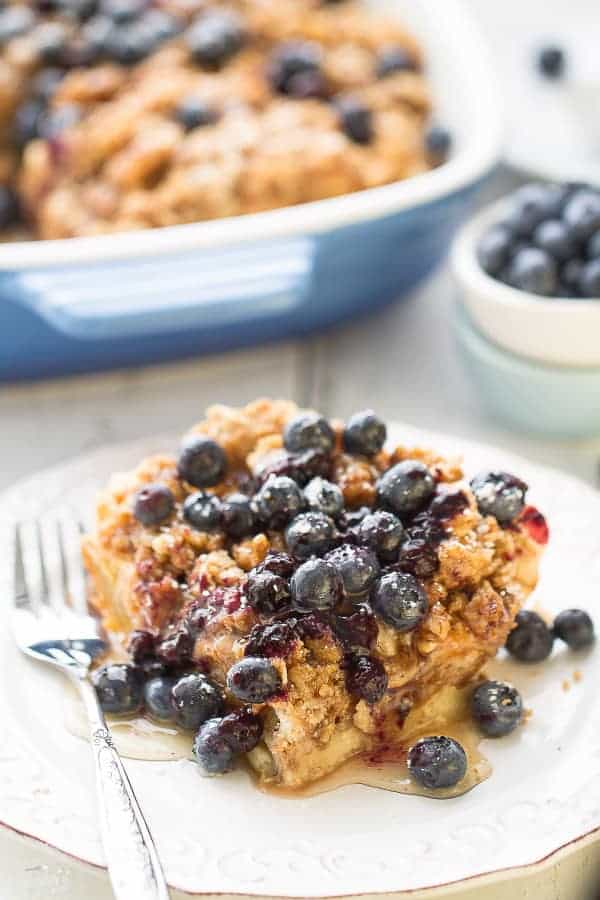 Watch this video to see a similar recipe for French Toast Bake:
Yields 8-10
Overnight Blueberry Cream Cheese French Toast
25 minPrep Time
55 minCook Time
1 hr, 20 Total Time
5 based on 1 review(s)
Ingredients
1 16 ounce (450 g) loaf of French bread, sourdough bread, or challah (day old bread works best), cut into 1-inch cubes with the ends discarded
1/2 cup cream cheese, softened (optional - leave out if preferred)
1 1/2 cup fresh or frozen blueberries (unthawed), divided
6 large eggs
1 1/2 cups milk (I used almond milk)
1/2 teaspoon ground cinnamon
1/3 cup maple syrup or honey
2 teaspoons pure vanilla extract

Streusel topping
1/3 cup all-purpose flour
1/3 cup packed brown sugar (or coconut sugar)
1/4 teaspoon ground cinnamon
4 tablespoons unsalted butter, cold and cubed (or solid coconut oil)

Blueberry Syrup
1 cup granulated sugar (coconut sugar or 1/2 cup maple syrup works as well)
2 tablespoons corn starch
1 cup water
1 cup fresh blueberries or 2 cups frozen blueberries (unthawed)
1 tablespoon butter (or coconut oil)

Optional toppings: fresh blueberries, fresh fruit, whipped cream, maple syrup and/or powdered sugar
Instructions
Make the streusel topping: In a medium bowl, combine the flour, brown sugar, and cinnamon together. Cut in the cubed butter with a pastry blender or two forks. Set aside in the fridge.
Lightly grease a 9x9-inch square baking dish or 2.5 quart casserole dish.
Arrange half of the bread cubes in the bottom of the pan. Drop spoonfuls of the softened cream cheese over the bread and top with 1 cup of the blueberries.
Top with remaining bread cubes.
In a large bowl or measuring cup, whisk together the eggs, milk, cinnamon, maple syrup, and vanilla.
Pour evenly over bread cubes. Press the bread cubes slightly down to absorb the milk/egg mixture.
Top evenly with the remaining blueberries. Sprinkle the streusel topping over top. Cover pan with foil. Allow to chill in refrigerator for an hour or overnight.
When ready to bake, remove french toast from fridge. Preheat oven to 350 F. Bake covered with foil for 30 minutes. Remove the foil and bake for another 22-25 minutes or until fluffy and golden.
Remove from oven and allow to cool for 5 minutes. Top with syrup and additional toppings if desired. Serve warm.
Meanwhile, make the blueberry syrup. In a medium saucepan over medium heat, cook water, sugar, and cornstarch until thickened. Stir in blueberries and simmer for 10 minutes. Add butter and stir until melted. Pour over baked french toast and top with additional toppings if desired. Best if served warm.
Notes
7.8.1.2
156
https://bestrecipepicks.com/overnight-blueberry-cream-cheese-french-toast-bake/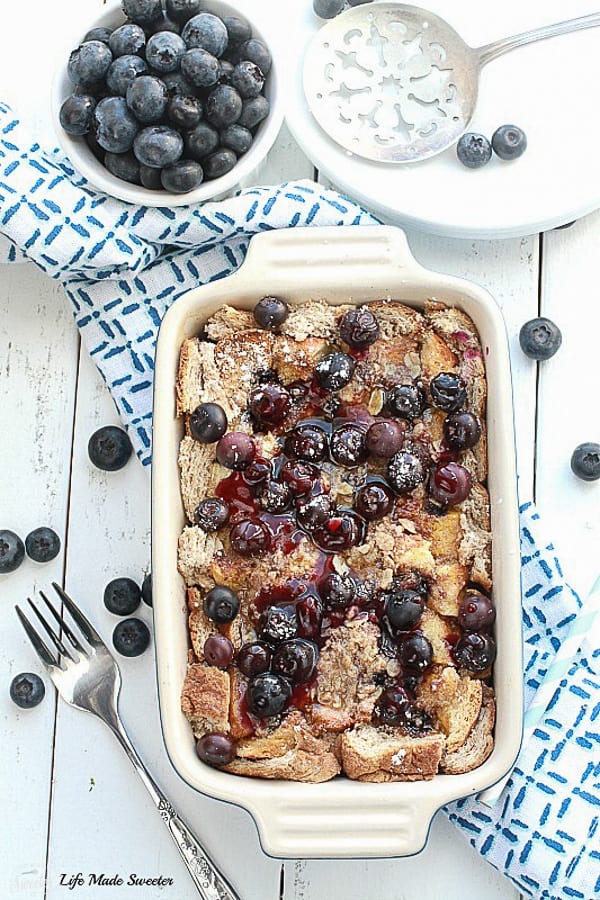 Looking for more Brunch ideas?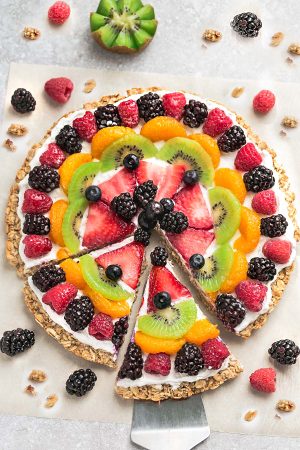 {Overnight} Banana Pecan Streusel French Toast Bake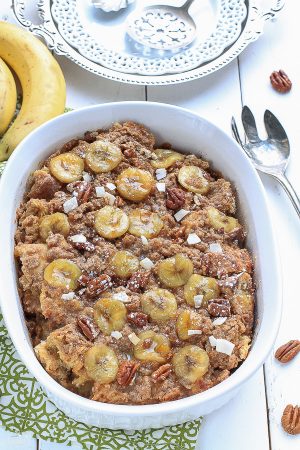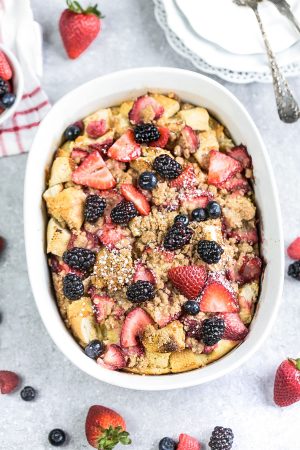 Fluffy Blueberry Lemon Greek Yogurt Pancakes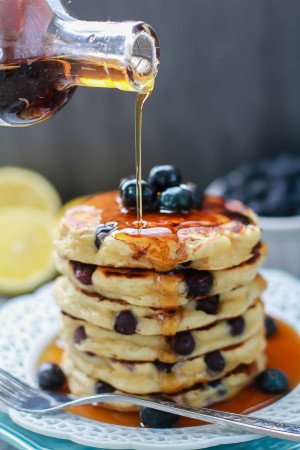 Overnight Strawberry Cream Cheese French Toast Bake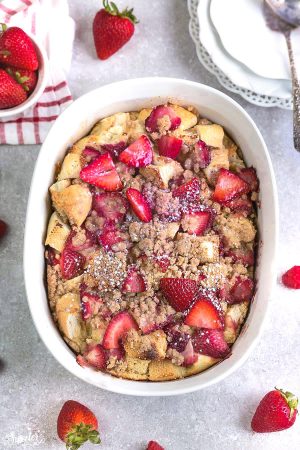 {Overnight} Banana Pecan Streusel French Toast Bake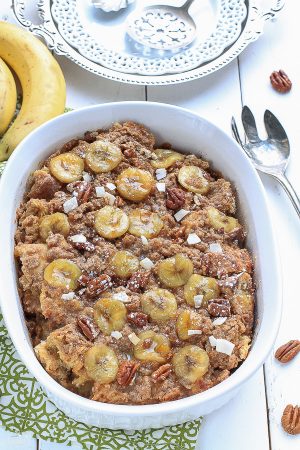 Caramel Apple Streusel French Toast Bake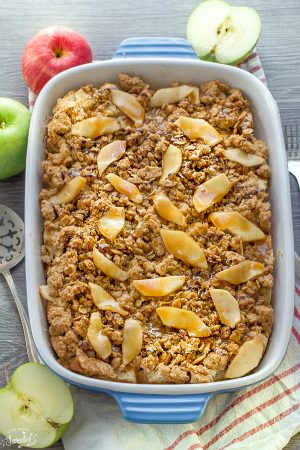 Cherry Cheesecake French Toast Roll-Ups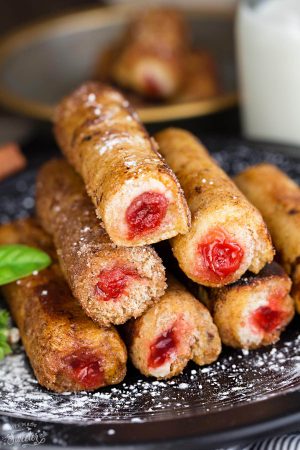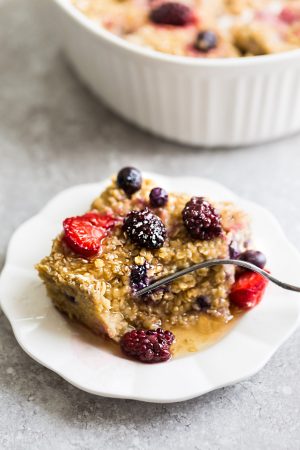 Apple Maple Baked Oatmeal with Berries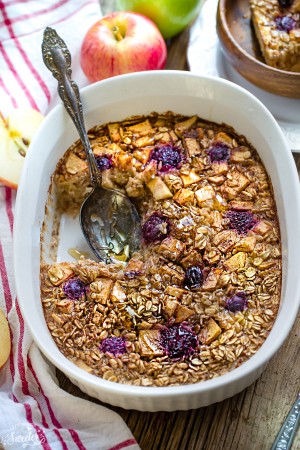 Blueberry Lemon Coconut Baked Oatmeal
Pumpkin Nutella French Toast Muffin Cups