Pad Thai Sweet Potato Noodles is packed with all the traditional flavors of Pad Thai you love in a grain free and meatless version using spiralized sweet potato "noodles".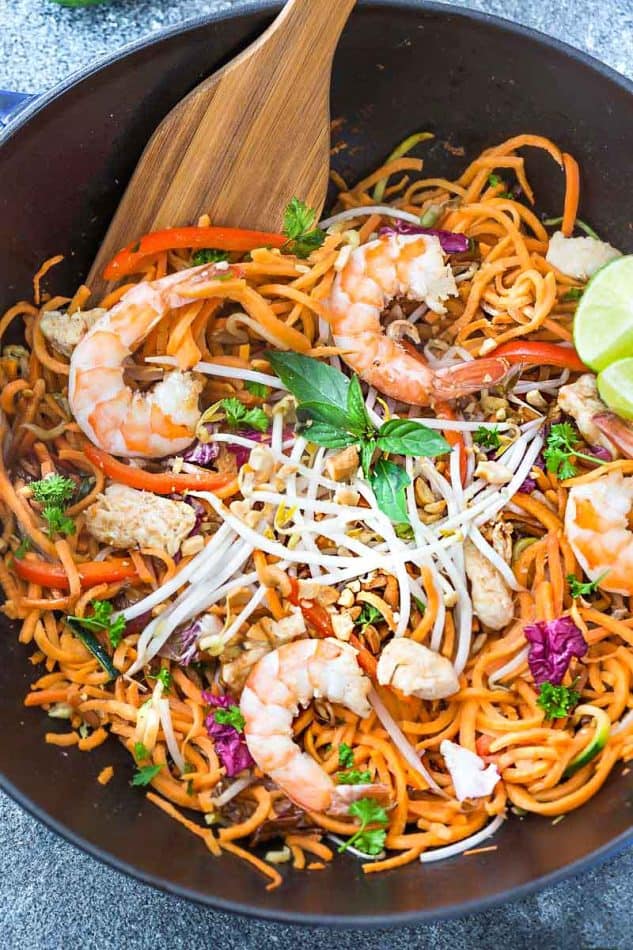 Yields 4
Pad Thai with Sweet Potato "Noodles"
All the traditional flavors of Pad Thai you love in a grain free and meatless version using sweet potato "noodles".
15 minPrep Time
10 minCook Time
25 minTotal Time
Ingredients
Sauce
6 tablespoons fish sauce
1/3 cup coconut sugar or brown sugar
1/3 cup tamarind concentrate (more watery) (NOT thick like tamarind paste)
3 garlic cloves, minced
1 tablespoon oyster sauce
**2-3 teaspoons of Thai chili garlic sauce or Sriracha (optional and to taste depending on how comfortable your spice tolerance is)
1 1/2 tablespoons tomato paste (optional if you want it to taste like the North American style)
1 tablespoon cornstarch
For the sweet potato pad thai
2-3 tablespoons cooking oil, divided
1 chicken breast, sliced thinly
4 medium raw shrimp, shells removed
*3 medium sweet potatoes, peeled and spiralized (can use 6 ounces of dried rice noodles for a traditional pad thai instead)
2 garlic cloves, minced
2 teaspoons minced fresh ginger
1 shallot, chopped
1/2 medium carrot, grated
1 red bell pepper, thinly sliced
1/4 cup red cabbage, sliced thinly (optional for color)
1 large egg, lightly beaten (leave out if desired)
1 lime wedge
Garnish:
Fresh chopped cilantro
Roasted chopped peanuts
Fresh mung bean sprouts
Lime wedges, for serving

Optional Garnishes
mung bean sprouts, chopped cilantro, chopped red cabbage, chopped roasted peanuts, lime wedges
Instructions
In a medium bowl, combine all the sauce ingredients. If you prefer a sweeter pad thai - add additional sugar. For a spicier version, add additional chili paste.
Heat the oil in a large wok or non-stick skillet over medium-high heat. Add the chicken and cook until mostly cooked through (about 2-3 minutes). Add shrimp and continue stir-frying 2-3 more minutes, or until shrimp are pink and plump. Transfer to a plate and set aside. Add remaining oil and sweet potato noodles. Cook for 3-4 minutes, until softened. Add the garlic, ginger and shallots and cook for about 30 seconds, until fragrant. Add the grated carrots and bell pepper and cook for 1-2 minutes, until tender crisp. Push all the ingredients over to one side of the pan. Pour the beaten egg and scramble directly in the skillet.
Pour the sauce over top and add the chicken and shrimp back to the pan. Toss with tongs to evenly coat noodles while allowing the sauce to simmer and thicken up. Remove from heat. (Do not overcook or noodles will become too soft and soggy.)
Squeeze in juice from lime wedge and adjust seasoning by adding some salt, black pepper, fish sauce, (tomato paste - if using) and chili paste.
Serve hot on a large platter with garnishes by sprinkling on cilantro, bean sprouts, red cabbage, peanuts and additional lime wedges on the side.
Notes
* This makes a generous amount of sauce to coat the noodles and have a little bit leftover but feel free to cut the ratio down if you prefer less sauce.
7.8.1.2
280
https://bestrecipepicks.com/pad-thai-sweet-potato-noodles/