Peach Cobber Pancakes cook up perfectly soft, fluffy filled with juicy peaches and a warm spiced streusel. Best of all, it's like having a delicious peach cobbler dessert for breakfast.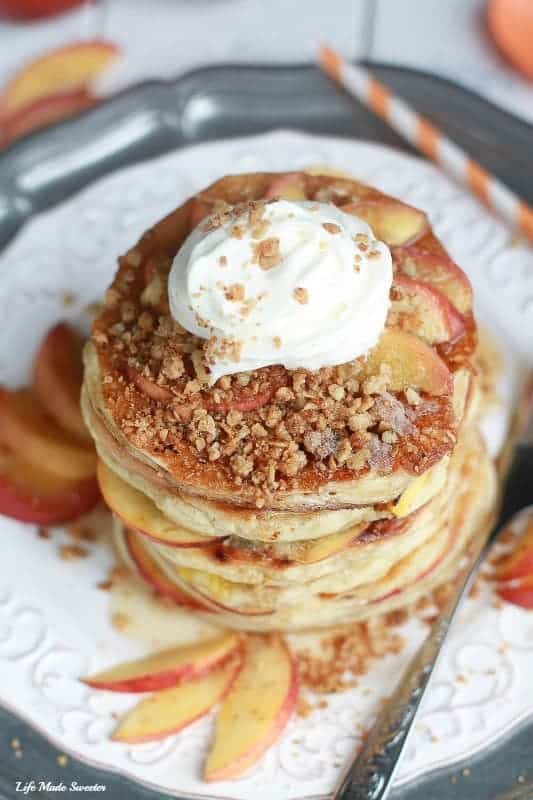 All it takes it one magical word in this house to get my kiddos to stop what they're doing and I'll have their full attention.
Pancakes.
Seriously.  They are crazy about them and would do anything for just one bite.  I usually whip up a large batch and then freeze the rest to have on hand for whenever that craving hits.
A few weekends ago, I whipped up these Peach Cobbler Pancakes and they made the most delightful breakfast treat.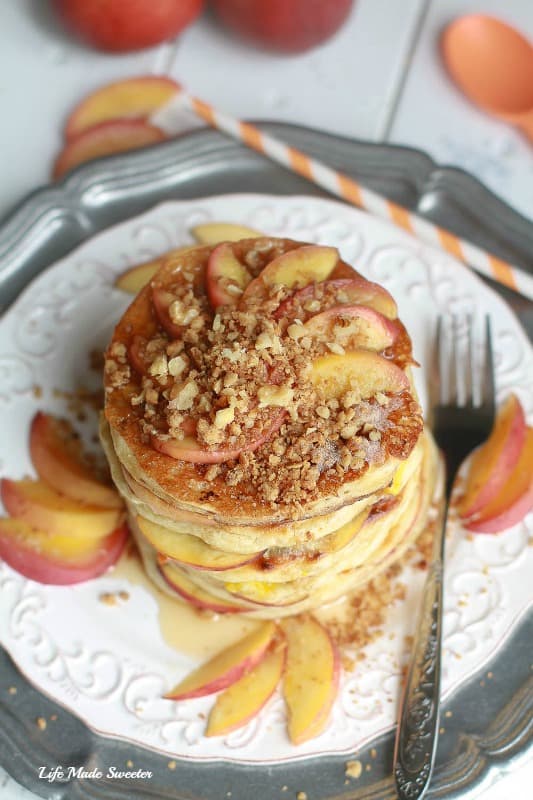 These pancakes are easy to make and full of fresh peaches.
They start off with my favorite pancake base using Greek yogurt which makes them light and fluffy.  It adds that extra punch of protein plus when you bite into them they are nice and moist.
The oat streusel topping comes together easily on the stove and makes everything so much better.
The sweet fresh peaches on top are seriously awesome, but you can also use canned.
With a dollop of whipped cream and a touch of maple syrup, you've got one extra special breakfast.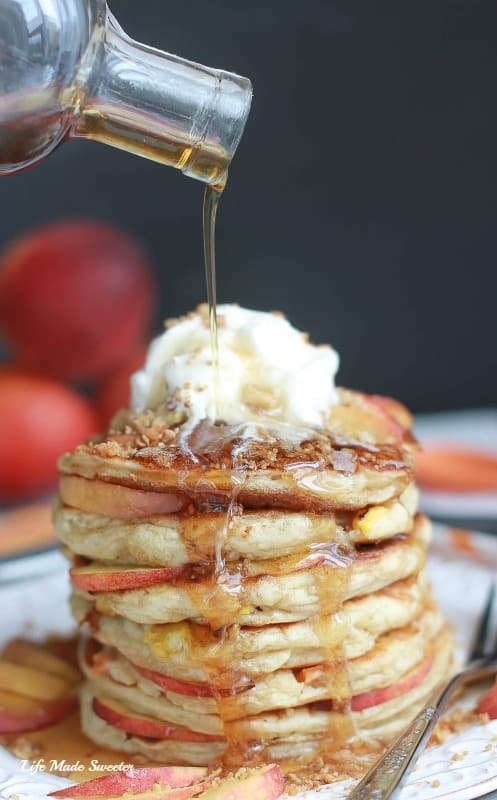 Peach Cobbler for breakfast?  I can't think of a more perfect way to start the day ♥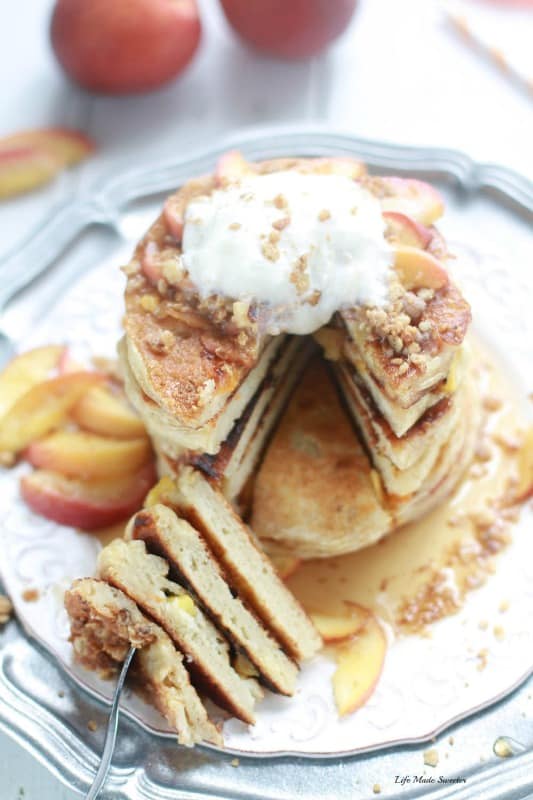 Yields 6
Peach Cobbler Pancakes
Fluffy pancakes filled with juicy peaches and a streusel topping is like having peach cobbler for breakfast.
Ingredients
1 cup of white whole wheat flour or all purpose flour
1/2 teaspoon baking powder
1/2 tsp baking soda
2 Tablespoons granulated sugar
3/4 cup Greek yogurt
6 Tablespoons Original Almond Breeze Almond Milk or your favorite milk
1 large egg, lightly beaten
1/2 teaspoon cinnamon
1/8 teaspoon nutmeg
1/8 teaspoon salt
1/2 teaspoon vanilla extract
3/4 cup diced peaches (fresh sweet peaches or drained canned peaches work best)

1-2 peaches, sliced for topping (fresh sweet peaches or drained canned peaches work best)

Stove-top streusel topping
1/4 cup quick oats
3 Tablespoons white whole wheat flour or all purpose flour
1 1/2 tablespoons honey
3 Tablespoons unsalted butter
1/2 teaspoon ground cinnamon
1/8 teaspoon nutmeg
Instructions
Make the streusel - In a small saucepan over medium heat, combine all ingredients for the streusel topping. Stir continuously until streusel is golden brown and toasted and small pea-sized pieces are formed. Remove from heat and set aside.
Preheat a griddle or a large skillet to medium heat and grease with cooking spray.
In a medium bowl, whisk together flour, sugar, baking powder, baking soda, salt, cinnamon and nutmeg. Set aside.
In another bowl, beat the Greek yogurt, milk, then vanilla extract and finally the beaten egg slowly. Mix until well incorporated.
Stir in wet ingredients into dry ingredients and mix until just combined. Be careful not to overmix or it will result in less fluffy pancakes.
Scoop 1/4 cup batter onto the preheated skillet and cook for about 1-2 minutes or when bubbles appear on the surface. Flip carefully with a spatula and cook for another 1 minute or until lightly browned.
Top pancake stacks with peach slices and streusel topping.
Serve immediately with whipped cream and or syrup if desired.
Notes
*feel free to add more sugar if you want this sweeter. With the streusel topping and syrup, we thought the sweetness level was perfect for us
7.8.1.2
181
https://bestrecipepicks.com/peach-cobbler-pancakes/
Nutrition
More pancakes: