Pumpkin Cinnamon Rolls –  soft, fluffy and the perfect indulgent homemade breakfast, brunch or dessert for fall. Best all, filled with cozy pumpkin and brown sugar filling and topped with a drizzle of cream cheese frosting. Plus a short recipe video.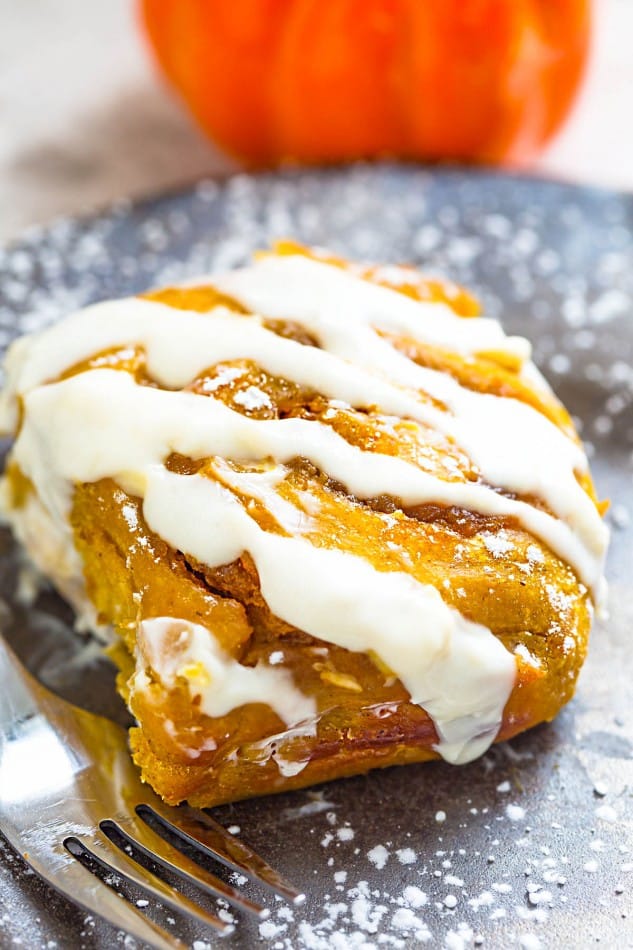 One of my favorite indulgences back when I was in high school was a hot and gooey cinnamon roll from Cinnabon.
They had one right at the train station where I would take the train every morning and just walking by and smelling those cinnamon rolls baking up was PURE heaven.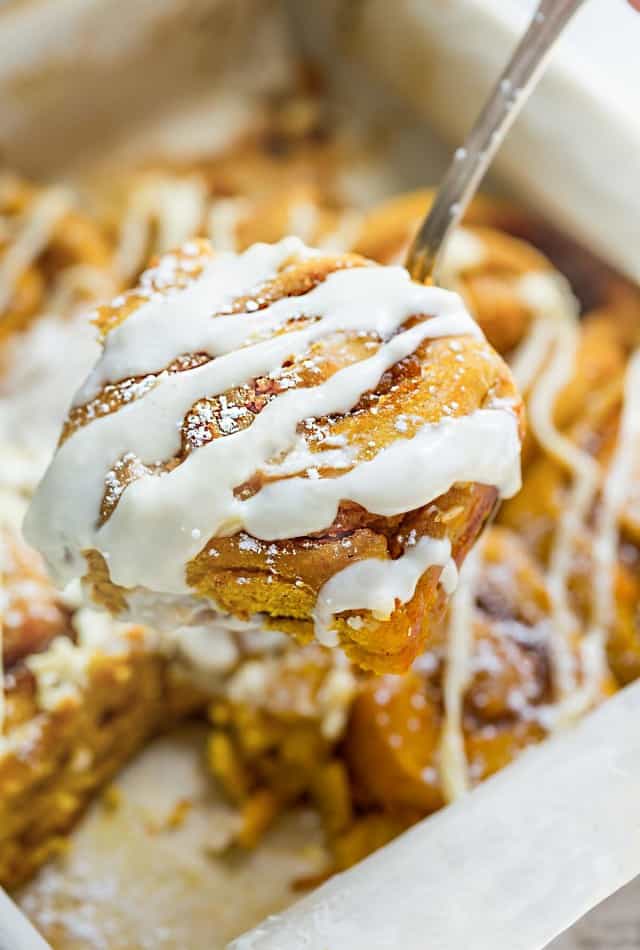 I realized that it's been far too long since I've made cinnamon rolls. and have always wanted to try making a pumpkin version for fall.
I finally had a chance to make these Pumpkin Cinnamon Rolls which I shared over on The Recipe Critic last month and my husband seriously could not stop eating them.
(And if these photos look a little bit off, it's because my camera has been having issues with focusing lately and I didn't realize it until I started editing these pics. The camera is now in the shop and I'm hoping they can fix it.)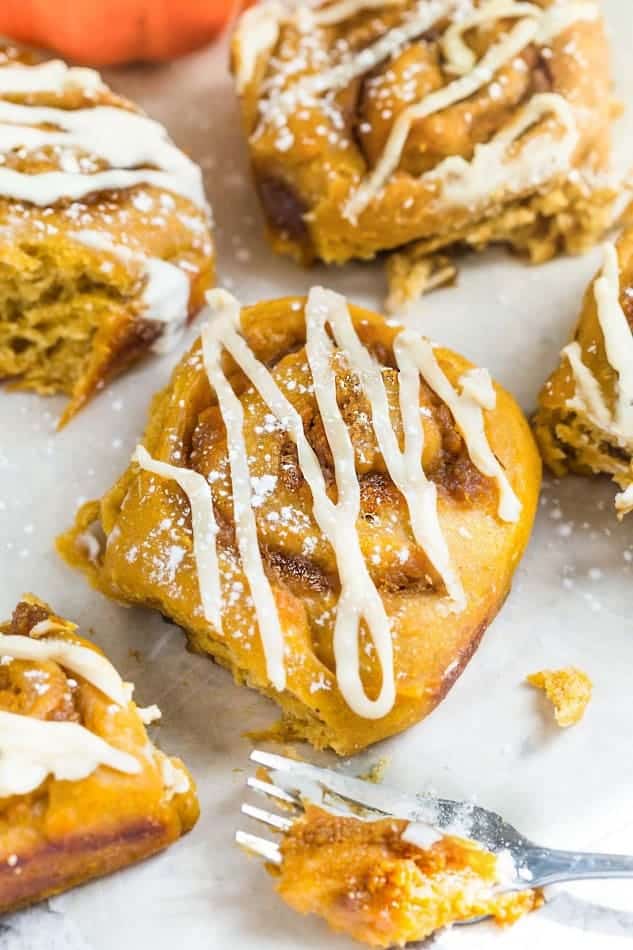 Pumpkin Cinnamon Rolls
They are soft, fluffy and the dough is made completely from scratch. Making your own homemade dough is actually pretty easy, but it does require a little bit of planning with the rising time.
Once the dough is ready, now comes the fun part of rolling it out. I like using this silicone mat to prevent sticking.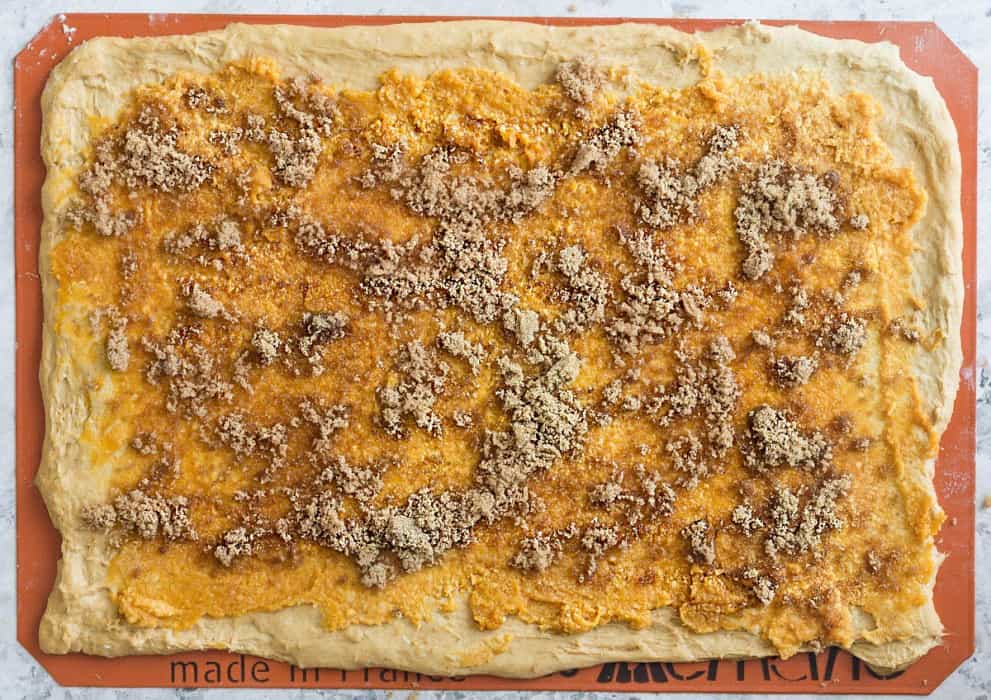 The filling is a combination of pumpkin, butter, brown sugar and pumpkin pie spice. So gooey and the aroma that fills your house is just incredible!
After rolling them up and placing them in the pan, we let them rise again until they've doubled in size (about an hour).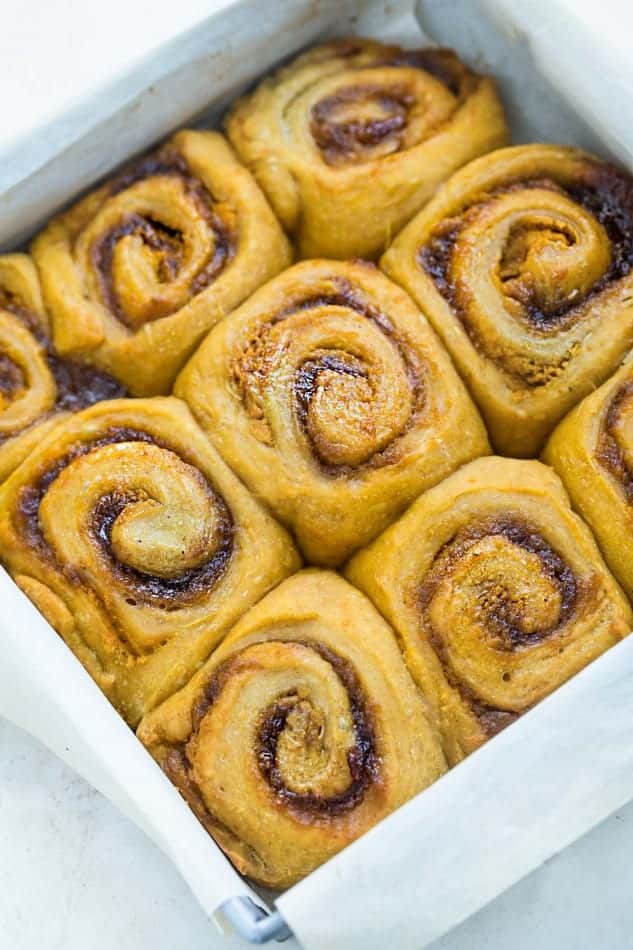 These pumpkin cinnamon rolls bake up soft, fluffy and melt in your mouth delicious.
They make the perfect indulgent breakfast or brunch for any fall morning or when you have company. Top them with a sweet cream cheese glaze and you can enjoy them warm right out of the oven!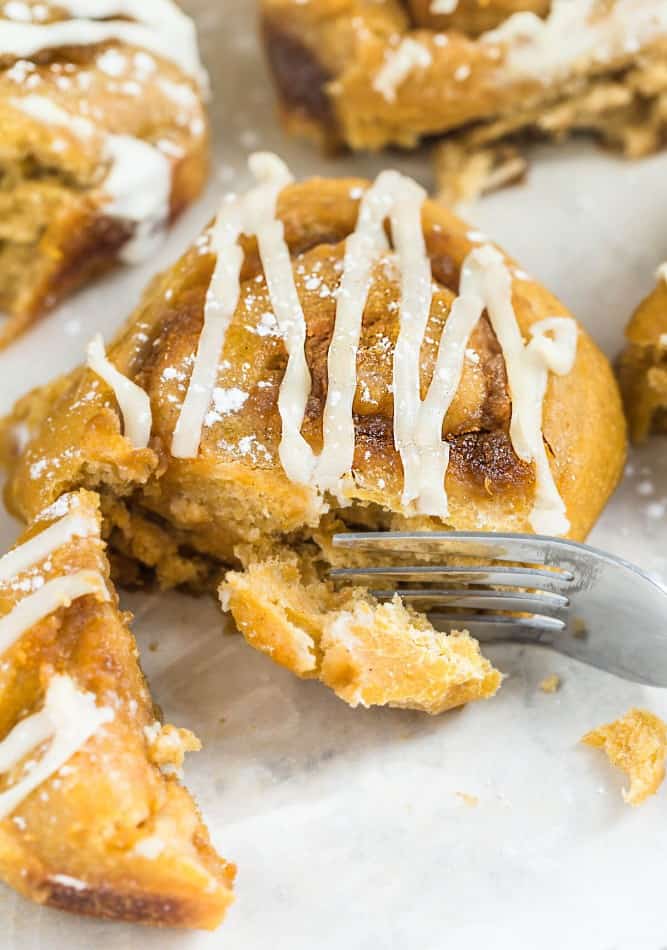 Yields 9-12 rolls
Homemade Pumpkin Cinnamon Rolls
Pumpkin Cinnamon Rolls are soft, fluffy and filled with a sweet pumpkin and brown sugar filling and topped with a drizzle of cream cheese frosting.
Ingredients
3 1/4 - 3 2/3 cups all-purpose flour, divided
2 1/2 teaspoons instant yeast
2/3 cup canned pure pumpkin puree (not pumpkin pie filling)
2/3 cup milk
2 tablespoons sugar
2 tablespoons butter
1 1/2 teaspoons pumpkin pie spice
1/2 teaspoon salt
1 large egg, beaten
Filling
1 tablespoon unsalted butter, slightly melted
2½ tablespoons canned pumpkin puree (not pumpkin pie filling)
½ cup packed brown sugar
2½ teaspoons pumpkin pie spice
Cream Cheese Frosting
4 ounces cream cheese, room temperature
2 tablespoons unsalted butter, softened
pinch of salt
1 cup powdered sugar
2 to 3 tablespoons whole milk
1 teaspoon vanilla extract
Instructions
To make the dough
In the bowl of a stand mixer, combine 2 cups flour and yeast together and set aside.
In a small saucepan over medium heat, add the pumpkin, milk, sugar, butter, pumpkin pie spice and salt; heat until warm (120°-130°) and butter is almost melted. Remove from heat and stir into the flour/yeast mixture. Add the beaten egg and mix on low speed. Turn the mixer on high and beat for 3 minutes, scraping down the sides of the bowl as needed. Turn the mixer back on low and slowly add in remaining 1 1/4 cups - 1 2/3 cups flour (just until the dough is no longer sticking to the sides of the bowl) then beat on high for 1 more minute. Transfer to a large greased bowl. Cover and let rise in a warm area until doubled, about 1 hour.
Roll dough into a 12 x 10 inch rectangle on a lightly floured surface or a silicone mat. Combine slightly melted butter with pumpkin and spread on dough. Mix together brown sugar and pumpkin pie spice and sprinkle over dough. Roll dough tightly, jelly roll style, starting with the longer side.
Cut into 9-12 slices (I like to use plain dental floss for a clean cut) depending on how thick or what pan you are using. Place rolls, cut side down, in a greased 9 inch square pan or 9×13 inch pan and cover with a damp cloth and let rise for 30-60 minutes.
Bake at 375° for 20-25 minutes, or until golden brown. Cool on a wire rack.
To make the frosting:
Make the frosting while the rolls are rising or baking. Using a stand mixer or a hand mixer, beat cream cheese and butter until light and fluffy. Slowly add the powdered sugar, salt, vanilla and 2 tablespoons milk. Beat until combined, about 1 minute. If glaze is too thick to drizzle, add more milk, 1 teaspoon at a time. Spread or drizzle half the glaze over slightly cooled rolls. Serve warm or room temperature with additional glaze if desired.
Notes
Dough adapted from Taste of Home
7.8.1.2
449
https://bestrecipepicks.com/pumpkin-cinnamon-rolls/
More pumpkin treats:
Slow Cooker Pumpkin Pecan Pudding Cake