These Rolo Stuffed Oatmeal Cookies are perfectly soft, chewy and loaded with white & semi-sweet chocolate chips with a surprise chocolate caramel center. Plus they are drizzled with salted caramel for an extra decadent holiday treat!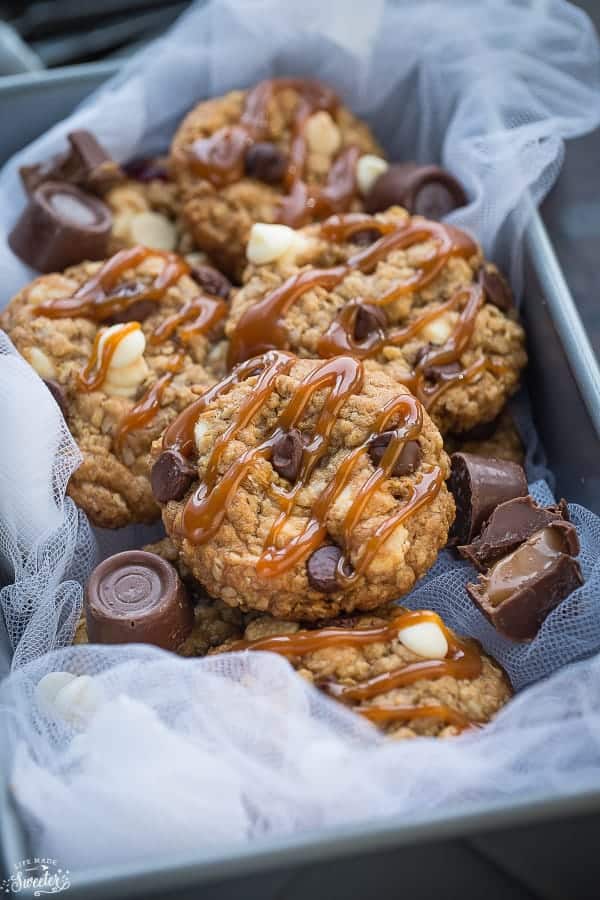 With so many
holiday cookies
to choose from, oatmeal cookies will always be my favorite.  My four year old is now home from school for the holidays and we made these Rolo Stuffed Oatmeal Cookies a couple of weeks ago to put in one of the care packages for his teachers.
They start off with my favorite oatmeal cookie base and we gave them a major make-over by loading them with white and semi-sweet chocolate chips and stuffing them with an oozy chocolate and caramel Rolo inside.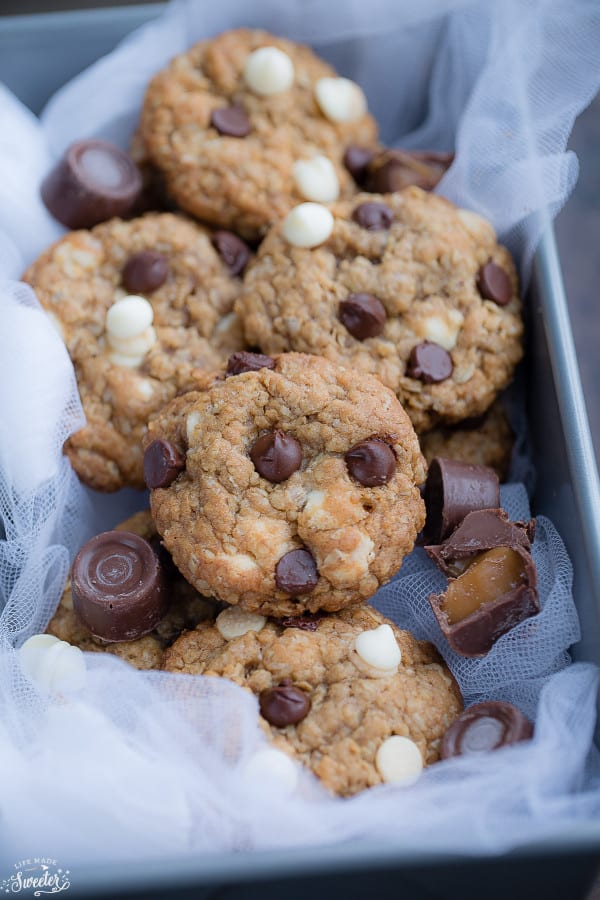 To make them extra indulgent and special for the holidays, I drizzled on some salted
caramel sauce
over them.  You can totally leave out the caramel but I think the sweet and salty combo with the oozy Rolo inside is just the best part.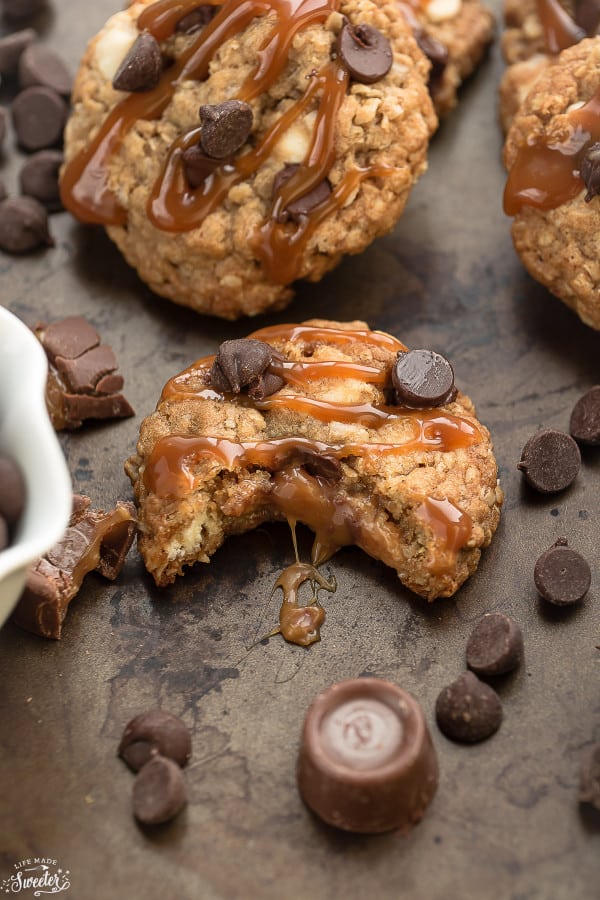 The cookies themselves are soft, chewy and incredibly easy to make.
They are perfect if you have some last minute baking or need an over-the-top cookie to bring to a party.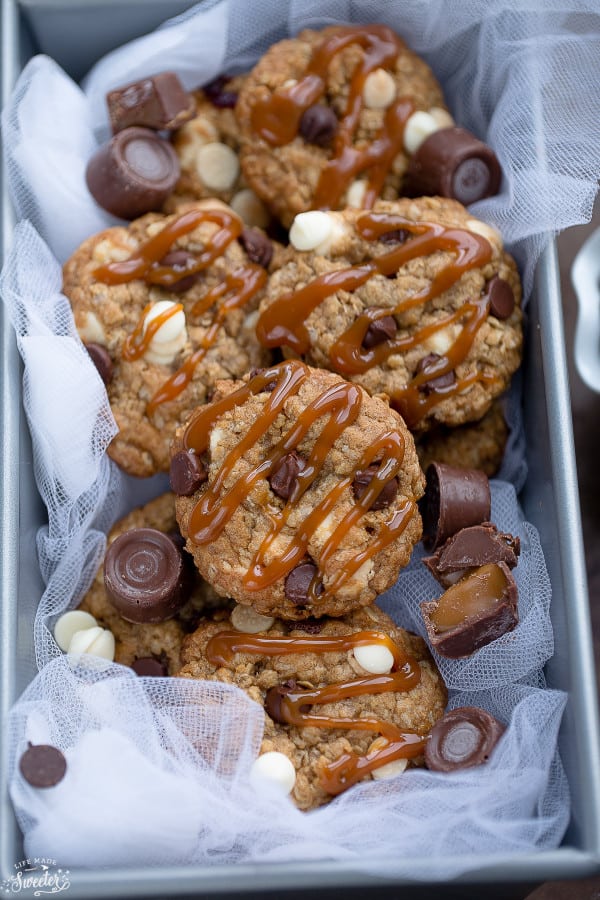 Yields 20
Rolo Stuffed Oatmeal Cookies
These Rolo Stuffed Oatmeal Cookies are soft, chewy and loaded with white & semi-sweet chocolate chips with a surprise chocolate caramel center. The salted caramel drizzle makes them an extra indulgent holiday treat
12 minCook Time
12 minTotal Time
Ingredients
11/3 cup all-purpose flour (spoon & sweep method)
1 teaspoon baking powder
3/4 teaspoon baking soda
1/4 teaspoon salt
1 cup unsalted butter, melted
11/3 cup dark brown sugar, packed
2 large eggs, room temperature
3/4 cup Biscoff (cookie butter) spread (creamy) (or substitute with your favorite nut butter + 1 teaspoon of ground cinnamon)
31/4 cup quick oats (not old fashioned)
1/2 cup white chocolate chips
1/2 cup semi-sweet chocolate chips
22 unwrapped Rolos (or other chocolate caramel candy)
salted caramel sauce for drizzling (optional)
Instructions
In a large bowl, whisk together the flour, baking soda, baking powder and salt. Stir in the oats.
In a medium bowl, whisk the melted butter and brown sugar together until smooth & combined. Whisk in the vanilla, Biscoff and then the egg until well incorporated. Pour the wet ingredients into the dry ingredients and gently mix together with a wooden spoon or spatula until just combined. Fold in the white chocolate chips and dried cranberries s reserving 1/4 cup of each for topping if desired.
Place dough in the fridge to chill for at least 1 hour.
Once dough has chilled, preheat oven to 350 F degrees. Line two cookie sheets with parchment paper or silicone baking mats.
Roll the dough 1.5 tablespoon sized balls. Press one Rolo candy inside the dough ball and cover with another dough ball. Roll the two dough balls around the Rolo, making sure it is completely wrapped inside. Gently press down on the large cookie dough ball to flatten "slightly" and press a few more chocolate chips on top. Put 8 balls of dough onto each cookie sheet and place in the fridge to cool while you finish with the remainder of the cookie dough. Bake in preheated oven for 10-12 minutes for a soft and underbaked cookie. they will continue to bake on the cookie sheet. Press a piece or two of the remaining chocolate chips into each cookie if desired. Cool on the cookie sheet for 10 minutes before transferring to a wire rack. Drizzle with salted caramel sauce if desired.
7.8.1.2
236
https://bestrecipepicks.com/rolo-stuffed-caramel-oatmeal-cookies/
NOTE: I will be taking the next two weeks off to prepare for the holidays and spend time with my loved ones as well as visiting our family and friends.
Any new posts this week have been scheduled in advance. I have closed the comments on my most recent threads but you can still e-mail me if you have any questions. 
Thank you to all of my readers for your support this year.  I am sincerely grateful for each of you for visiting my site. 
Wishing you all the merriest of seasons and hope you have a wonderful holiday with your loved ones! 🙂
If you need to find more holiday cookies, you can find all my cookies HERE or stop by my cookies board on Pinterest and follow along to stay up to date:
Follow Life Made Sweeter's board Cookies on Pinterest.