Salted Caramel S'mores Brownies are the best of both world and make the perfect treat. All your favorite flavors of a campfire treat enjoyed in one delicious brownie.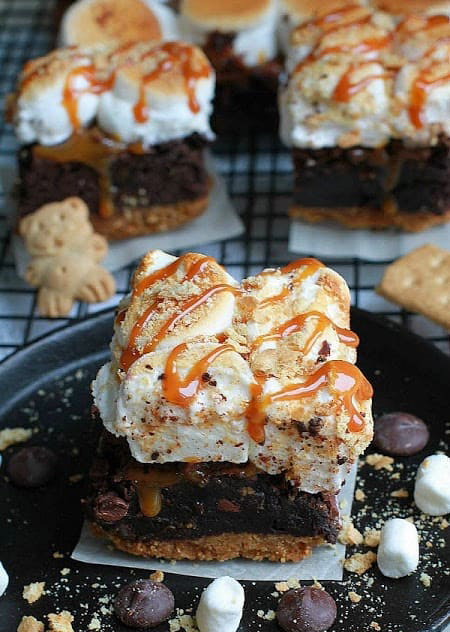 Yields 12
Salted Caramel S'mores Brownies
The salted caramel adds a deliciously decadent layer to S'mores along with all your favoites of this campfire treat --- all packed into a brownie.
Ingredients
* 1 8x8 pan of your favorite brownie mix, recipe or use brownie recipe below

Graham Cracker Crust
* 6 tablespoons unsalted butter, melted
* 1 1/2 cups graham cracker crumbs (8 or 9 whole graham crackers)
* 1 tablespoon ground cinnamon
* 1 tablespoon of sugar
* pinch of salt

Brownies
* 1/2 cup unsalted butter, melted
* 1 1/2 cups granulated sugar
* 2 large eggs, room temperature
* 2 tablespoons of olive oil
* 1 teaspoon pure vanilla extract
* 1/2 cup all purpose flour
* 1 cup unsweetened cocoa powder
* 1 teaspoon of baking powder
* 1/4 teaspoon salt

Topping
* 1 cup mini semi-sweet chocolate chips
* 20 large marshmallows
* 2 graham crackers, crushed into small pieces for topping
* 1 cup of salted caramel sauce plus extra for topping
Instructions
Preheat oven to 350 degrees F. Line a 8 x 8 inch pan with foil so it hangs over the edges and spray with nonstick cooking spray.

Prepare the crust: In a medium bowl, mix butter with graham cracker crumbs, cinnamon, sugar and salt. Press crumb mixture firmly into the bottom of the pan. Bake until crust is golden and set for about 15 minutes.

Prepare the brownies: Melt butter in a microwave-safe bowl until partially melted. Whisk in sugar. Add oil, eggs and vanilla until fully combined.
Toss in flour, cocoa powder, baking powder and salt, baking powder. Stir with a silicone or wooden spatula until combined.
Pour batter over the baked crust, spreading evenly. Bake for about 35-40 minutes, until toothpick comes out clean when inserted.
Remove pan from oven. Turn oven to broil. Sprinkle chocolate chips then top with salted caramel sauce over the baked brownie. Layer the top with jumbo marshmallows, sticky side down. Sprinkle graham cracker crumbs on top.
Place the pan of brownies back into the oven.
Toast under the broiler for 1 to 2 minutes watching closely. The marshmallows can go from golden to burned in a matter of seconds.
Cool for a few minutes, then use foil to remove brownies from the pan and set on a cutting board.
Remove from oven and allow pan to cool.
Carefully pull the sides of the foil away from the marshmallows and brownies. Cut brownies into 12 squares.
7.8.1.2
83
https://bestrecipepicks.com/salted-caramel-smores-brownies/