Shrimp Stir-Fry Lo Mein Noodles – an easy weeknight meal made with shrimp, shredded carrots, red bell peppers and an authentic, flavorful sauce. Ditch the takeout, this is so much better!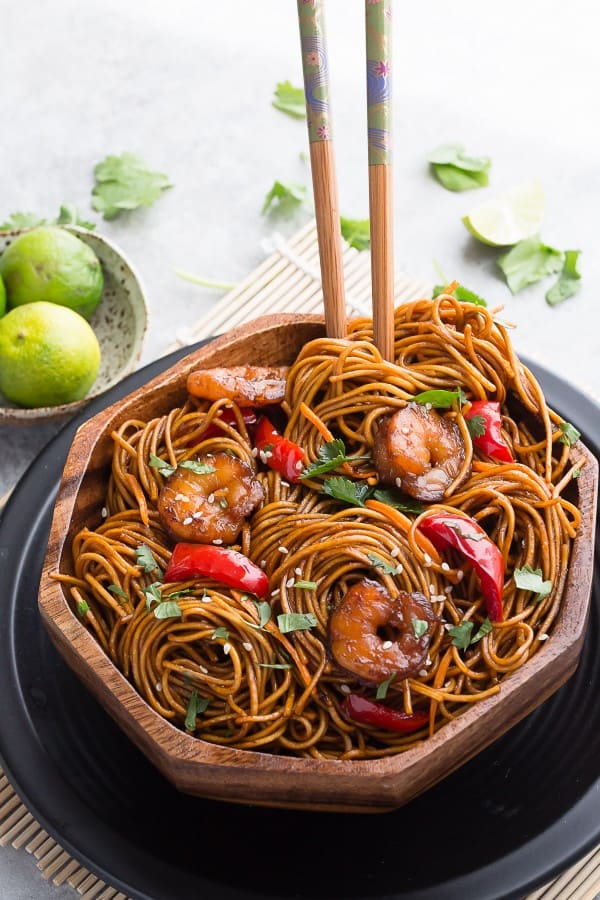 UPDATED:  With new photos May 2016 from original January 2014 post.
I'm sure you're getting tired of hearing it, but my family loves any type of noodles. We have so many favorites:
Vietnamese Pho Beef Rice Noodle Soup
During Chinese New Year / Lunar New Year, noodles are a must since they symbolize long life.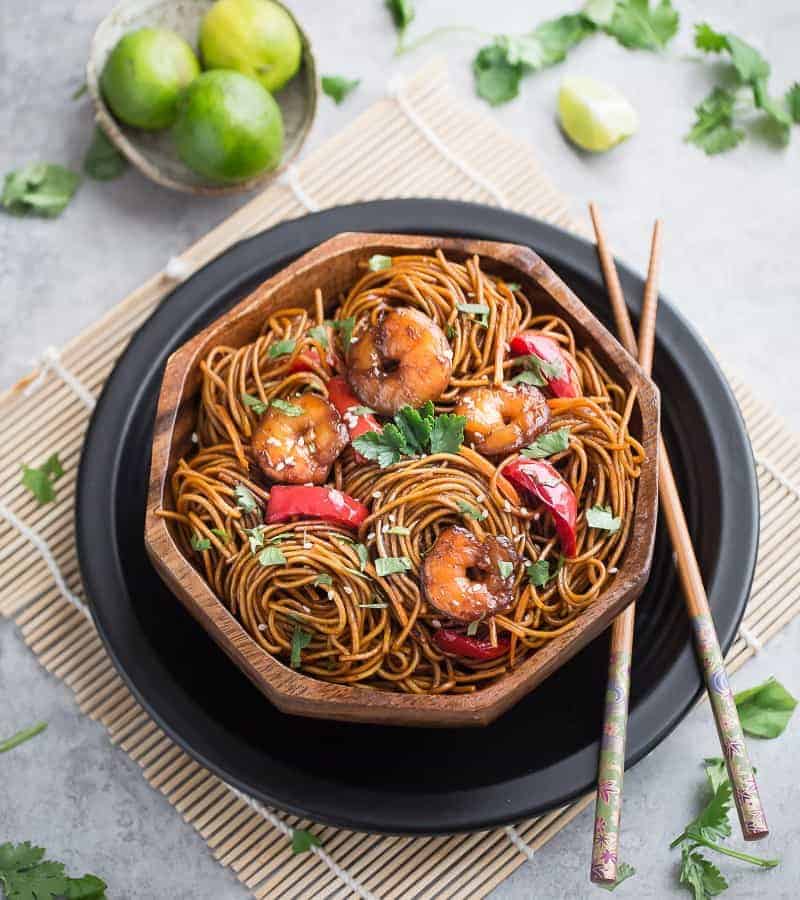 These
Shrimp Stir-Fry Lo Mein Noodles
  are one of the traditional dishes that my family always has on our feasting table.
Not only are the long noodles auspicious, but the shrimp symbolizes happiness because in Chinese shrimp is pronounced "haa" and that sounds like laughter.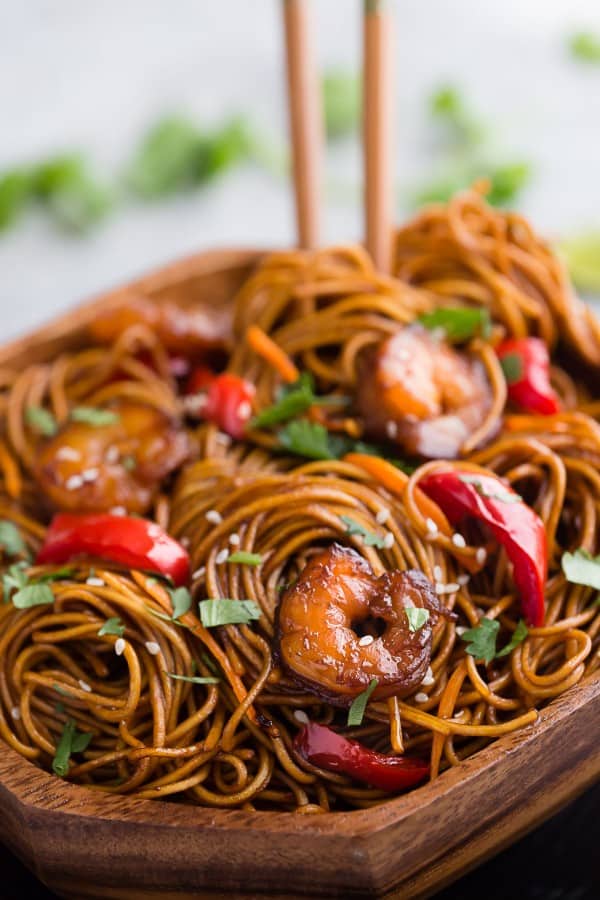 This colorful lo mein noodle dish is seriously a lazy cooks dream! It comes together so fast and effortlessly which makes it perfect for busy weeknights, when we all just need a quick and tasty meal!
Plus, you gotta love how easy noodles are to customize with whatever you have on hand. We used bell peppers and shredded carrots this time but they work well with pretty much whatever veggies you have lying around in your fridge.
So bright, flavorful and much easier than picking up takeout!
Yields 4
Shrimp Stir-Fry Lo Mein Noodles
Shrimp Stir-Fry Lo Mein Noodles – an easy weeknight meal made with shrimp, shredded carrots, red bell peppers and an authentic, flavorful sauce.
12 minPrep Time
10 minCook Time
22 minTotal Time
Ingredients
3/4 pound fresh pre-cooked lo mein noodles or 8 ounces of dried thin spaghetti noodles
10-12 medium shrimp, peeled and deveined
1 medium carrot, shredded or cut into matchstick-sized pieces
1 red bell pepper, cut into thin long strips
3 cloves garlic, minced
1/2 teaspoon minced ginger
1/2 teaspoon toasted sesame seeds, optional for garnish
Cooking oil
Chopped fresh cilantro, for serving
Sauce
1 tablespoon oyster sauce, or vegetarian oyster flavored sauce
2 teaspoons low sodium soy sauce or tamari
1 teaspoon Chinese cooking wine or dry sherry (omit if you do not already have this in your pantry)
1 teaspoon honey or dark brown sugar
1/4 teaspoon sesame oil
1/4 teaspoon red pepper flakes or Sriracha sauce, optional to taste
Instructions
If using fresh lo mein noodles, remove from package and separate loosely in a large bowl. If using dried pasta, cook noodles according to package directions, drain well and set aside.
In a small bowl, combine all the sauce ingredients and set aside.
In a large skillet, heat oil over medium-high heat. Add shrimp and sear on both sides until slightly pink and almost cooked through (about 2-3 minutes). Add garlic and saute for 30 seconds, or until fragrant then add carrots and bell peppers and stir until slightly softened, about 3 to 5 minutes. Add prepared noodles and sauce; toss and cook until hot and evenly mixed, about 2 minutes more.
Remove from heat and serve with toasted sesame seeds and chopped cilantro if desired.
7.8.1.2
63
https://bestrecipepicks.com/shrimp-stir-fry-lo-mein-noodles/
Looking for more take-out favorites?
Slow cooker / Crockpot Chicken Lo Mein Noodles
Easy Chicken Lo Mein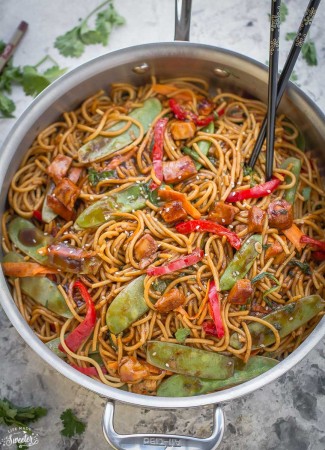 Slow Cooker Sweet and Sour Chicken with Pineapples and Bell Peppers
For more ideas, make sure you check out these other Chinese New Year recipes:
16+ Lunar and Chinese New Year Recipes – Jeanette's Healthy Living
Chinese Almond Cookies – Playing with Flour
Chinese Almond Cookies – Eva Bakes
Chinese Egg Tarts – Eva Bakes
Chinese New Year Almond Cookies – Table for Two
Chinese New Year Recipes – Steamy Kitchen
Chinese New Year Turnip/Radish Cake – Christine's Recipes
Chinese Red Bean Moon Cakes – Eva Bakes
Chinese Turnip Cake Recipe – Jeanette's Healthy Living
Fruity Pork Jerky – U Try.It
Gluten-Free Chinese Dumpling Recipe – Jeanette's Healthy Living
Homemade Tofu Pudding – U Try.It
Homemade Wontons – Playing with Flour
Peanut Dumplings – Rasa Malaysia
Red Bean Pudding Cakes – Playing with Flour
Restaurant Style Chinese Greens with Oyster Sauce – Rasa Malaysia
Roasted Duck with Chinese Steamed Buns – Steamy Kitchen
Searching for the Best Enclosed Pineapple Tarts – Bake for Happy Kids
Shrimp with Lobster Sauce – Playing with Flour
Traditional Steamed Fish – Yi Reservation
Vegetarian Buddha's Delight – Jeanette's Healthy Living