Strawberries and Cream Cheesecake is perfectly sweet, creamy and made completely in the slow cooker.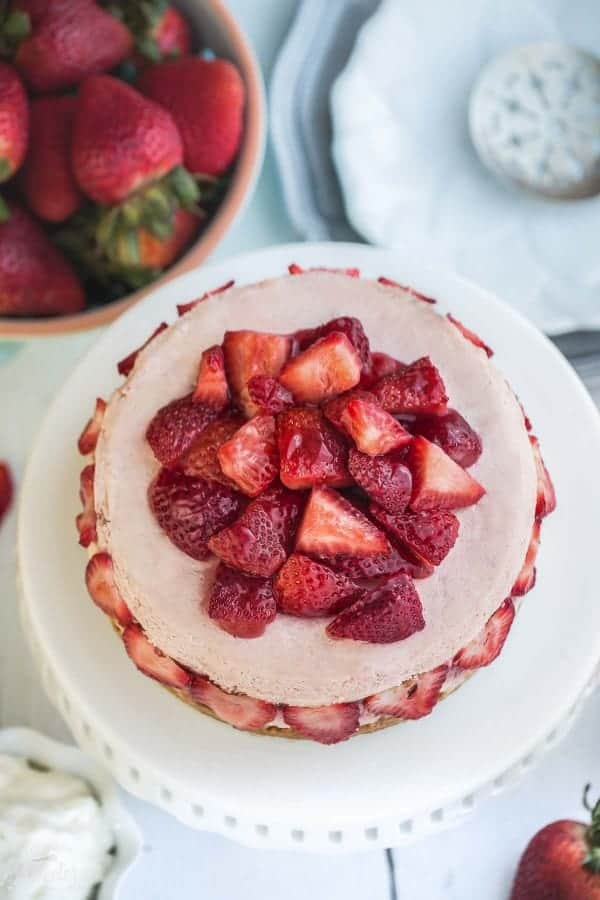 Happy Saturday! I'm in Salt Lake City this weekend for a
conference
so I'm just popping in quickly to share this delectable dessert with you guys!
It's National Strawberries and Cream Day today and I'm celebrating with my fellow #FoodHolidayBloggers with this Slow Cooker Strawberries and Cream Cheesecake.
I am always excited once strawberry season arrives and although my kiddos and I are perfectly happy eating them by the bowlful, strawberry desserts totally rule around here.
I have become such a fan of making desserts in the slow cooker lately and must have made this Strawberries and Cream Cheesecake about six times to get the ratios just right. I love that there's no water bath to worry about and that there's less chance of the cheesecake drying out from over-baking.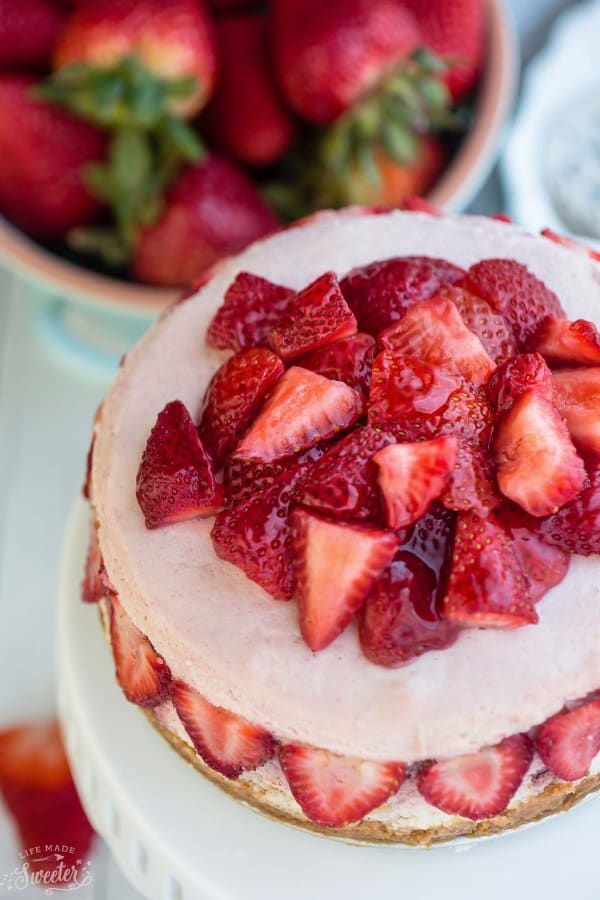 It starts off with a graham cracker crust that's topped with a layer of vanilla cheesecake while I added pureed strawberries for the top layer.
The cheesecake takes about 2 hours on HIGH in the slow cooker and once it's done, you let it sit for one hour, covered and undisturbed.Then it sits for another hour on a wire rack and gets parked in the fridge to chill and firm up overnight.
The strawberry slices on the sides get added on afterwards – I did try putting them on before cooking the cheesecake in the slow cooker and although it worked, the color was all washed out and not pretty for pictures so feel free to add the slices on to cook with the cheesecake if you prefer.
Just top it off with some fresh berries and brush on the sweet glaze and you're all set.
Light, creamy and a delightful summer dessert!
Yields 8-10 slices
Slow Cooker Strawberries and Cream Cheesecake
2 hrCook Time
2 hrTotal Time
Ingredients
For the graham cracker crust
1 1/3 cup graham cracker crumbs
6 tablespoons unsalted butter, melted
1/4 teaspoon cinnamon
1 1/2 tablespoons sugar
For the cheesecake
2 (8 ounces) cream cheese, at room temperature
2/3 cups sugar
1 cup sour cream
2 large eggs
1 teaspoon pure vanilla extract
1/4 cup strawberry puree
For the strawberry topping and glaze
3 1/2 cups fresh strawberries, hulled, divided
3 tablespoons sugar
1/2 tablespoon lemon juice
1 1/2 teaspoons cornstarch
Instructions
Place a 6" springform pan on a large double layer of heavy-duty foil and wrap securely around the bottom of the pan. In a large 6 quart slow cooker, place a steaming rack inside or if you don't have one, make your own by rolling two 24 inch pieces of aluminum foil into 1-inch wide strips and roll together to create a foil rack.
In a medium bowl, combine graham cracker crumbs, melted butter, 1 1/2 tablespoons sugar and cinnamon together. Press firmly into the bottom of prepared springform pan.
In a large bowl, mix cream cheese and 2/3 cups sugar together until smooth. Add sour cream and mix until combined. Beat in eggs one by one until smooth. Pour half of the batter into prepared springform pan. Place pan in the fridge to firm up for at least 30 minutes. Mix in pureed strawberries with the remaining half of the cheesecake mixture until smooth and pour over into pan over first layer. Place pan on top of steaming rack or coil inside slow cooker. Place a double layer of paper towels to cover opening of slow cooker then cover with lid by placing lid securely on top of paper towels.
Cook on high until cheesecake is set, but slightly soft in the center, around 2 hours. Turn off heat and allow cheesecake to stand, covered, in slow cooker for 1 hour. Cheesecake will set slightly and top will appear dull.
Remove pan from slow cooker and cool for 1 hour on wire rack. Refrigerate covered, 8 hours or overnight.

For the strawberry topping and glaze:
Meanwhile, slice half of the strawberries and place into a bowl. Set aside. Quarter the remaining berries and add to a separate bowl and set aside. Whisk together water, sugar, lemon juice and cornstarch. Place over medium heat and bring to a boil while whisking. Continue cooking until thickened, 1 minute. Remove from heat and allow glaze to cool.
Remove cheesecake from fridge. Press sliced strawberries firmly, standing up all along the sides of the cheesecake and push in firmly. If they do not stay, brush some glaze on one side and press that side into the cheesecake to stick. Decorate top of cheesecake with quartered strawberries and brush with glaze. Serve chilled or at room temperature.
7.8.1.2
397
https://bestrecipepicks.com/strawberries-and-cream-cheesecake/