Baked Strawberry Margarita Oreo Donuts are perfect for any celebratory occasion! These doughnuts are infused with strawberries, lime, orange and a strawberry margarita mix topped with a strawberry buttercream and chopped Golden Oreos.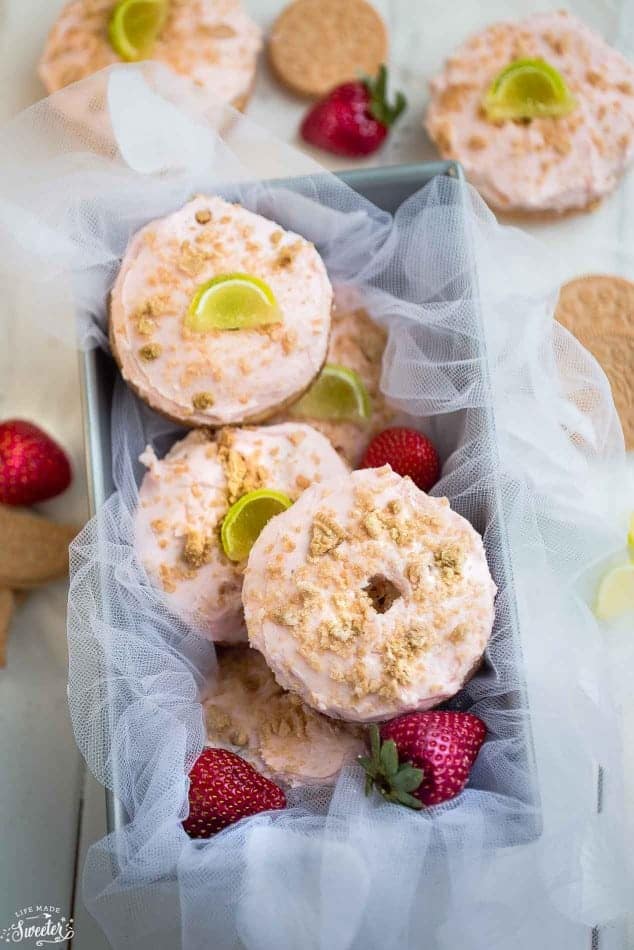 It's been too long since I've made
baked doughnuts
around here and I can't think of a better occasion than today to dig out my doughnuut pan from its hiding place again.
Surprise! We're celebrating a virtual baby shower for the super sweet and adorable Cate at Chez Catey Lou!
She is having a baby GIRL and we are all super excited for her! Cate loves donuts so a bunch of her blogging pals are throwing a donut themed party to celebrate.
Scroll down to the end of the post to see what everyone else "brought" along to the shower and don't forget to stop by Chez Catey Lou to wish her all the best.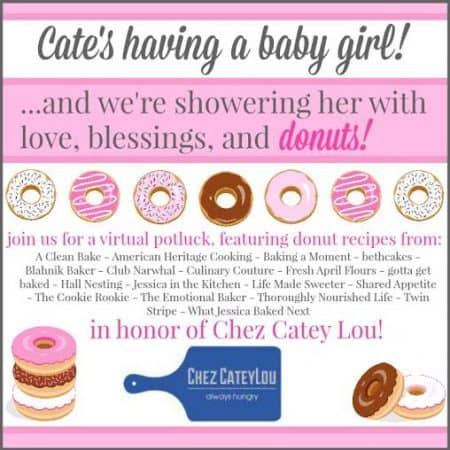 I made these pretty in pink
Strawberry Margarita Oreo Donuts
for this very special occasion. Don't worry, there is no alcohol in them so they are completely baby shower friendly 🙂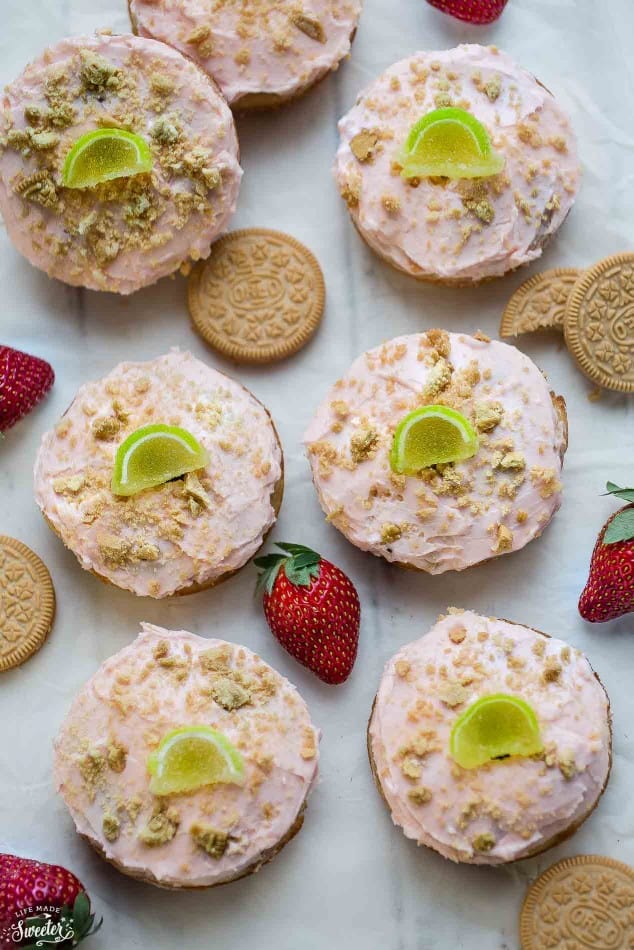 They start off with a soft and fluffy cake style donut and are baked in a handy
donut pan
.
The batter is infused with fresh strawberries, lime, orange and a splash of this strawberry margarita / daquiri mix.


The donuts are frosted with a zippy and sweet strawberry buttercream and pair wonderfully with the donuts.
To make them a little bit more festive, I sprinkled on some crushed golden Oreos in the batter and over the frosting for a sweet crumbly texture.

Not only would they make a whimsical addition to this baby shower, they are also perfect for National Margarita Day which I just found out over the weekend is today as well – such a coincidence and totally not planned 🙂
Either way, they make a fun dessert for any celebration!
Congratulations Cate! Can't wait to hear all about your sweet baby girl when she arrives 🙂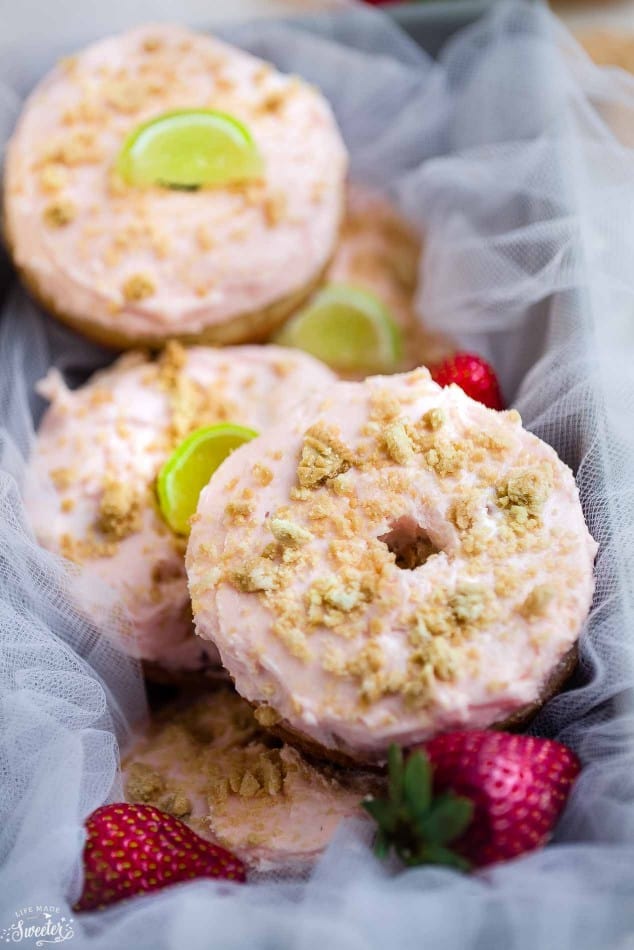 Yields 13-14
Strawberry Margarita Oreo Donuts
Strawberry Margarita Oreo Donuts are infused with strawberries, lime, orange and a strawberry margarita mix topped with a strawberry buttercream and chopped Golden Oreos.
Ingredients
2 1/2 cups all-purpose flour
1 teaspoon baking powder
1/4 teaspoon baking soda
1/4 teaspoon salt
1/4 cup unsalted butter, melted
2 tablespoons coconut oil (or vegetable oil)
2/3 cup granulated sugar
3 tablespoons strawberry margarita/daiquiri mix (liquid)
2 tablespoons fresh lime juice
2 teaspoons lime zest
1 tablespoons orange juice
2 large eggs
2/3 cup milk
4-5 fresh strawberries, chopped
6 golden Oreo cookies, crushed, for garnish
candied limes, for garnish, optional

For the frosting:
3/4 cup butter, softened
1/4 tablespoon strawberry preserves
3 tablespoons strawberry margarita/daiquiri mix (liquid)
4 - 4 and 1/2 cups powdered sugar
Instructions
Preheat oven to 400 degrees. Lightly spray donut pan and set aside.
In a large mixing bowl, whisk together flour, baking powder, baking soda and salt. In a separate mixing bowl, combine melted butter, coconut oil and sugar. Stir in margarita mix, lime juice, lime zest and orange juice. Beat in eggs one at a time, then add milk. Slowly stir in flour mixture until just combined.
Spoon batter into prepared donut pan or transfer to a resealable bag with the corner cut and pipe in batter. Sprinkle strawberries and crushed Oreo crumbs evenly into each donut well.
Bake in preheated oven for 8-10 minutes, or until toothpick inserted into donut comes out clean. Allow to cool in the donut pan for 5 minutes then transfer to a cooling wrack to cool before frosting.

Make the frosting:
Using a hand mixer or a stand mixer, beat butter on medium speed until light and fluffy, about 3 minutes. Add strawberry preserves, and strawberry margarita mix and continue beating for another 2 minutes. Slowly add powdered sugar and mix until smooth and completely blended. Beat on high speed for another one minute, until combined.
Frost cooled donuts and sprinkle with crushed Oreos and top with candied lime, if desired.
Notes
7.8.1.2
259
https://bestrecipepicks.com/strawberry-margarita-oreo-donuts/
Thanks to
Allie
and
Zainab
for organizing the shower! Be sure to check out all the other fabulous donut recipes:
Baked Dark Chocolate Strawberry Donuts – Club Narwhal
Baked Lemon Donuts – What Jessica Baked Next
Biscoff Donuts – Baking a Moment
Chai Donuts – Fresh April Flours
Chocolate Cake S'mores Donuts – Jessica in the Kitchen
Chocolate Pretzel Donuts – The Emotional Baker
Coconut Matcha Donuts with White Chocolate Glaze – Blahnik Baker
Coffee and Donuts Breakfast Bake – The Cookie Rookie
Doughnut Tiramisu – bethcakes
GF Lemon Donuts with Raspberry Glaze – Thoroughly Nourished Life
Maple Glazed Donut Holes – Hall Nesting
Old Fashioned Sour Cream Cake Donuts – American Heritage Cooking
Paleo Chocolate Frosted Donuts – A Clean Bake
Raspberry Jam Filled Cupcakes – gotta get baked
Sausage, Egg, and Cheese Donut Breakfast Sandwich – Shared Appetite
Strawberry Margarita Oreo Donuts – Life Made Sweeter
Baked Mini Samoa Donuts – Culinary Couture
Donut Holes with Sweet Strawberry Dipping Sauce – Twin Stripe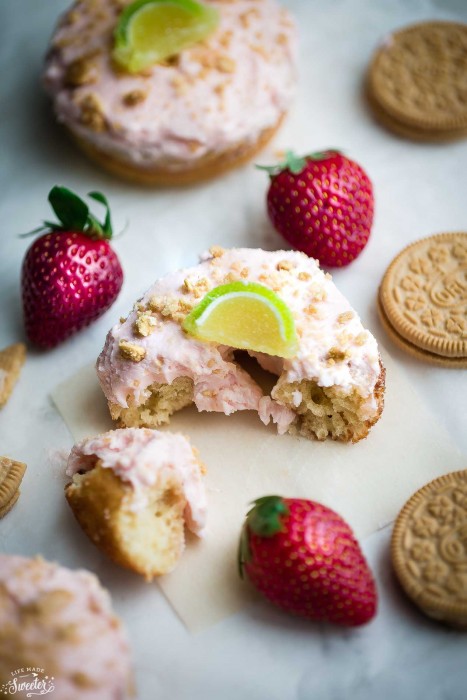 Disclosure: This post contains some affiliate links.