Strawberry Shortcake Ice Cream is the perfect cool treat for summer. Best of all, it's so easy to make and full of fresh strawberries and crumbled Oreo cookies!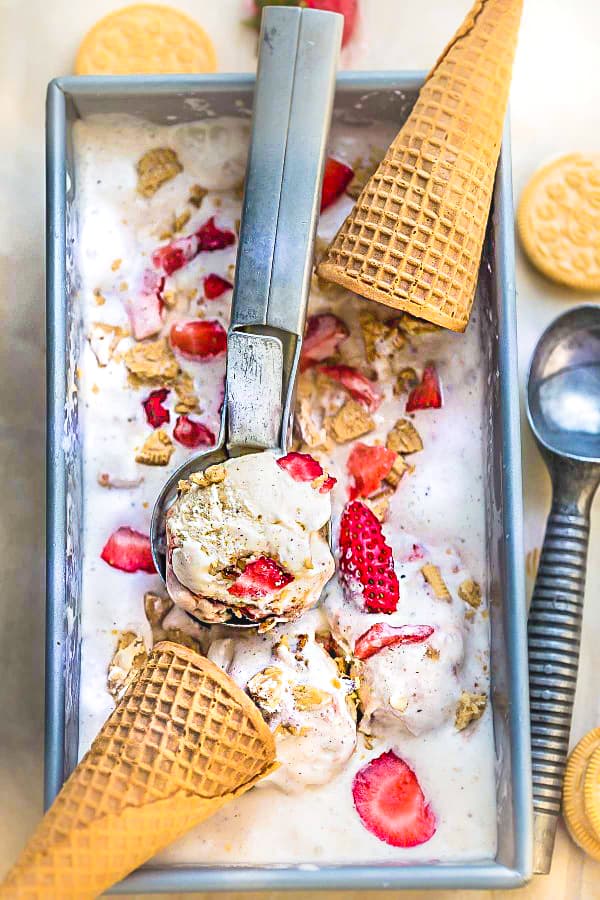 I can't think of anything better than a cool frozen treat on a hot summer day. July is National Ice Cream Month so I'm trying to make my way through all the flavors.
With so many fun flavors like:
Mint Chocolate – you can have a different one for just about any day of the week!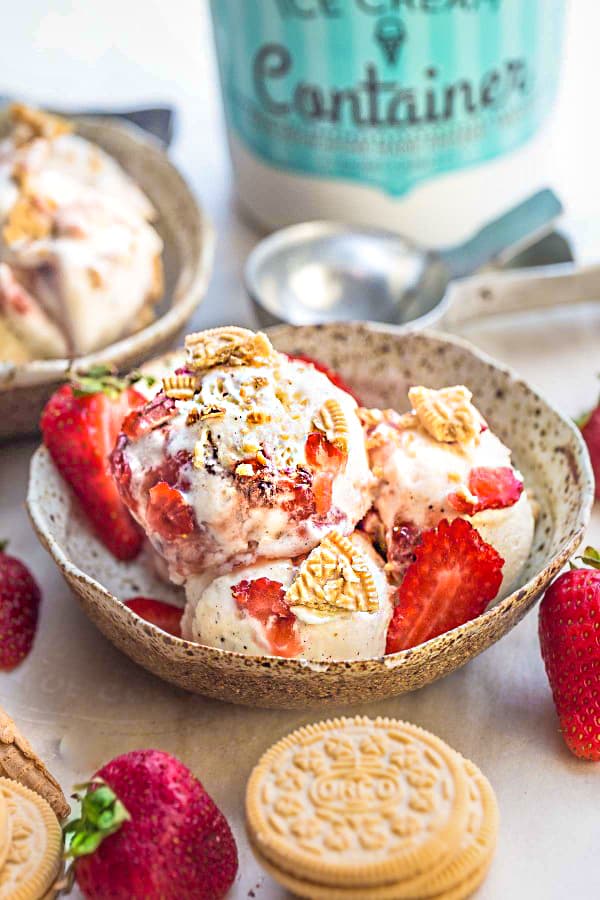 This Strawberry Shortcake Ice Cream is one of our favorites for summer.
It's similar to these popular Strawberry Shortcake Ice Cream Bars but without the extra steps to assemble them.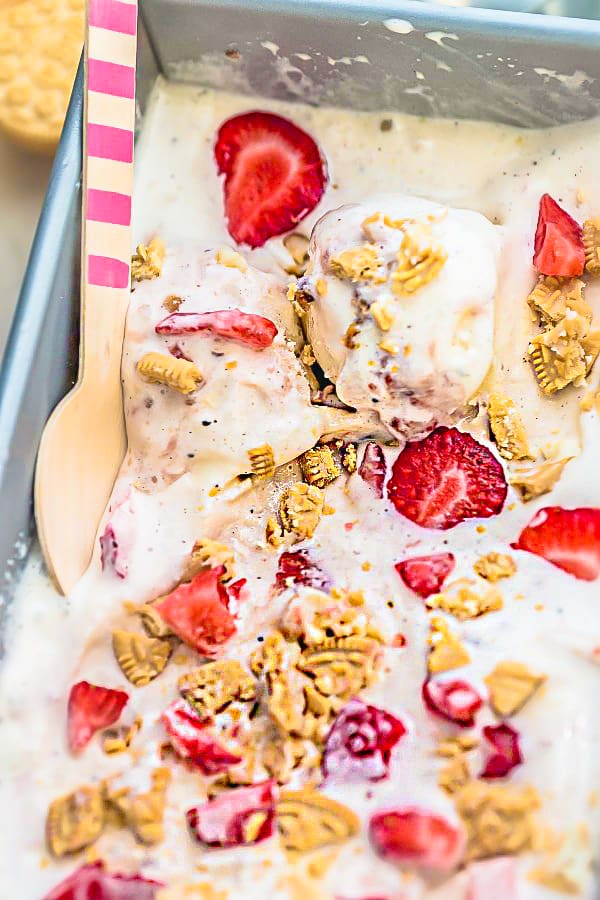 Recipe for Strawberry Shortcake Ice Cream:
Strawberries
Cream
Milk
Sugar
Vanilla
Pureed strawberries
Vanilla cookies of your choice (Golden Oreos or Shortcake Cookies would work well)
You'll notice that this recipe calls for no eggs. You can totally use them if you prefer a creamier custard base for your ice cream, but if you're looking for an easier (or lazy) version, this one works in a pinch.
Or you can always go the no churn route if you don't feel like pulling out your ice cream maker.
This Strawberry Shortcake Ice Cream starts off by heating the cream, milk and sugar together in a saucepan. Stir in vanilla and pour the mixture into your ice cream maker. Once it's nice and creamy, pour into a freezable container and layer with strawberry puree and cookies. Freeze for at six hours.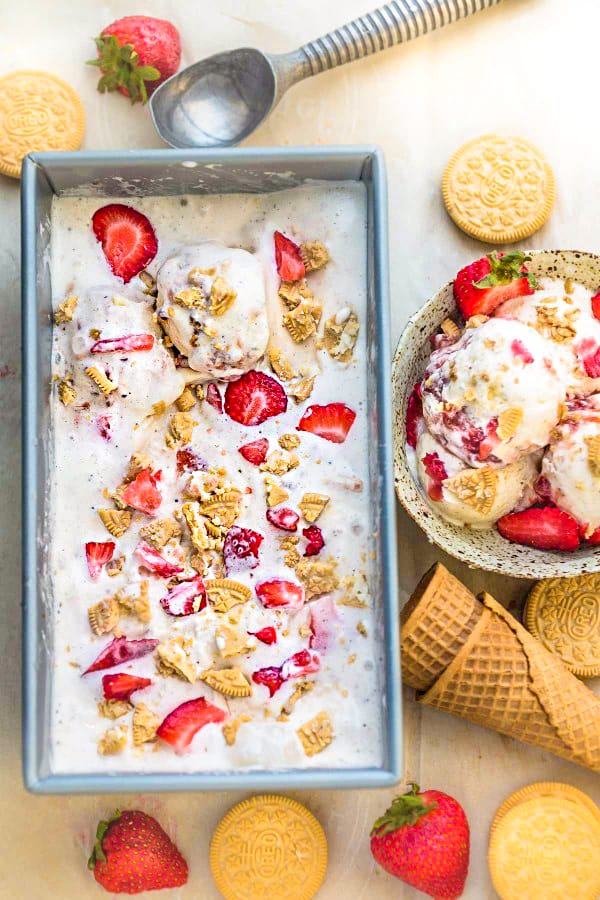 With all the summer strawberries in season, this ice cream is a great way for using some up.
The addition of crushed Oreo cookies gives it that delicious sweet crunch in every bite.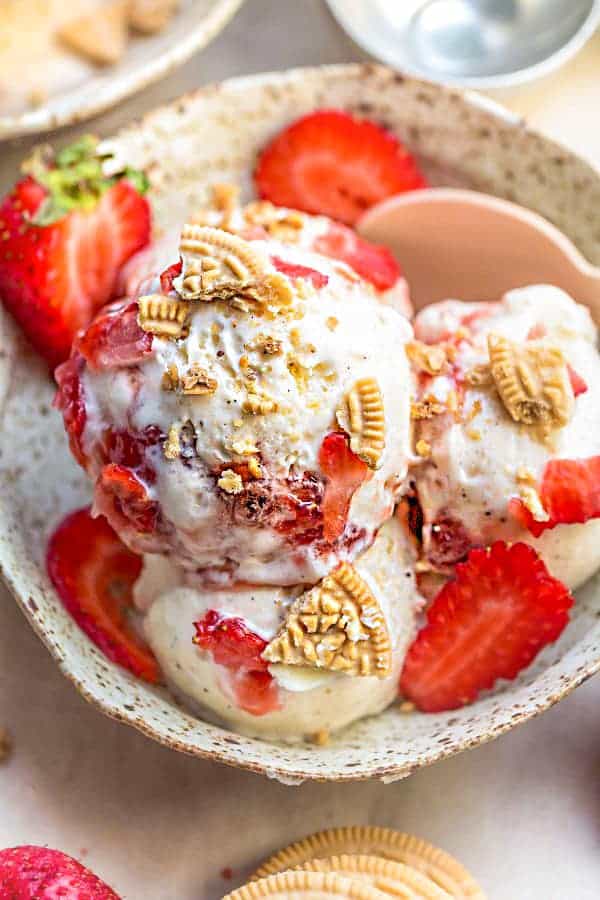 Strawberry Shortcake Ice Cream
Ingredients
2/3 cup granulated sugar
2 cups heavy whipping cream
1 cup whole milk
1 tablespoon pure vanilla extract
2/3 cup strawberry puree (unsweetened strawberries - to help ice cream stay soft without ice crystals - blend strawberries with 1 teaspoon vodka - optional)
1/2 cup crushed shortbread or vanilla sandwich cookies
Instructions
In a saucepan over low heat, stir sugar, cream, and milk until sugar has dissolved. Heat just until mix is hot and a small ring of foam appears around the edge.
Stir in vanilla extract and chill mix thoroughly, at least 2 hours. (Overnight is best.)
Pour cold ice cream mix into an ice cream maker, turn on the machine, and churn according to manufacturer's directions, 20 to 25 minutes.
Pour half of the ice cream mixture into a freezable sealable container or bread pan, add a 1/3 of the strawberry puree, and sprinkle 1/3 of the cookie crumbs over the top of the ice cream.
Swirl together with a knife. (Swirl well, any thick strawberry areas will become a bit icy)
Repeat with the second third, and final third of the ice cream, strawberry puree and cookies.
Seal or cover with plastic wrap and place in your freezer to harden for for 2 to 3 hours.
7.8.1.2
536
https://bestrecipepicks.com/strawberry-shortcake-ice-cream/
More ice cream:
No-Churn Cake Batter Ice Cream {Funfetti}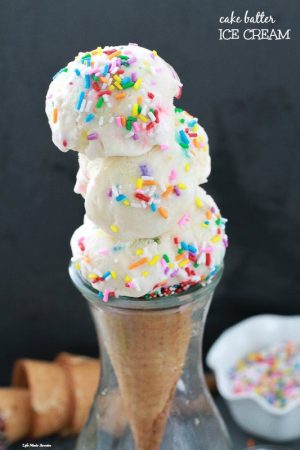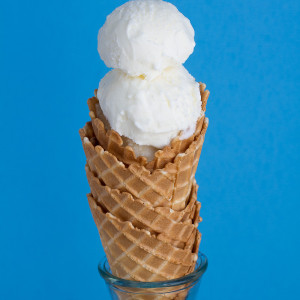 No Churn Salted Caramel Oreo Ice Cream with Almonds