Teriyaki Chicken Caesar Salad is easy to make with avocado, pineapple, asparagus and tender Teriyaki Chicken.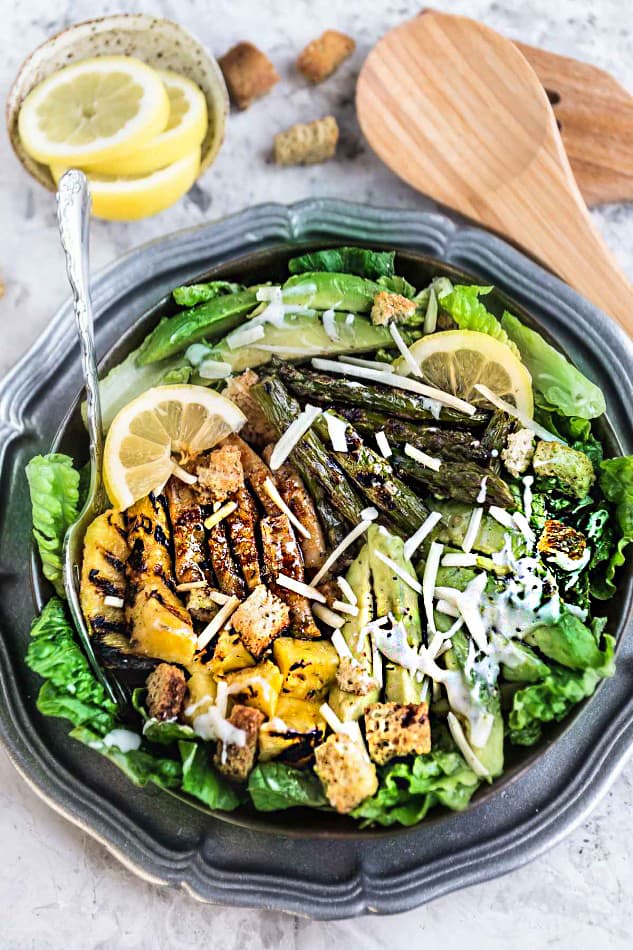 Pineapple Teriyaki Chicken Caesar Salad
Pineapple Teriyaki Chicken Caesar Salad loaded with creamy avocado, sweet, juicy pineapple, grilled asparagus and a flavor-packed Teriyaki Chicken alongside a bed of crispy greens and crunchy croutons. Plus the homemade Caesar dressing is lighter with no mayo!
13 minPrep Time
16 minCook Time
29 minTotal Time
Ingredients
2-3 skinless chicken breasts
Teriyaki Sauce (or use your favorite ready-made Teriyaki sauce)
1/2 cup low sodium soy sauce
1/4 cup rice vinegar
3 tablespoons honey
1/2 teaspoon of grated fresh ginger
1 garlic clove, finely minced
2 tablespoons of corn starch + 3 tablespoons water or more as needed
Salad
1 large ripe golden pineapple, peeled, cored and cut into wedges
1 pound fresh asparagus spears, trimmed & drizzled with 1 tablespoon olive oil and salt & pepper to taste
1 head or 4-5 cups washed, dried and chopped romaine lettuce
2 ripe avocados, sliced
1 cup croutons
Caesar Dressing
1/2 cup plain Greek yogurt
2 tablespoons fresh lemon juice
2 teaspoons olive oil
2 teaspoons reserved teriyaki sauce
1 teaspoon anchovy paste (near the tuna section)
1 teaspoon Dijon mustard
1 teaspoon Worcestershire sauce
2 garlic cloves, minced
2 tablespoons grated Parmesan cheese
salt and pepper, to taste
Optional Toppings
Grated Parmesan cheese
Fresh chopped parsley
Instructions
For the grilled portion: - Preheat grill to medium-high heat. Meanwhile, combine all the sauce ingredients into a small saucepan. Stir over medium heat, bringing to a boil and thickened. Remove from heat. Brush half of the sauce onto the chicken breasts, reserve 2 teaspoons for the Caesar salad dressing and the rest for basting the chicken.
Lightly oil the grill grate, and place chicken, pineapple wedges and asparagus on the grill. Cook pineapples and asparagus for 2-3 minutes per side, or until grill marks appear. Remove and cut into slices. Cook chicken for 6 to 7 minutes per side and brush with sauce 2-3 times. Chicken is done when the meat is firm, and juices run clear. Remove, allow to cool slightly, and cut into strips.Brush with remainder of sauce.
Make the dressing - While the chicken is cooking, make the Caesar Dressing: In a bowl, combine the Greek yogurt, lemon juice, olive oil, reserved 2 teaspoons teriyaki sauce, anchovy paste, mustard, Worcestershire sauce and garlic and whisk together until smooth. Stir in cheese and add salt and pepper to taste. (Can make ahead the night before and store covered in the fridge).
To assemble - Just before serving, add all of the salad ingredients to a large bowl. Drizzle in desired amount of salad dressing,add croutons and gently toss to combine. Top with grilled chicken, more Parmesan cheese and chopped parsley, if desired.
Notes
*For an even quicker and easier option, feel free to use your favorite ready-made teriyaki sauce and Caesar dressing, if desired.
7.8.1.2
399
https://bestrecipepicks.com/teriyaki-chicken-caesar-salad/