Moist and easy chocolate mug cake is vegan made with fresh cherries, chocolate almond milk, salted caramel and NO eggs. Cooks up in just over a minute and perfect for those late night chocolate cravings.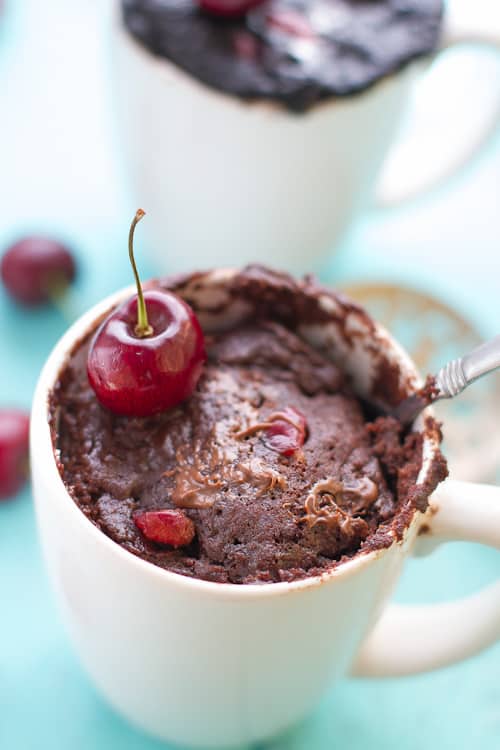 My husband's favorite dessert is
chocolate cake
and every so often he has a big craving for it.
One night after we put the kiddos to bed, he was looking around in the fridge and freezer hoping to find any leftovers from one of my baking escapades.
Nope. No luck.  I had already given most of the desserts away at one of the barbecues we went to.
He had a rough day earlier at the office and as much as I felt bad for him I really didn't feel like turning on the oven to whip up a cake since it was so hot that night.
This chocolate mug cake was the best way to whip up chocolate cake in a jiffy!  It literally took about 5 minutes to put together, from start to finish and it totally satisfied that chocolate cake craving.
Since then I've been having fun testing out all sorts of different flavors and this Chocolate Cherry Mug Cake was the latest one.
This recipe makes the perfect single size cake which is key when you don't want to have to worry about eating an entire cake.
My favorite part has to be the spoonful of vegan salted caramel — you can totally use your favorite caramel sauce or certainly or even add another flavor like melted chocolate, peanut butter or Nutella which would give it that extra special something that can't be beat!
It goes perfectly with the diced sweet cherries and Almond Breeze's Chocolate Almond Milk which added an extra rich and chocolatey boost of flavor.
Just whisk together the ingredients, pop it in the microwave for a little over a minute and you get to enjoy an indulgent dessert perfect for those nights when you're craving something sweet.
Be sure to place the mug on a small plate or wide bowl in case of spillage.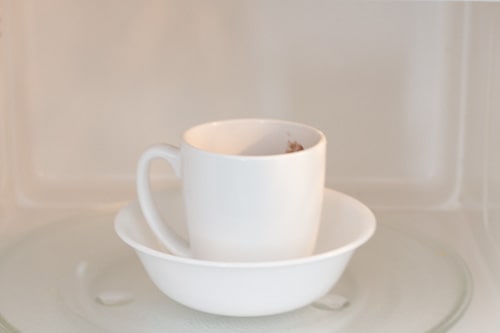 It doesn't get easier than that! Just grab your favorite mug along with a spoon and you're good to go!
Yields 1
Chocolate Cherry Mug Cake
Easy chocolate mug cake recipe made with fresh cherries and no eggs. Cooks up super moist in just over a minute and perfect for those late night chocolate cravings.
4 minPrep Time
1 minCook Time
5 minTotal Time
Ingredients
4 tablespoons all purpose flour
3 tablespoons unsweetened cocoa powder
1/2 teaspoon baking powder
2 and 1/2 tablespoons granulated sugar
1/8 teaspoon salt
5 tablespoons chocolate milk (I used Almond Breeze Chocolate Almond Milk)
1/2 teaspoon pure vanilla extract
2 and 1/2 tablespoons oil (grapeseed, canola or vegetable oil work best)
3 sweet cherries, pitted and chopped
Optional
1/2 tablespoon vegan salted caramel (or your favorite salted caramel or favorite flavor like peanut butter, chocolate spread or Nutella.
Instructions
***In a medium bowl, whisk together the flour, cocoa powder, baking powder, sugar and salt until combined.
In a small measuring cup, whisk together the milk. vanilla extract and oil until combined. Pour over dry ingredients whisking well until batter is smooth. Gently fold in chopped cherries.
Transfer batter into a microwave safe cup.
Top the mug cake with a 1/2 tablespoon of salted caramel. No need to push down as it will sink once it's heated up.
**Place mug on a small plate or wide bowl (in case of spillage) and microwave on high for 70 seconds. Check on cake to see that it's done. (You may need to microwave for less or an additional 5-10 seconds depending on how powerful your microwave is).
Allow mug to rest for about 30 seconds before removing from the microwave.
Serve with additional fruit or ice cream if desired..
Notes
7.8.1.2
198
https://bestrecipepicks.com/the-best-chocolate-cherry-mug-cake/
Thanks for reading Life Made Sweeter, you can also stay connected with me here: 
YouTube| Facebook | Twitter | Pinterest | Google+ | Instagram | Bloglovin
Disclosure: This "Easy as Breeze" post is sponsored by Almond Breeze Almondmilk. All opinions are 100% my own.