No Bake Energy Balls 9 Ways  – the perfect easy and healthy snack for on the go! Best of all,  no refined sugar and super easy to customize and make ahead for packing into school or work lunchboxes. With gluten free and nut free options. Plus video.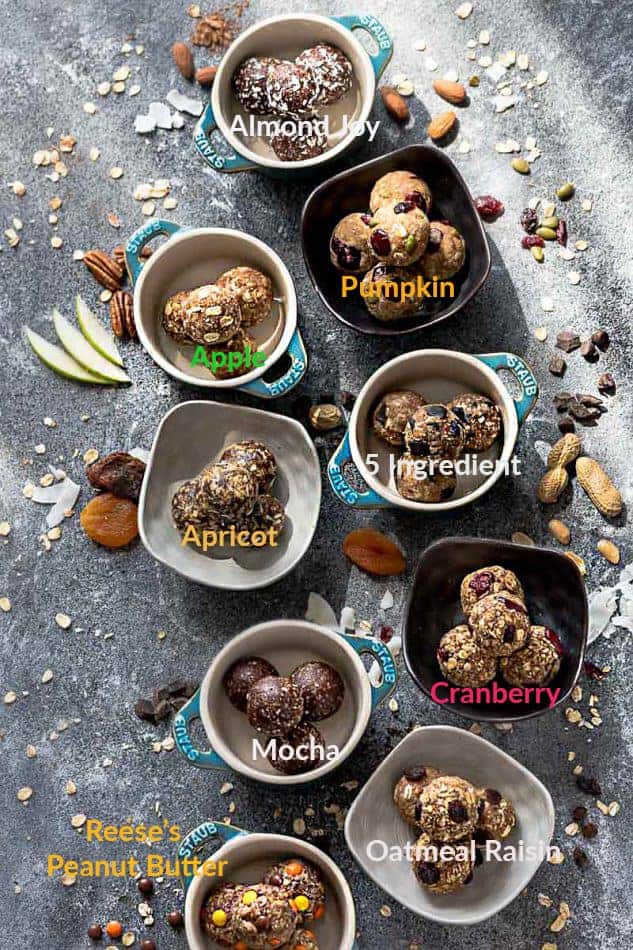 Energy bites and granola bars are a tasty solution for a quick boost of nutrition.
They are seriously one of our favorite healthier (and most popular on the blog) snacks to make at the beginning of the week to keep on hand.
A few of our favorites include:
With the busy fall season ahead, this post has been a long time coming. It combines my favorite energy bites along with some tips in case you guys are looking for more variety in your snack arsenal.
WHAT YOU'LL NEED FROM YOUR PANTRY FOR THESE NO BAKE ENERGY BITES
The great thing about energy bites is they are made with simple pantry ingredients that you can swap out according to what you have on hand.
Be sure to check your labels if you have any food allergies or sensitivities and use gluten free or nut free ingredients as needed.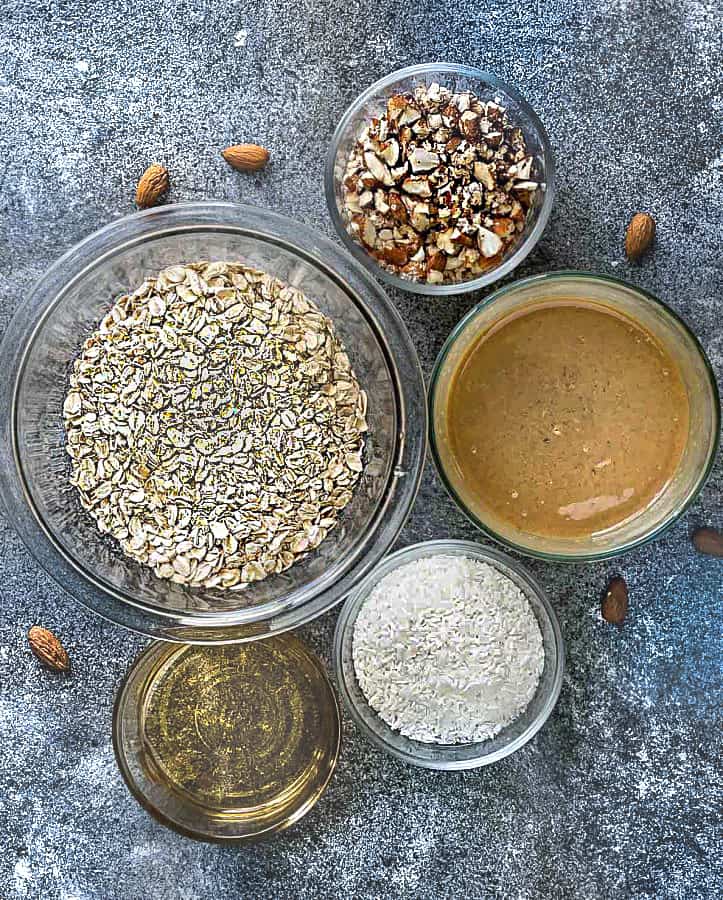 Essential ingredients:
oats (use gluten free if necessary – my favorite is Bob's Red Mill)
sticky sweetener like maple syrup, honey, brown rice syrup or organic agave
natural nut or seed butter (almond, peanut, cashew, sunflower or pumpkin seed butter)
dried dates or apricots
Optional add-ins:
pure vanilla extract (recommended for adding flavor)
ground cinnamon (my favorite)
pinch of sea salt (cuts down on sweetness)
almond meal or oat flour
grapeseed oil or melted coconut oil
shredded coconut
protein powder
ground flaxseeds, chia seeds
chopped nuts (almonds, cashews, pecans etc.)
pumpkin seeds, sunflower seeds
dried fruit (preferably unsweetened or with less sweetener – cranberries, raisins, blueberries, cherries etc.)
chopped chocolate or chocolate chips (optional)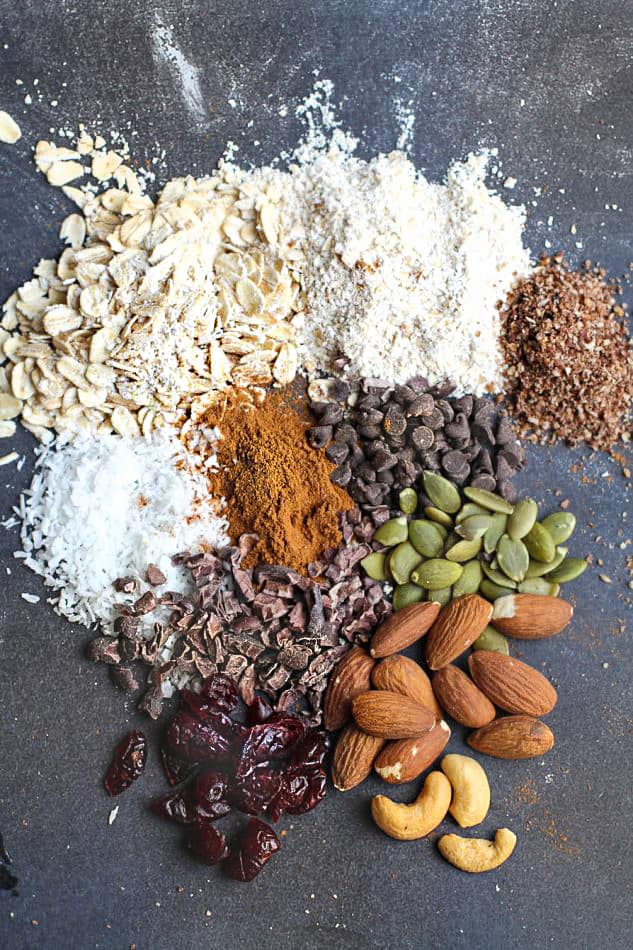 SOME HELPFUL TIPS & TRICKS
pack your energy bites tightly into 1 – 1.5 " sized balls – (about one – two tablespoons of dough)
chilling the dough prior to rolling helps the dough stick together
if you don't feel like rolling them into balls – press the dough into a square baking pan lined and cut into bars after chilling
wet hands slightly to help the dough stick together
heat nut butter with 2 teaspoons of grapeseed or coconut oil to make it more liquidy – this is especially necessary if you are using nut butter near the bottom of the jar
different brand of nut butters yield slightly different consistency and results, adjust as needed. I usually like to use organic and / or natural nut / seed butters
add more liquid (nut butter / sweetener / oil ) if dough seems too dry
swap out shredded coconut for ground flaxseeds, almond meal or oat flour
add protein powder, hemp seeds and / or chia seeds for an extra boost of nutrition
pulse softened dried dates, prunes or apricots with some water in your food processor if you don't want to add any liquid sweeteners
a pinch of sea salt helps to cut down sweetness and adds flavor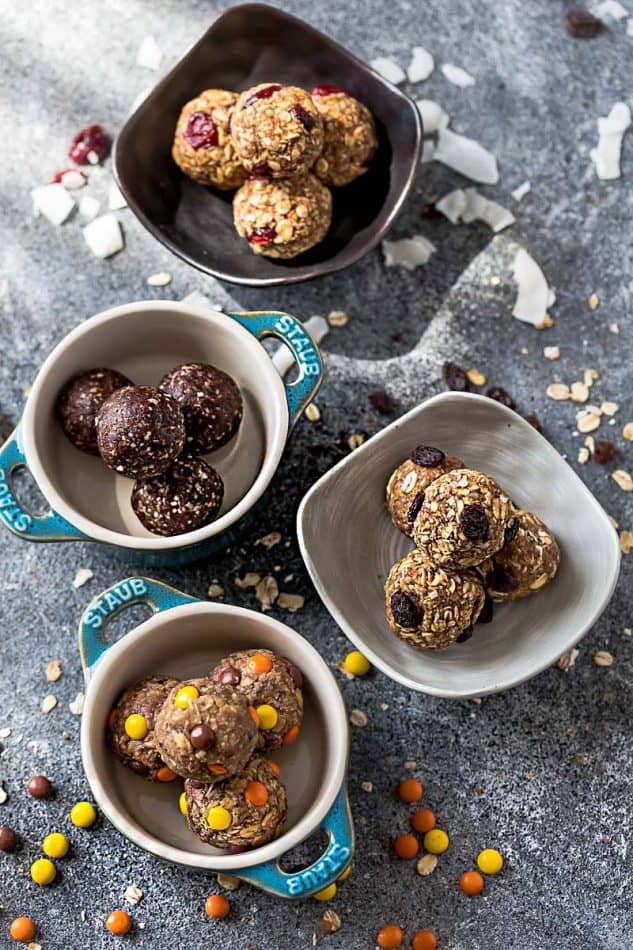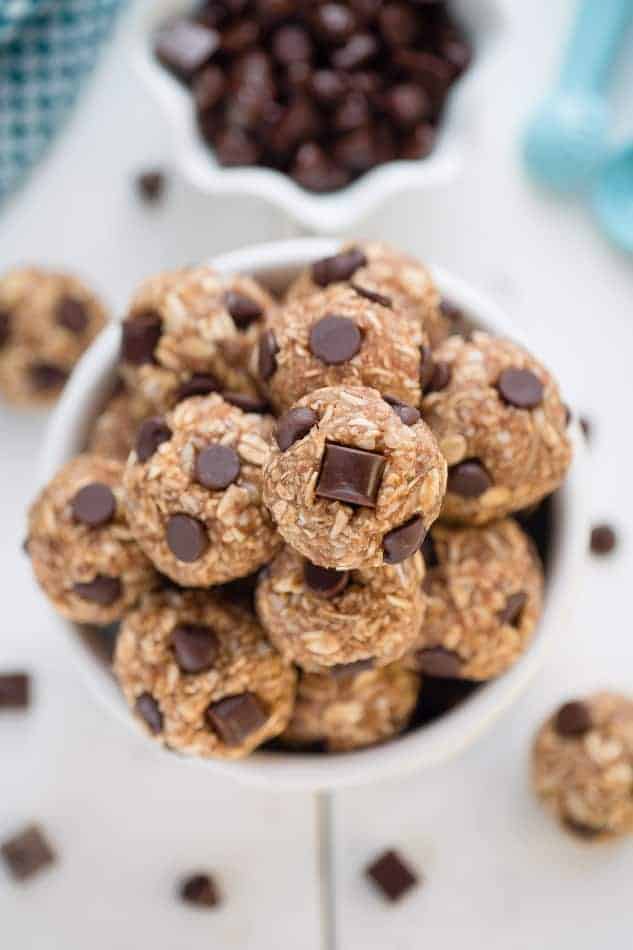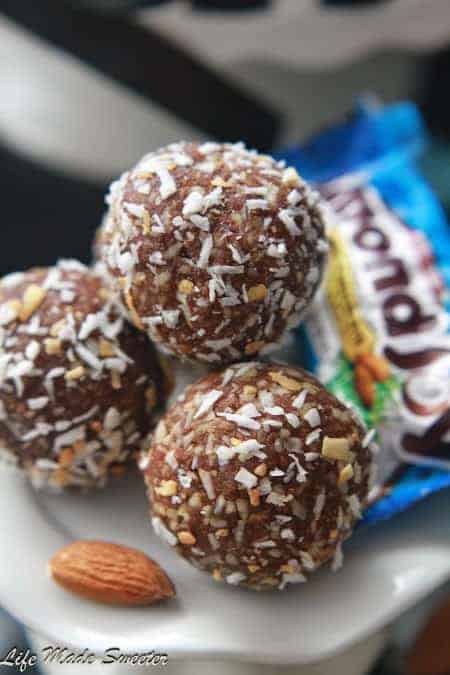 3. Apple Cinnamon Energy Bites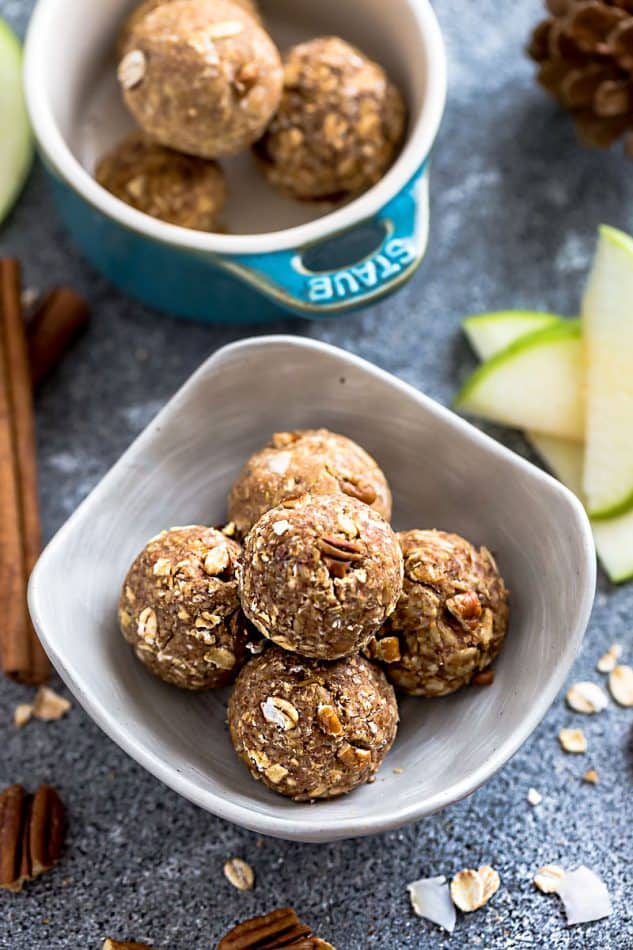 4. Apricot Energy Bites – recipe below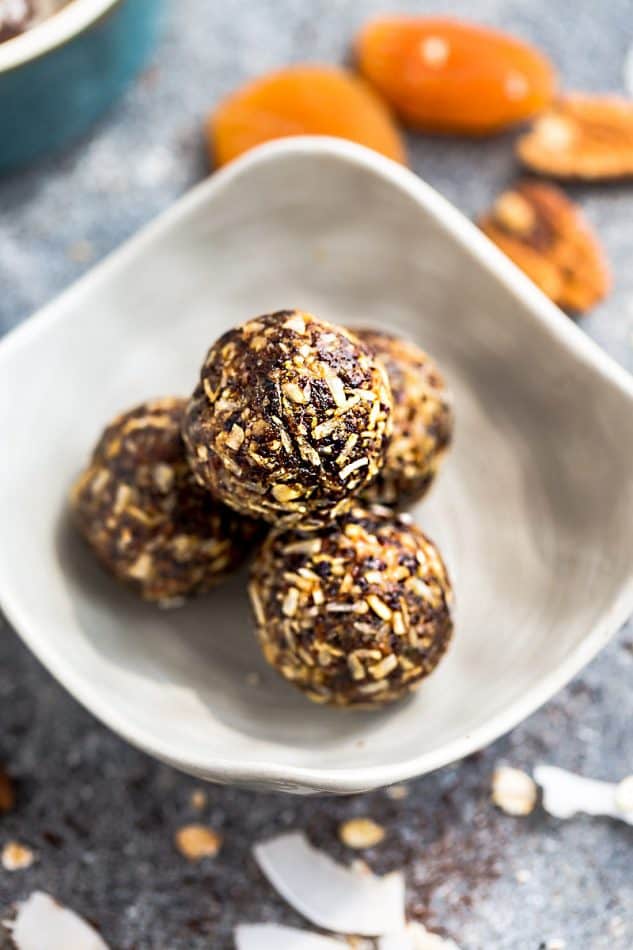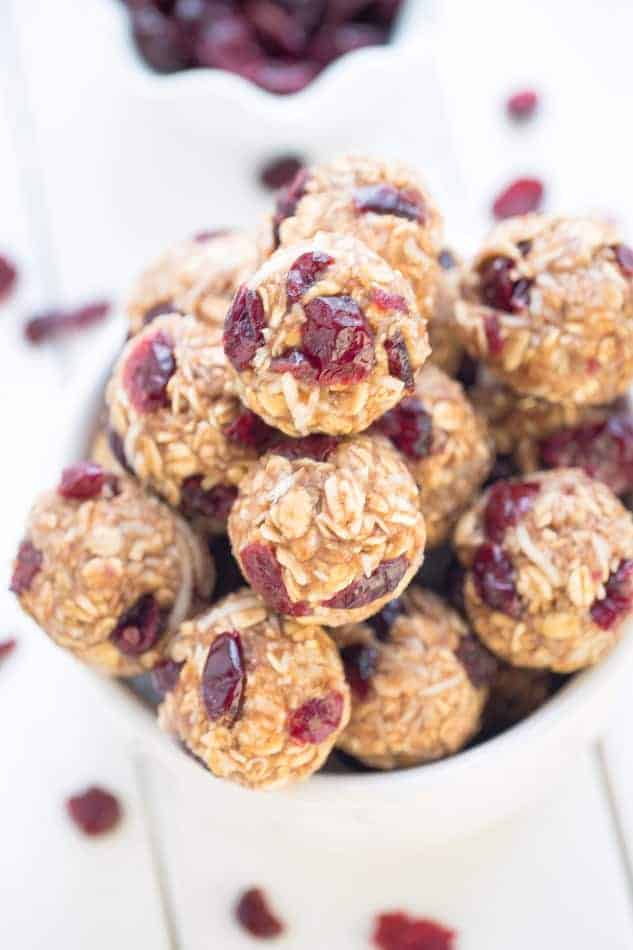 6. Mocha Protein Energy Bites – recipe below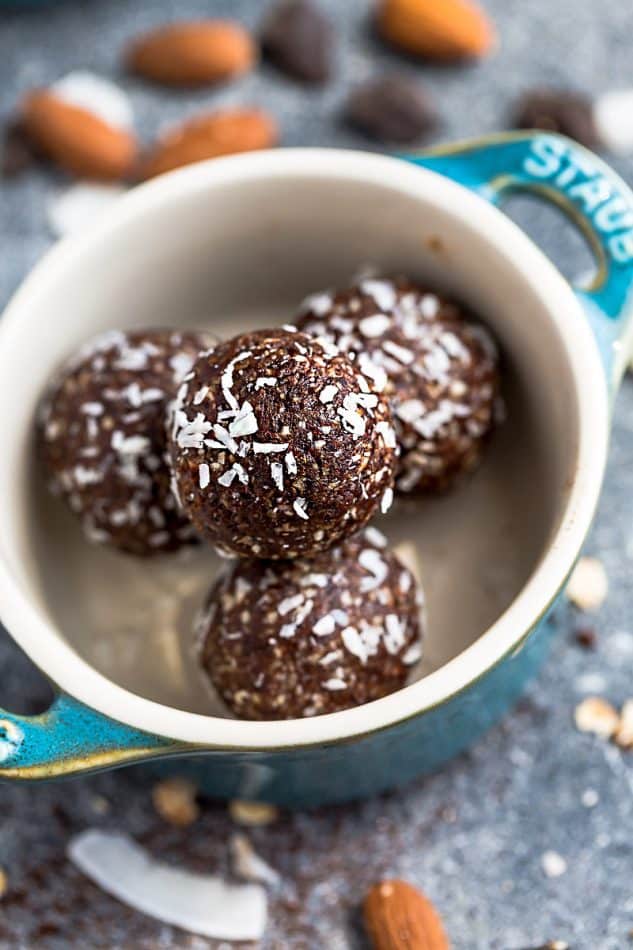 7. Oatmeal Raisin Energy Bites – recipe below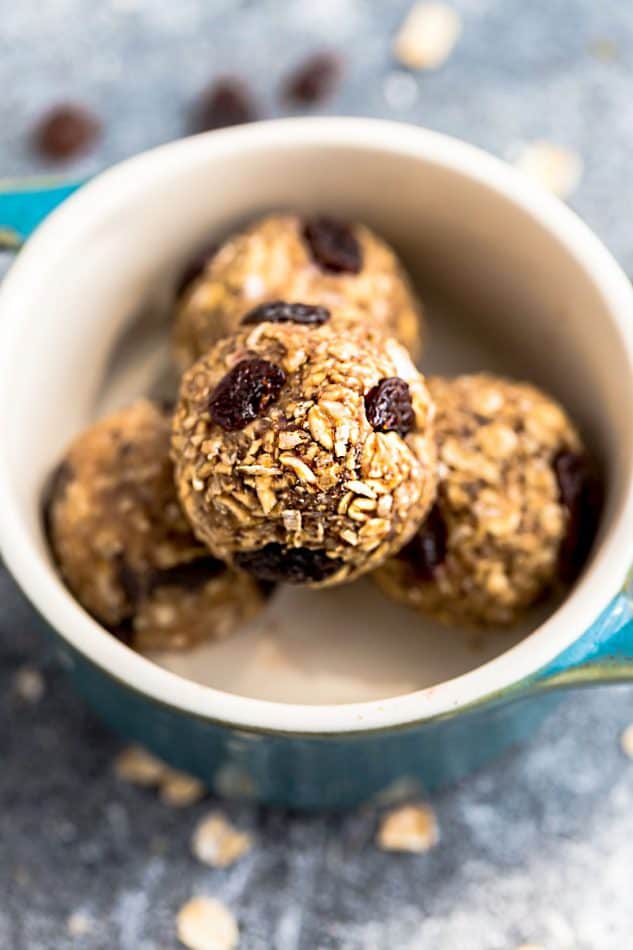 8. Reese's Peanut Butter Energy Bites – recipe below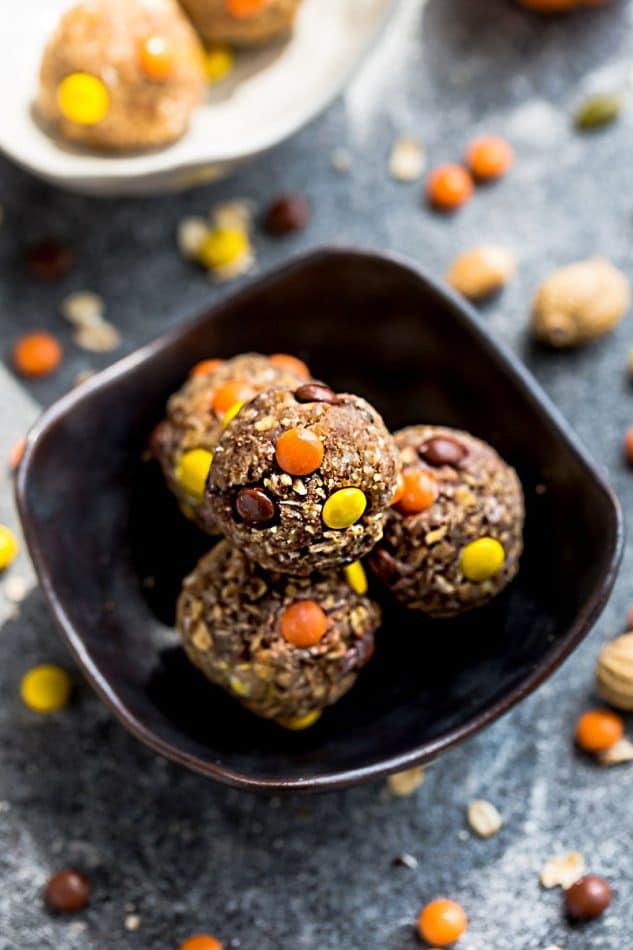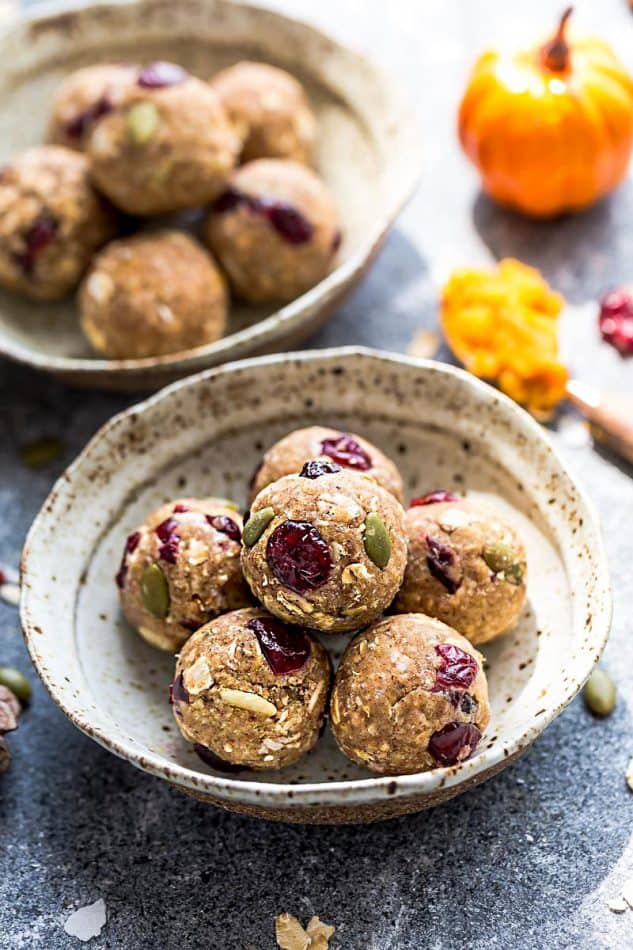 No Bake Energy Balls - 9 Ways
Ingredients
Click HERE for 5 Ingredient Energy Bites
Click HERE for Almond Joy Energy Bites
Apricot Energy Bites
1 cup dried apricots
1/2 cup cashews
1/4 cup almonds
3 tablespoons dried unsweetened coconut
1 teaspoon vanilla extract
Click HERE for Cranberry Energy Bites
Mocha Protein Energy Bites
1 cup almonds
1/4 cup cashews
2 teaspoons instant coffee granules
1 tablespoon cocoa powder
1/2 cup old fashion oats
14 pitted medjool dates, soaked in water to soften
2 tablespoons shredded unsweetened coconut
Oatmeal Raisin Bites
2/3 cup natural creamy almond butter, slightly heated
1/3 cup liquid honey
1 2/3 cups old-fashioned rolled oats (gluten free as needed - I use Bob's Red Mill)
1/4 cup ground flaxseeds
1 teaspoon ground cinnamon
1/4 teaspoon salt
1 teaspoon vanilla extract
1/3 cup raisins
Reese's Peanut Butter Energy Bites
1/2 cup natural creamy peanut butter, slightly heated
1/4 cup liquid honey
1/2 teaspoon vanilla
2 cups rolled oats (gluten free as needed - I use Bob's Red Mill)
1/3 cup mini Reese's pieces candy
pinch of salt
Click HERE for Pumpkin Energy Bites
Instructions
For the 5 Ingredient Energy Bites
For the Almond Joy Energy Bites
For the Apple Cinnamon Energy Bites
For the Apricot Energy Bites
Place the cashews and almonds in a food processor and pulse until roughly chopped. Add the remaining ingredients and pulse until chopped well.
Wet hands slightly and form dough tightly into 1" - 1.5" balls.
Store in airtight container in refrigerator or freezer until ready to enjoy.
For the Cranberry Energy Bites
For the Mocha Protein Energy Bites
Place the almonds in a food processor and pulse until roughly chopped. Add the remaining ingredients and pulse until chopped well.
Wet hands slightly and form dough tightly into 1" - 1.5" balls.
Store in airtight container in refrigerator or freezer until ready to enjoy.
For the Oatmeal Raisin Energy Bite
In a large bowl, mix together heated nut butter and honey until smooth.
Stir in the remaining ingredients until well combined.
Wet hands slightly and form dough tightly into 1" - 1.5" balls. If dough doesn't stick together add 1/2 tablespoon water (or melted coconut oil) at a time until dough comes together or place dough in the fridge for 30 minutes prior to forming dough balls so it's easier to handle.
Store in airtight container in refrigerator or freezer until ready to enjoy.
For the Reese's Peanut Butter Energy Bites
In a large bowl, mix together heated nut butter and honey until smooth.
Stir in the remaining ingredients until well combined.
Wet hands slightly and form dough tightly into 1" - 1.5" balls. If dough doesn't stick together add 1/2 tablespoon water (or melted coconut oil) at a time until dough comes together or place dough in the fridge for 30 minutes prior to forming dough balls so it's easier to handle.
Store in airtight container in refrigerator or freezer until ready to enjoy.
For the Pumpkin Energy Bites
7.8.1.2
556
https://bestrecipepicks.com/no-bake-energy-balls-9-ways/